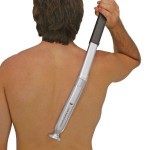 How do you do an Australian version of JAWS? You can't have a killer koala. Maybe a rogue kangaroo that goes around punching people or stealing babies in its pouch. In 1984 these guys went with a huge fucking boar. And that would've been a great headline for a review if the movie was bad, but actually I really liked it.
I know this is the kind of movie people write off immediately. It definitely is a ripoff of JAWS and redoing JAWS with a huge pig seems even funnier than redoing it with an orca. But the movie doesn't give a fuck what you think. It knows what it is and it has no shame. Go ahead, laugh at the razorback. Laughing is healthy and will make you taste better. As one of our heroes says, "It has two states of being. Dangerous or dead." Mostly the first one.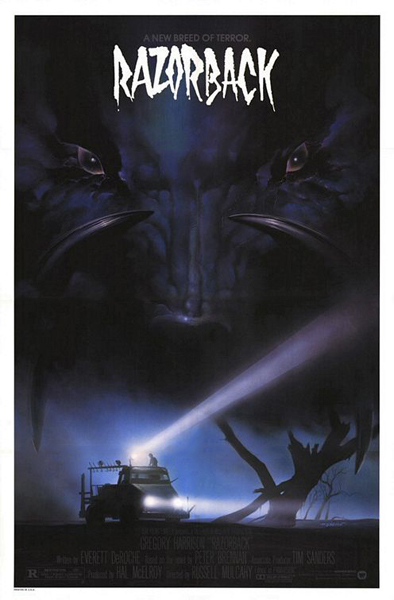 The director is Russell Mulcahy or "the HIGHLANDER guy" as he is now known but at the time he was "Russell Mulcahy" because he was a rookie. He directed lots of music videos though, including the very first one ever played on MTV. Yes, video killed the radio star, and Mulcahy was the killer. Some other guy originally took the rap but was later exonerated by DNA evidence.
Music video directors making movies can be bad news. Or it can be some of our most creative filmatists such as David Fincher, Spike Jonze and Michel Gondry. But usually you assume it means quick cuts and incoherent storytelling. In this case the transition from MTV to Australian cinemas was a good thing because they hadn't figured out how to ruin editing yet. His experimentation in videos gave him a better eye for exaggerated visuals than your average movie director, and he used that to his advantage. He made a really great looking movie, kind of stylized, almost post-apocalyptic. Lots of orange outback skies, shooting stars, unnaturally fog-drenched nights, dirty shacks and weirdos with goggles and machetes.
In the opening scene the razorback runs through a guy's house (and into our hearts). He goes in one wall, out the other, and suddenly the guy's grandson is gone. The story is so crazy nobody believes him and they try him for murder. He gets off due to lack of evidence and dedicates his life to hunting that thing. So he's our Quint or our Ahab. Or whoever it was that tried to hunt Benji in BENJI THE HUNTED.
But the story's about an American animal rights advocate who comes to investigate the kangaroo dog food factory and her husband who comes looking for her when she gets Marion Craned. Along the way he meets two hunters crazy enough to be in TEXAS CHAIN SAW or ROAD WARRIOR and ends up on a walkabout where he hallucinates a horse skeleton tearing out of the salt flats and coming after him. Eventually they find his wife's ring in some razorback shit and… well, you'd think it would be time for revenge but instead he tries to go home. Which is kind of funny because when you think about it that's what alot of people would really do. In movies nobody would ever do that. But in real life alot of people would not think to get revenge on a pig. Doesn't this thing already have it bad enough, being so big? I'm sure all the other pigs make fun of him. And we see that they're scared of him. It's gotta be hard making friends. It's hard out here for a razorback.
But don't worry, there will be revenge.
I know Mulcahy didn't turn out to be the most reliable director, but he did a great job on this one. I was surprised to see how good he was back then. Lots of dynamic camera angles and momentum to the way it's edited. I figure either he learned all the right lessons from his countryman George Miller or they just know how to make movies in Australia. This is one stylish horror movie with a touch of Tobe Hooper weirdness and some occasional detours into the surreal. And he does a good job getting a serious JAWS feel in parts. Like JAWS the killer animal is mostly an unseen force but when you get little glimpses of their fancy animatronic boar it's pretty great.
Unfortunately it hasn't been released on DVD in the US, you gotta get an import from Australia or the UK. But if you can track it down I think, like me, you'll find yourself saying, "That'll do, pig. That'll do."