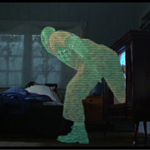 After the massive success of A NIGHTMARE ON ELM STREET in 1984, you'd think Wes Craven would've been sitting comfortably atop the horror director pyramid. Yet his directational followups were just the '85 TV movie CHILLER, the '86 silly robot movie DEADLY FRIEND, and a couple episodes of the new Twilight Zone. It wasn't until '88 that he did something he seemed passionate about, the pretty respected voodoo thriller THE SERPENT AND THE RAINBOW. By '89, only five years after the birth of Freddy, he was already at that sad "time to come up with the next Freddy" stage you'd expect him to go through eventually.
If there was any question about whether SHOCKER would try to mimic the ELM STREET formula, Craven ditched it from frame one, intentionally reflecting his own opening credits sequence: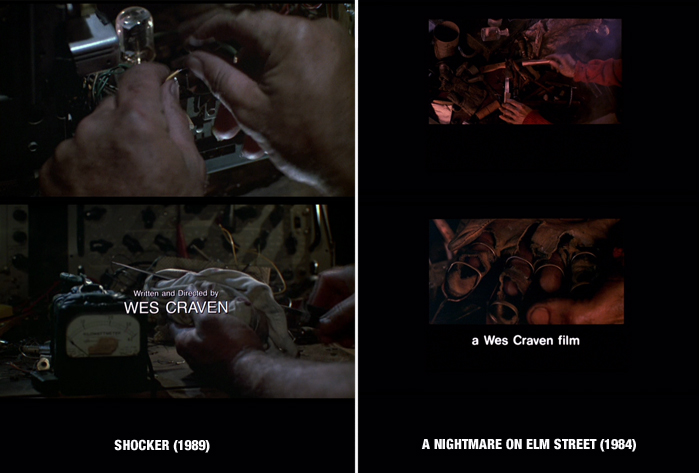 ELM STREET opens with closeups on the hands of Freddy Krueger in a dark, messy workshop somewhere, creating his trademark bladed glove. SHOCKER opens with the hands of Horace Pinker (same amount of syllables, you notice), and he's repairing a TV, using a hunting knife as a screwdriver. His weapon is a TV.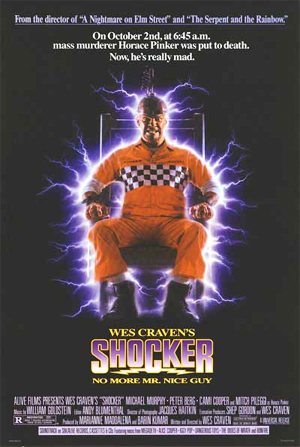 Pinker is played by Mitch Pileggi, who would later play Skinner on the X-Files. Like Freddy he is a hateful, scratchy-voiced serial killer who is caught and killed but returns from the dead through supernatural means to kill more people while occasionally yelling out terrible one-liners. His are mostly just random idioms, not puns ("No more Mr. Nice Guy!" for example), but there is one part where he says "Come on boy, let's take a ride in my Volts-wagen!" before shocking his victim. And I realize as I'm writing it that that sounds like a joke one I would make up, but trust me, that's a real line from the movie.
Freddy's killing spree was in the past, and we only hear about it as a story from the protagonists' parents (and in flashbacks in sequels, and in an episode of Freddy's Nightmares, and in a terrible remake). SHOCKER is not a multi-generational story, so it shows us Pinker's reign of terror for the first half hour of the movie. Rather than a Final Girl like Nancy we get Jonathan Parker (BATTLESHIP director Peter Berg, kinda looking like Ethan Hawke) as a kid whose family was killed by Pinker, except for his dad (Michael Murphy, the Vice President from WHITE HOUSE DOWN), who is the police lieutenant trying to catch Pinker. Jonathan dreams about the killings in detail before they happen, so he's able to help identify and catch the killer and be there when he's executed (see poster).
Oh, here's the thing though. Pinker is involved in black magic and shit. It is mentioned on one of the many John Tesh narrated news reports we hear throughout the movie. Just before they bring him to the electric chair they find him in the cell with a bunch of candles and wires performing an electro-magick ritual on a reconfigured TV. "Come on, give it to me!" he yells. "You got it, baby!" say the animated lips that protrude from the screen. If you are wondering "Do you understand this part at all, Vern?" the answer is no, I do not understand this part at all.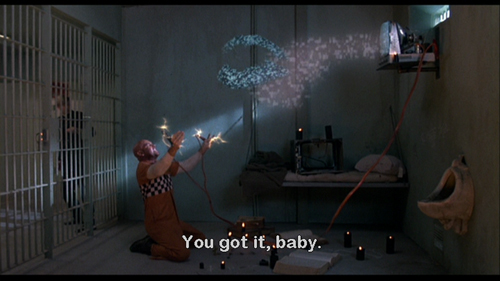 But actually it's kind of similar to a flashback scene they later did in the Craven-less FREDDY'S DEAD: THE FINAL NIGHTMARE where wormy, stop motion "Dream Demons" gave Freddy his nightmare-haunting abilities.
Somehow those floating TV lips give Pinker magic powers, so after he's electrocuted his body turns into electricity which also is his soul or something and that body-electricity-soul can take over another body. (There's a good joke where Lieutenant Dad sees the body disappear, leaving the clothes behind Jedi style, and thinks he just disintegrated. "Jesus," he says. "That chair really kicks ass!")
But Jonathan knows that Pinker is still alive and coming after him, and then the bastard kills his lovely girlfriend Alison (Cami Cooper, LIKE FATHER LIKE SON). So he's got to stop him, etc.
For some reason in the late '80s there was this belief that a killer jumping from body to body was a cool idea for a movie. JASON GOES TO HELL: THE FINAL FRIDAY, THE FIRST POWER and SHOCKER all prove otherwise. In SHOCKER it primarily happens in a long sequence in the park where Jonathan is pursued by Pinker in the body of a cop, then a jogger, then a little girl, then the little girl's mom, etc. I at least give them points for the kid, because it's funny to watch a little blond girl in a pink sweater cursing and recklessly driving a bulldozer. And then he grabs the girl in front of her Mom and it makes him look like some pervert kidnapper or psycho. ORPHAN did this better though, with Vera Farmiga straight up punching a little girl in public, without the witnesses understanding that the little girl is evil. (Also it's kind of a cop out that Pinker jumps right to the mother so that there are no consequences to the hero's public child-grabbing.)
So Horace Pinker can jump from body to body. Sometimes if the body dies or gets weak or something his spirit floats out, and it has scan lines on it like a TV screen. Because also he can go into a TV and come out another TV. But also he is electricity, so he can go into a wall outlet. But also weird things keep happening to Jonathan that will turn out to be a dream, and blood-covered Alison comes and talks to him and gives him back the heart necklace he gave her when she was alive, and then when he wakes up he still has it in his hand, Freddy's hat style, and she said it could defeat Pinker because it represents love.
So, in summary, he used black magic and TV repair to make his soul transfer from body to body, but his soul is also a TV signal but also it's electricity but also dreams are real and ghosts and he is the opposite of love. See, this one doesn't have the same elegance as "if you die in your dream you die for real." This is a precursor to the record-breaking convolutedness of MY SOUL TO TAKE.
Craven is a thoughtful director, loading movies like LAST HOUSE ON THE LEFT, THE HILLS HAVE EYES and THE PEOPLE UNDER THE STAIRS with interesting subtext. So I think it makes sense to try to decode this one. If Horace is the Freddy of the late '80s, does that mean that TV had replaced our dreams? The movie itself seems to mix up the powers of TV and dreams with its muddled mythology.
There aren't many signals that it would be a criticism of TV-watching. Only during the climax is there a cartoonish depiction of a family of obese people who won't leave the couch. Before that there is never any indication that Craven is going after a TV-obsessed culture. The heroes don't sit around watching TV, they go out and play football and stuff, and though the coverage of the Horace Pinker crimes is non-stop it's not shown to be as exploitative or inaccurate as the usual movie depictions of TV news (for example in Craven's own SCREAM).
On the other hand, there are visual cues that Craven is in a NATURAL BORN KILLERS type mindset of showing how TV turns our world's worst horrors into little visual thrills inside a box. When the police come to arrest Pinker at his creepy TV repair shop, they're confronted with walls of identical TV screens showing loops of Klan rallies, Vietnam bombing runs and piles of skulls. Some of these same images flashed through the opening credits and reappear during the silly climax where, in the tradition of Nancy going into the dream world and pulling Freddy out at a certain time, Jonathan goes into the TV channels and pulls Pinker out at a certain time in order to get him on live TV and trap him in a… I don't know, but also the power goes off at a certain time, so… whatever.
Anyway, Jonathan and Pinker chase each other through war footage, the Hindenburg explosion, riots, a boxing match, Leave It To Beaver, FRANKENSTEIN, a John Tesh news report, etc. You know, like STAY TUNED or whatever. But scary. (?)
Man, there really is nothing good on, is there? I gotta watch that Vietnam footage again?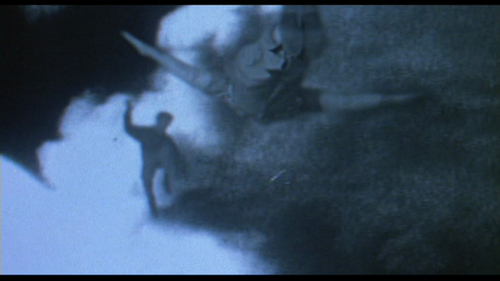 The image of a fuzzy Horace Pinker climbing out of a television THE RING style to grab a sleeping Jonathan is pretty loaded, as if to say that The Media or Hollywood or TV is coming for our children. Craven being a major horror director and somewhat of a lefty I feel safe in assuming that he would not mean that literally, only as a parody of this sort of paranoia. And yet he keeps filling screens with real world violence like the war footage, which maybe could mean that TV is feeding us this stuff or desensitizing us or– shit, I don't know. I am prepared to admit that I can't make sense of the mythology or the subtext of this one.
It's a ridiculous movie, but it's not without its appeal. I like the overall gloomy mood and the overcast look. Alot of it is reminiscent of ELM STREET and its sequels, but not in a bad way.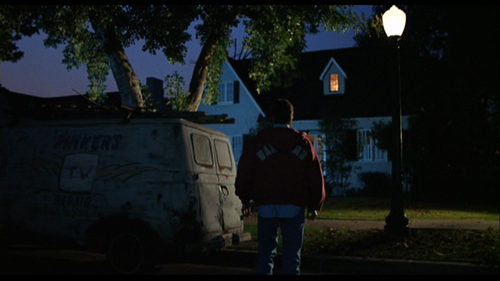 There are some strange moments that are maybe silly but that I appreciate for being things I haven't seen before. You know how killers like to leave threatening messages written in blood? Pinker does that, but then Jonathan's dead girlfriend leaves him a more positive one: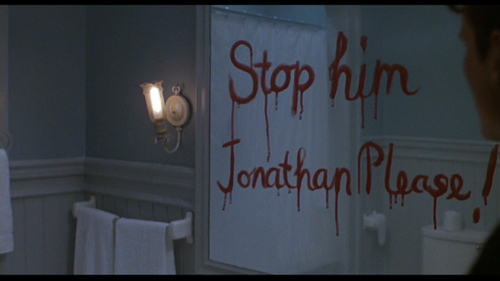 Look at that nice, neat cursive! I would've liked to see a heart, star or smiley face on there, but the handwriting is good enough.
At this time I would like to take a moment to acknowledge what can only be called the "Scary Chairy" scene.
I guess I don't really have to say anything. The images speak for themselves.
A better horror moment is when the death row screws find Pinker already electrocuted in his cell and are worried it's gonna be their ass if they can't bring him to get officially electrocuted. Not knowing what else to do one of them starts giving him mouth-to-mouth, when suddenly Pinker bites him on the lower lip and yanks it like a dog playing tug of war. It's one of those really effective sympathy pain moments you get sometimes in horror movies. You can almost feel it.
Since Jonathan is a jock he is physically capable, and has an actual chase scene with Pinker when he's still alive. The highlight is when he does a beautiful WWF style flying drop kick to Pinker's back. (That said, he's not a superman, as evidenced by the funny opening where he runs straight into the goal post while showboating at practice.)
That is one interesting switch from the ELM STREET paradigm. In the original, Nancy and her friends knew about Krueger killing them in their dreams, but no adults believed them, and they were on their own. Nancy could only count on her boyfriend, and then he got turned into a blood geyser. In SHOCKER, Jonathan has similar trouble convincing his dad about Pinker, but no trouble at all convincing everybody else, because "We're friends, right? And we're a team, right?" in the words of his best friend Rhino (Richard Brooks, who recently played Frederick Douglass in the PBS series The Abolitionists). Rhino, along with Student Assistant Coach Boyd "Pac-Man" Stewart (Theodore Raimi) and even adult, seemingly reasonable Coach Cooper (Sam Scarber, DEAD BANG) immediately believe everything he tells them about Pinker still being alive and having magic powers.
The ELM STREET sequels, especially part 3, were about misfits and outcasts of society. Though Jonathan kinda starts out seeming like ELM STREET 1's Rod (greasy angry boyfriend mischaracterized as murderer) he's a popular kid, and has that to fall back on. The whole football team breaks into and sabotages the power plant on his behalf.
The football player hero is kind of a weird match with the several heavy metal songs on the soundtrack (including a title song and "No More Mr. Nice Guy," a tagline song). I don't know if that means Craven didn't understand the divisions between young people of the time, or if it means the once rebellious subcultural music had by that point been absorbed by the popular kids. One disadvantage I have over some people for watching this era of horror is that I just got no love for the heavy metal music at all. I mean I can appreciate the first two Black Sabbath albums, and that's about as deep as it goes. I have neither sincere or ironic nostalgia for any of those '80s metals bands or their sound or their aesthetic. I mean, maybe Twisted Sister. But otherwise none. I never liked it then and it has not held up well or come back around to seeming cool again, and probly never will as far as I'm concerned. So to me it's not a selling point that there's a Megadeth song on it, but I can get through it. (Other bands on the soundtrack with less recognizable names: Bonfire, The Dudes of Wrath, Dangerous Toys, Dead On).
Well, sorry Mr. Craven, this is not the new Freddy. You missed the mark on that one. This is a stupid movie. But it was kind of fun to watch. Maybe I'll do it again in another 24 years.