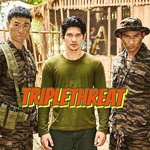 TRIPLE THREAT is the long-awaited international co-production that teams Tony Jaa (ONG BAK, THE PROTECTOR, KILL ZONE 2), Iko Uwais (THE RAID, HEADSHOT, THE NIGHT COMES FOR US) and Tiger Chen (MAN OF TAI CHI, KUNG FU TRAVELER). That in itself is an event, but wait until I tell you who plays the villains. Directed by Jesse V. Johnson (THE BUTCHER, SAVAGE DOG), it's not an envelope-pusher like some of the modern classics each of those three have under their belts, but it's a solid action romp with tons of clearly shot fighting, taking advantage of all the possible match-ups and varying martial arts styles.
Jaa is first billed and shown first, but Uwais is the protagonist and the one with the best hair*. Jaa and Chen play mercenaries duped into a "humanitarian mission" that's actually an attack on a village in which Uwais' character's (very briefly glimpsed) wife and friends are killed. Seeking revenge, he tracks the two to their day jobs as underground fighters… and gets beat up. But they recognize him from the village, explain themselves and become his on again, off again allies as he uses them to try to lure out the criminal syndicate responsible. Meanwhile those two try not to be killed by the gang for knowing too much, as well as to protect a Chinese heiress (Celina Jade, LEGENDARY ASSASSIN, SKIN TRADE, WOLF WARRIOR 2) they discover is being targeted by them. (read the rest of this shit…)
VERN has a new action-horror novel out called WORM ON A HOOK! He has been reviewing movies since 1999 and is the author of the film criticism books Seagalogy: A Study of the Ass-Kicking Films of Steven Seagal and Yippee Ki-Yay Moviegoer!: Writings on Bruce Willis, Badass Cinema and Other Important Topics as well as the crime novel Niketown.