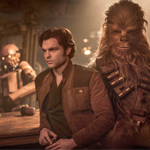 Note: I believe I've seen the Mario Van Peebles version, but I don't remember it at all, so I won't be able to make a comparison.
SOLO: A STAR WARS STORY is the movie about Han Solo when he was a little younger than in STAR WARS. This is a generalization, but I'm gonna go ahead and say that no one in their right mind wanted to see a movie about young Han Solo. The only exception is George Lucas, who actually had Lawrence Kasdan writing this before he sold everything to Disney. I'm guessing it was his idea of what the fans who hated his prequels wanted to see.
The trouble is that if there was one Star Wars character who would be the MOST difficult to recast, it would definitely be Han Solo. This is a character that's all about the specific charisma of Harrison Ford. If Kurt Russell or somebody had gotten the part then it might've still been a cool character, but it would not be the same. And you can't re-create that. You can't reverse engineer it.
So, with that in mind Alden Ehrenreich (the funny cowboy actor from HAIL, CAESAR!) has done as good a job as one could hope in an impossible task. He only looks a little like him and only sounds a little like him, but he gets some of his mannerisms, some of his attitude, some of his charm without ever seeming like he's doing an impersonation. (If there's one area in which it's an uncanny reproduction I'd say it's in his gun poses, which always look ready for a promotional poster.) (read the rest of this shit…)