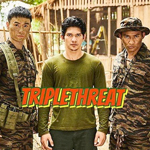 TRIPLE THREAT is the long-awaited international co-production that teams Tony Jaa (ONG BAK, THE PROTECTOR, KILL ZONE 2), Iko Uwais (THE RAID, HEADSHOT, THE NIGHT COMES FOR US) and Tiger Chen (MAN OF TAI CHI, KUNG FU TRAVELER). That in itself is an event, but wait until I tell you who plays the villains. Directed by Jesse V. Johnson (THE BUTCHER, SAVAGE DOG), it's not an envelope-pusher like some of the modern classics each of those three have under their belts, but it's a solid action romp with tons of clearly shot fighting, taking advantage of all the possible match-ups and varying martial arts styles.
Jaa is first billed and shown first, but Uwais is the protagonist and the one with the best hair*. Jaa and Chen play mercenaries duped into a "humanitarian mission" that's actually an attack on a village in which Uwais' character's (very briefly glimpsed) wife and friends are killed. Seeking revenge, he tracks the two to their day jobs as underground fighters… and gets beat up. But they recognize him from the village, explain themselves and become his on again, off again allies as he uses them to try to lure out the criminal syndicate responsible. Meanwhile those two try not to be killed by the gang for knowing too much, as well as to protect a Chinese heiress (Celina Jade, LEGENDARY ASSASSIN, SKIN TRADE, WOLF WARRIOR 2) they discover is being targeted by them.
Sounds kind of complicated, but mostly it just means they're running around town ducking machine gun spray and doing flying kicks (and knees and elbows). The choreographer is Tim Man (NINJA II, BOYKA: UNDISPUTED, ELIMINATORS, ACTS OF VENGEANCE, ACCIDENT MAN, THE HARD WAY), who has them fighting in varied locations and damaging many different surroundings. I like when Chen bumps against a piano.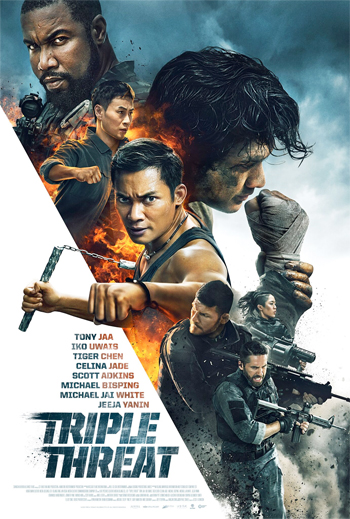 Even a movie with a great set of stars like this could be wrecked by a boring villain. I knew UNDISPUTED II co-stars Michael Jai White and Scott Adkins were gonna be in the movie, but I honestly didn't expect them to be the lead villains and great characters in their own right. Adkins (in his fourth of five Johnson-directed movies since 2017) gets an "and" credit and a super villain entrance. He leads the team and, much like in ACCIDENT MAN and THE DEBT COLLECTOR, gets to do it with mean, sometimes humorous verbosity. As they keep getting attacked he complains that they're in "fuckin ninja warrior land, jesus christ."
White's character is similarly hateful and even more arrogant. They belittle our heroes by calling them "small," "little," "village boy" and even "mouseketeers." I love seeing both of those guys as heroes, but they're also so good at playing assholes. (I guess in the UNDISPUTED series they sort of get to do both.) But they can and do back up their threats more than most bad guys.
Also on their team are former UFC Middleweight Champion Michael Bisping (xXx: RETURN OF XANDER CAGE) and the one and only, not in nearly enough movies but still legendary in my mind Jeeja Yanin (CHOCOLATE, RAGING PHOENIX). She has a smaller part, but it's not another HARD TARGET 2 situation where it's offensively small. She gets in a little fighting and (SPOILER) the best death in the movie. I love seeing her bickering with and fighting alongside White, who looks like a giant in this cast. That's a buddy movie I want to see.
Speaking of buddies, there are sparks of good chemistry between the Triple Threaters. The idea of Jaa and Chen being messy bachelor roommates is amusing to me, and Jaa's boyish playfulness comes through in his love of cooking for the others (even if that character detail is party an excuse to make him say "Tom Yum Goong"). But there are a couple important scenes that are a little awkward because the three of them have to quickly bounce off each other in English. It didn't occur to me before that they all speak different languages, so using English actually makes the most sense.
IMDb says the screenplay is by Joey O'Bryan (FULLTIME KILLER, MOTORWAY, DOWNRANGE) and Paul Staheli (7 GUARDIANS OF THE TOMB). It's perfectly functional, well-paced and with a couple good takes on favorite action traditions:
1) The old friend who might be mad from some old grudge but owes a favor and allows the use of his arsenal.
Bonus: He's played by veteran Hong Kong action actor Michael Wong (LEGACY OF RAGE, ROYAL WARRIORS, KNOCK OFF, FIRESTORM)
2) The scene where the martial arts expert could shoot their enemy but out of respect (either for the opponent, for combat or for the audience) puts the gun down so they can have a duel without weapons. In this case he fires all the bullets at nothing before throwing down the gun. So fucking cool.
It's understandable to compare TRIPLE THREAT to THE EXPENDABLES, our go-to way of describing all-star action team ups. But EXPENDABLES took still-beloved action icons of the past, milked them for nostalgia, then kind of wasted them by not having full faith in their ability to remain relevant, instead bungling their fight scenes with trendy shakycam and desperately teaming them with less interesting young up and comers. (Not to mention casting Adkins as a henchman without giving him a real fight scene.) TRIPLE THREAT doesn't have to try so hard to be current because it is in the fact the stars of many of the best martial arts movies of the past 10-15 years, including both Asian hits and cool western DTV, and helmed by the mostly-DTV director currently on the hottest streak.
When we first heard about TRIPLE THREAT in 2016 it was said to be directed or action-designed by Chad Stahelski (JOHN WICK) and be about "a Chinese martial artist who goes to Mexico to rescue his ex-wife and their son after they are kidnapped by a drug cartel." Well, I'd watch that too. But this is the TRIPLE THREAT that was meant to be, and it's a good one.
Now, who should join the team in QUADRUPLE THREAT?
TRIPLE THREAT arrives in wide release for one night only on Tuesday, March 19 and in select theaters and on VOD Friday, March 22.
*besides Jeeja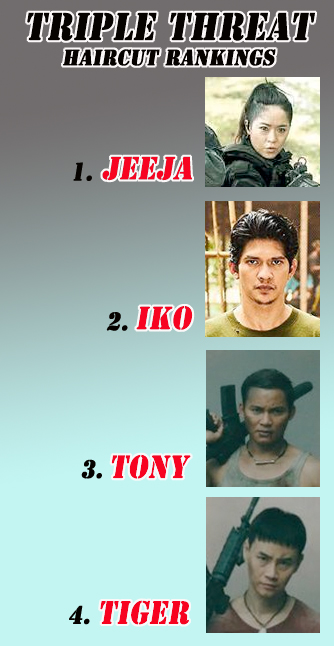 This entry was posted on Friday, March 15th, 2019 at 8:15 am and is filed under
Action
,
Martial Arts
,
Reviews
. You can follow any responses to this entry through the
RSS 2.0
feed. You can skip to the end and leave a response. Pinging is currently not allowed.