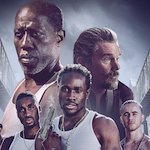 CUT THROAT CITY may be the capital of CUTTHROAT ISLAND, I'm not sure, but the one I'm here to write about is the crime film set in New Orleans shortly after Hurricane Katrina, and it's the latest directorial effort of The RZA.
As you may know I'm a fan of RZA's music (Wu-Tang Clan, GHOST DOG score), acting (THE PROTECTOR 2, BRICK MANSIONS, THE DEAD DON'T DIE) and film scholarship (the commentary track on THE 36TH CHAMBER OF SHAOLIN, his 36films.com livestreams). I'm also a big fan of his first film as a director (and writer and star and composer), THE MAN WITH THE IRON FISTS. I have some issues with the way he shot the fights, but I absolutely love the old school kung fu fantasy world he created and the many characters, clans and weapons within it. So I take him seriously as a filmmaker.
For a while CUT THROAT CITY feels like a pretty big leap in his directorial skills. Shot by Brandon Cox (THE COLLECTOR, ESCAPE PLAN 2) it's a really nice-looking film, demonstrating that gritty and grimy are not necessarily the opposite of colorful. It feels very assured, and puts some thoughtful themes and distinct flavor on a compelling crime drama template. To me it started to veer out of control in the second half, blunting its effectiveness in normal genre (and storytelling) terms, but I kinda respect that it's arty weirdness and ambitious themes that ultimately derail it.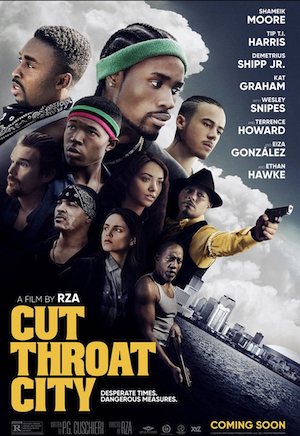 RZA benefits from a strong, charismatic lead in Shameik Moore, who is most famous as the voice of Miles Morales in SPIDER-MAN: INTO THE SPIDER-VERSE, but he's also one of the stars of RZA's autobiographical show Wu-Tang: An American Saga. Here he plays Blink, a newlywed father of one and a talented artist – the title of the movie is also the title of a graphic novel he's having trouble getting published. Unable to find enough work or financial assistance for his family after the 9th Ward is devastated by the hurricane, Blink and his friends decide to do a job robbing a casino for a gangster and spend the rest of the movie dealing with the fallout – a dead friend, police on their trail, the gangster betraying them. And all these connect to murky systems of power, inequality and corruption in New Orleans.
It kind of reminded me of JUICE in that we're immediately grounded by this group of friends, their obvious bond beyond the disagreements and shit-talking, and that some of them are sensitive artists but one is the more macho, animated friend who seems destined to get them in trouble because he's a low level drug dealer. And the funny thing is that that character, Miracle, looks a whole lot like Tupac (I should've guessed that Demetrius Shipp Jr. actually played Tupac in ALL EYEZ ON ME).
Those guys hang out with Dre (Denzel Whitaker, ABDUCTION, WARRIOR, BLACK PANTHER), who is too shy to make his best man toast at Blink's wedding so he plays a trumpet solo instead, and Junior (Keean Johnson, ALITA: BATTLE ANGEL), who's interested in breeding and training Rottweilers. The movie opens with a conversation about movies, which could be an homage to RZA's friend Quentin Tarantino, except that Miracle calls RESERVOIR DOGS "overrated" parses how many n-words should be used in a movie, especially when the words are written by a white person. (I haven't been able to determine whether or not screenwriter P.G. Cuschieri is a white person.)
This conversation acts as sort of a mission statement, though, when Miracle argues that Blink's graphic novel can be more "reality," less "escapism" even if it's not a true story – "Like THE GODFATHER. That shit fake, but you can feel the realness."
RZA and Cuschieri fill their "fake but real" version of post-Katrina Lower Ninth Ward with as many lively characters and details as RZA did Jungle Village in his first movie. The gangster they do a job for, Cousin (T.I., AMERICAN GANGSTER, ANT MAN) acts like a scary big shot, but works out of a trailer where people make bets on raccoon fights. Later they need help from a much higher up, less accessible gangster called The Saint, who you keep hearing about before you see him, but if you remember the opening credits you figure out he'll be played by Terrence Howard. He works out of an abandoned church and quotes them his favorite verse from Ezekiel while naked women package his coke nearby. Both gangsters compare Blink and friends to the characters in THE WIZARD OF OZ, which is not a bad comparison as their crime journey takes them further from home and "realness" and deeper into surreality.
While the young leads give very natural performances, maybe throwing in an occasional "Ya heard?" for regional authenticity, the big name actors in the guest star type roles are much more hammy and constantly seem to circle around whether or not to attempt a Louisiana accent. I'm sure some people will hate that, but I think it's a fun dynamic. This especially applies to Ethan Hawke (EXPLORERS) as Alderman Jackson Symms, an ex cop who hears about the casino robbery and makes an angry phone call to pressure Detective Benoit (Eiza Gonzalez, BABY DRIVER, BLOODSHOT) to track down the "kids" responsible. He makes the call while stirring a Bloody Mary (with celery) in his yard, where he has a jar of change for the purpose of making wishes in his garden fountain.
Then he disappears from the movie for a while, and exactly as I was thinking "That's cool that they got Ethan Hawke just to do that one scene" he becomes much more important. Blink is on the lam so his wife Demyra (Kat Graham – Jada Pinkett in ALL EYEZ ON ME!), shows up at the alderman's house, explains that she once worked at a hospice where his wife died, and convinces him to use his clout to help her save her husband. In the very next scene he's drunk in a cemetery speaking to his wife's tombstone as if it's her, on a very long rant about the history of the levees and his belief that they were intentionally dynamited to flood the poor part of town. And I thought okay, I definitely see why Hawke wanted to do this!
But I gotta say, as much as I love Hawke (including in over-reaching mode here), the most exciting quirky movie star appearance is obviously when Blink goes out to the boonies to hide out with his estranged father, and his father turns out to be played by the one and only Wesley Snipes (RZA connection: the score for BLADE: TRINITY). Snipes is still in great shape and gives his son boxing lessons, but I think it's the first time I've seen him legitimately bald – like, bald on the top but with a little hair on the sides. And he smokes a pipe and brews herbal remedies with yohimbe and sarsaparilla. And since it's A Film by RZA he plays chess as a way of advising his son metaphorically. And yes, he makes a run for the accent. It's a great time.
This is obviously a very male-heavy movie (and has major scenes at strip clubs), but there's alot of time spent on Detective Benoit's scrappy determination, and I think a genuine effort to make Demyra a little bit more than the abandoned wife in her small part of the story. When Blink gets fed up and has a tantrum where he tears down his artwork, the focus of the scene is Demyra standing there, waiting to put a supportive hand on his back when he calms down.
There are other eccentric supporting characters I could go into, but you get the idea. I love this kinda shit sprinkled into a crime movie, so I love it here, but after a certain number of oddball speeches about gentrification or original sin or Jean Lafitte or some shit it starts to tip over. And I don't think I'll be the only one confused by what's supposed to happen at the end (SPOILER FOR WHAT'S SUPPOSED TO HAPPEN AT THE END) – I believe we are to understand that the climax, where they try to rob a FEMA office and all get shot, actually did not happen and is only the ending he gave their characters in his finished graphic novel. But I had to rewind it to figure that. Part of what throws it off is the coda where Demyra brings their son to meet his grandpa. It's sweet, but I'm convinced they had to have filmed it believing Blink was dead and then came up with the graphic novel idea and figured. It's possible he wouldn't go with them, but it feels off. Clearly the natural happy ending is to unite the whole family, not all of them besides the main character!
Much like Moore's character DJ Shaolin Fantastic on The Get Down (I love that show), Blink is an intelligent and artistic person who is also very masculine and stubborn, and fucks everything up by taking an illegal job to try to provide for the people he cares about. One detail I love is when, during a disastrous meeting with an asshole publisher (Joel David Moore of AVATAR and HATCHET), Blink sheepishly references Charles Schulz, Gary Larson, and a transcript he read at the library of a panel at Anime Expo. I don't think Blink is a very RZA-esque character overall, but the idea that someone as "hood" as Blink can have interests that defy racial assumptions is reflective of the director.
In the end I think CUT THROAT CITY is more interesting than it is successful, but interesting is good. I'd really like to see this more experienced director apply some of what he's learned to kung fu movies again. Or a BLADE movie. Or GALLOWWALKERS 2. But I'm sure whatever he does, whether with Wesley Snipes or not, will be worth seeing.
CUT THROAT CITY is available on disc and was recently added to Netflix streaming
p.s. RZA didn't do the score for this one, but it has some pretty good music in it.