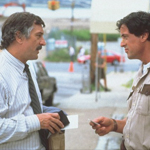 I always thought COP LAND was a sequel to WESTWORLD, but I guess it's actually a police drama about a small town in New Jersey set up by the mob to shelter corrupt New York cops outside of the city limits. Could use some out of control robots obviously but otherwise it's a good movie.
As the movie opens Freddie (Sylvester Stallone) is in a small diner where cops hang out, playing a cop-themed pinball machine. That's how he spends his birthday. He's drunk and can't stop playing, is so into it he takes his sheriff keys to go open up a parking meter and get more quarters. This is him, playing a game at being a cop, watching the city cops talk, they get mad that he's looking at them. And he can't even hear what they're saying anyway because he went deaf in one ear saving a drowning girl when he was young. It keeps him off the NYPD and makes him have to keep having people repeat things to him.

Stallone gives one of his great character actor performances. Quiet like Rambo, slow like Rocky, but more passive and friendly than either. People made a big deal about him gaining weight for the role (his chubby belly is shown in one scene at the beginning) but the real transformation is playing a helpless doofus for most of the movie, watching everything with his big sad eyes, his stupid half-smile hiding whether he's letting things slide or just missing them altogether. He's really pathetic, maintaining a hopeless, protective crush on the married woman he rescued all those years ago, being too afraid or too stupid to admit what's going on in his town is wrong, sporting a broken nose from crashing into a tree when he was drunk. When an asshole cop speeding in an unmarked car chews out Freddie's deputy for pulling him over, Freddie doesn't defend her. He apologizes. He is not immediately shown to be strong of character.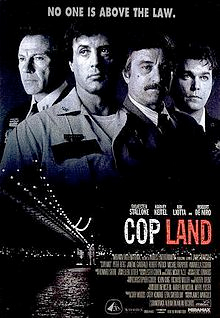 Over in NYC a hero cop (A Tribe Called Quest fan Michael Rapaport) is having a bad night. He's driving home kinda drunk, some crazy teenagers sideswipe him, won't pull over and point what he thinks is a gun at him, so he chases after them and shoots at them. They turn out to be on crack, but they're also unarmed, and black, it was a mistake and it looks bad. But a posse of crooked cops led by his uncle Ray (Harvey Keitel) and Robert Patrick (with mustache) swoop in and cover it up before the car is even towed.
Paul Calderon (PULP FICTION, OUT OF SIGHT, KING OF NEW YORK, BAD LIEUTENANT, Michael Jackson's BAD, PISTOL WHIPPED) has a brief appearance as an EMT who sees them try to plant a gun on the dead kids, calls them out and won't back down. I've never seen that happen in a movie before. They're planting evidence so he starts yelling about what's happening and throws the gun off the bridge. Mason Storm could've used a guy like that when they were planting drugs on him in HARD TO KILL.
Ray Liotta is in that role I said he never got, the cop who SPOILER does not turn out to be crooked. Or at least he's less crooked than the other cops. I mean, he's got a coke problem and everything, but he's the guy who calls the shenanigans to Freddie's attention and speaks out against them. He's a fuckup but he's anti-shenanigan. In fact, when he almost gives up and leaves town funded by insurance fraud, Freddie is so disappointed that he starts yelling at him. Before that we've never seen him raise his voice. He's always kept his emotions sealed up tight, now they're exploding all over the place, like that classic monologue in FIRST BLOOD.
And you might expect Robert De Niro to play one of the dirty cops, obviously he has some experience playing that type of character. Instead he's the good one, the one who's busting his balls trying to prove what's going on, but it's a rickety operation, they're always trying to shut him down, he gets no support from his department or from cops that could help him, like Freddie. He mostly seems like a nice guy, but throws an all-time classic tirade when Frankie comes to offer his cooperation only after he's already turned him down and then waited around and then De Niro had to close up shop.
The cast in this thing is out of control. Stallone, De Niro, Liotta, Keitel, Patrick, Rapaport, also Edie Falco, Debbie Harry, Malik Yoba, Annabella Sciorra, even a small non-wisecracking part for Janeane Garofalo, who was getting some roles like that in the indie '90s. And Method Man when he was still scary – this was released about 2 months after Wu Tang Forever, before his second solo album or team up with Redman – makes his feature-film-but-not-playing-himself debut as a crazy crackhead named Shondel who appears in one scene. He's got one white eye and platinum teeth and he's trying to throw Peter Berg off a building. At the time it must've seemed weird but now it's obvious that he's a guy who traveled back in time to prevent Berg from directing BATTLESHIP so that it wouldn't flop and GI JOE 2 wouldn't be delayed and would become a big hit and Jon M. Chu would be able to direct COP LAND 2 THE STREETS.
This was the second movie by writer-director James Mangold, who got the attention of critics with his debut HEAVY, so when he got this cast there were sky high expectations. Since then he's turned out to be more of a journeyman type director than I think they expected back then. Pretty solid, but not visionary. WALK THE LINE was good. 3:10 TO YUMA was pretty good. I wasn't so into KNIGHT AND DAY. I have not and will never watch KATE AND LEOPOLD.
From my vantage point in the future maybe I had more realistic expectations for COP LAND than people did back then. I know it has a reputation for not being as good as the sum of its parts, but I really liked it. I probly wouldn't say it's one of the all time classics of this police corruption genre, but it's a pretty damn good one. Great characters, great performances, a building sense of inevitable doom. At the very least it's a topnotch reminder of Stallone the actor. It's not about the gimmick of him being out of shape, it's about his ability to put an unusual person on screen and make you understand him. And I'd say it's a little more than that too. I approve it. Visit COP LAND today!