MERANTAU is a simple, straight forward martial arts movie from Indonesia. Iko Uwais plays a young man named Yuda (I know, make a Yoda joke, or "Yuda man" or something) who goes on his merantau, his journey to find himself and become a man. He lives out in the boonies practicing his silat, he figures he'll take a bus into Jakarta and try to get a job teaching it, see how that goes. But he gets sidetracked.

He finds the plot quickly and coincidentally. While he's eating a little kid steals his wallet, he chases him through narrow alleys, after he catches him he happens to see the kid's older sister, a gogo dancer, getting ripped off and slapped around by a club manager, so he intervenes. This only makes matters worse for the girl, but now he knows about her and has to try to help when he sees her get snatched by thugs to give her to sex traffickers (the new go-to action movie villains. Sorry Nazis, commies, terrorists, white supremacists and bureaucrats. Your services are no longer required.)
I like this set up. The villain is a perverted, sadistic, egomaniacal, English-speaking rich prick who stays in a fancy hotel. The hero is a humble, decent young man who sleeps in a cement tube on a construction site. Both, for some reason, know how to fight. So that's gonna have to happen at some point.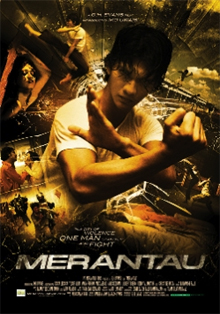 The obvious comparison is to ONG BAK and THE PROTECTOR – honest farm boy comes to corrupt city to fight for old fashioned values and portecting the innocent. (No cultural symbols like statues or elephants, though. And no comic relief buddy named Dirty Balls.) I'm hesitant to bring that up, because some of the stunts and moves in ONG BAK are so jaw-dropping that nothing can really compare, and I don't want anybody to expect this to match up in the "holy shit!" department. It doesn't. But it's still outstanding.
The fights have the Jackie Chan influence – he moves around using his surroundings and found objects to his advantage, he tricks opponents into hitting each other, uses people as weapons. Again I'm not gonna say it's ONG BAK, but truthfully some of the dudes he beats up perform falls onto solid ground worthy of the Thai stunt teams. There are a few incredible gags like a rooftop chase where he rams a guy in the chest with a long bamboo pole as the guy is jumping between buildings, and a really smart way to escape a guy on a motorcycle by making an innocent bystander think his towel is being stolen.
There are themes of Fight Brotherhood. I won't give it away, but I like what happens when Yuda and another guy have to fight even though they respect each other. There's also a weird abusive love relationship between the villain and his brother (?). There is hugging and bleeding. One weird bit I like is the scene where the gogo club manager brings in some fighters to show to the boss. He walks in while the two brothers are hugging, and the entire time he's in there the brother keeps his head turned away to hide a gushing wound. And somehow the guy doesn't figure out he should excuse himself immediately. You don't usually get that kind of discomfort in a martial arts picture.
Speaking of the gogo club guy, I like how different he is in different contexts. In his club he thinks he's King Shit. He slaps the girls around and when Yuda hit him he tried to make like he was real important. He said, "Do you know who you're fucking with?" ("No, I don't. Now give her the money," Yuda responded.) But when he's trying to bring girls to his creepo boss he's a yes-man doofus who keeps screwing up and getting yelled at.
One thing I really wonder about this movie: did Yuda ever go back and pay the guy for the food after the kid stole his wallet? He promised he would, but it wasn't shown. Man, I hope he did.
This is a solid, well-directed, completely enjoyable martial arts movie. It's a little longer than most of its type, and that might bother some people, but I sort of appreciate that it allows time for the scenes to breathe a bit. It's not always in a hurry, it lingers a little.
I like how international the martial arts movies are becoming. Hong Kong and mainland China have been coming back with a vengeance, a scene has exploded in Thailand, there was that BESOURO movie out of Brazil, they got some martial arts in some of the Korean and Japanese movies, Israeli director Isaac Florentine is doing some great American ones… now here's one from Indonesia, directed by a British guy named Gareth Evans who was living there working on a documentary about this martial art silat, decided to write a script about it. Many practicioners of silat are actually Muslim, it would be interesting if that came up in the movie, that would make it stand out. Anyway, I like that modern action cinema has turned into the It's a Small World ride, a showcase of different cultures and codes. And awesome ways to spin around or beat people up.
Also I gotta hand it to the digital video. I used to be so against it, because people started using it before it looked good. Now it's great because somebody can shoot a movie like this on what I'm sure is way less than a Hollywood budget, but they don't have to worry about cheap film stock making it look all faded or cloudy. The colors are so crisp and vivid. Just get one of these nice hi-def cameras and go to a part of the country that hasn't been on film that much and you got yourself some eye candy.
On another note, I wonder if we need a formalized tradition of merantau in our culture? I guess for some kids it's to go to college, or take a trip to Europe, or join the military. Or maybe it's just leaving the house, getting an apartment. I guess even in the movie it's not a tradition everybody believes in. The mom would rather keep Yuda at home and take care of him, but he wants to face the real world on his own to toughen himself up. I don't know. It's good and natural to want to protect your kids. Lions do it. Godzilla does it. But maybe some of the kids these days would feel better about themselves and be better people if they were less sheltered and had to work harder. Plus if everybody did this maybe we'd be able to shut down all the sex traffickers. Yuda and Liam Neeson can't do all the work.
trivia: for once the U.S. got to have the original title, it was the UK that decided to change it to "MERANTAU WARRIOR." That's refreshing because it's usually here that they assume we don't have the capacity to learn the meanings of words we haven't heard before (that's how we got ONG BAK: THE THAI WARRIOR).
This entry was posted on Friday, March 25th, 2011 at 2:26 pm and is filed under
Action
,
Martial Arts
,
Reviews
. You can follow any responses to this entry through the
RSS 2.0
feed. You can skip to the end and leave a response. Pinging is currently not allowed.