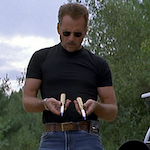 Bruce Willis is… THE JACKAL. This one came out in 1997, between THE FIFTH ELEMENT and MERCURY RISING. It was coming off an adventurous couple of years in Bruce's career that included NOBODY'S FOOL and 12 MONKEYS, and this is more of a normal Hollywood picture than those, but it was still an unusual role for him. He's top-billed over Richard Gere (who was between RED CORNER and RUNAWAY BRIDE) but playing the antagonist, a very cold and serious assassin hired to kill the head of the FBI.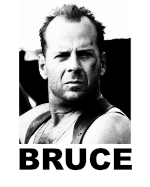 It comes from director Michael Caton-Jones (DOC HOLLYWOOD) and it's based on Kenneth Ross's screenplay to the 1973 Fred Zinnemann film DAY OF THE JACKAL, which itself was based on a 1971 novel by Frederick Forsyth. The new screenplay is credited to Chuck Pfarrer, a national hero because he wrote HARD TARGET and part of DARKMAN. (He was also a Navy SEAL and wrote NAVY SEALS.) Reportedly there was an uncredited rewrite by Kevin Jarre (who has a "story by" credit on RAMBO: FIRST BLOOD PART II).
The movie opens with a joint American-Russian law enforcement operation in snowy Moscow. MVD Major Valentina Koslova (Diane Venora, F/X), backed by FBI Deputy Director Carter Preston (holy shit, that's Sidney Poitier!) raids a night club to arrest Aizerbaijani gangster Ghazzi Murad (Ravil Isyanov, K-19: THE WIDOWMAKER, and about to play Billy Wilder in that Marilyn Monroe movie BLONDE). When Murad attacks Koslova with a knife she fatally shoots him, so his older more powerful brother Terek (David Hayman, Malcolm McLaren in SID AND NANCY) declares war on the FBI by hiring the motherfuckin Jackal.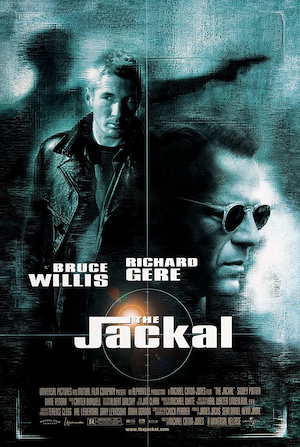 He's introduced in a hotel room enjoying some Scotch and a documentary about hyenas. He has not taken his coat off. He doesn't smile much when he's not in disguise, and he's direct and economical when he speaks. He believes this has to be his last job, so he demands $70 million, to which Terek laughs and then says, "Done."
It's got that procedural quality of so many espionage/counter-terrorism type movies (I'm thinking of stuff like NIGHTHAWKS or THE SOLDIER). We watch the Jackal going through with his plan and try to figure it out piece by piece. He steals a passport at the airport, has it altered, orders weapons over a computer, practices speed-painting a van, stakes out some people and places, steals license plates, deals with other factions trying to steal his weapons (great poisoning trick), buys a boat and sails from Canada to the United States to do the deed.
Meanwhile, the FBI and MVD get some intel about this Jackal being hired to kill someone, and try to find out his identity. For this they go to jailed IRA terrorist Declan Mulqueen (Gere – yes, doing an Irish accent), who is introduced shadowboxing in his cell but never really seems tough after that. They get him a temporary release to talk to his ex, Isabella (Mathilda May from LIFEFORCE!), who might know who the Jackal is. There's some effective heartstring-pulling here because she's started a new life with a non-terrorist husband she obviously loves but also she can't help but have feelings seeing Declan after all these years.
After getting Isabella to talk to them, Mulqueen's only value is that he has seen the Jackal and thinks he could identify him. They try to justify his presence further as an expert but I don't find it very convincing. He offers advice like "He'll likely be using four false identities. Three will be on him and one in a drop box somewhere. At least that's the way I used to operate," and "This man is no clown. He knows all your moves back to front." Anybody could've told them that stuff and it doesn't really get them anywhere.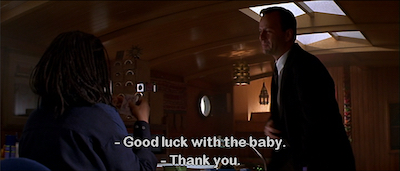 I like how the Jackal asks to be paid "half now, half upon completion," and then during his mission he hires various services and pays them the same way. One exception is the lady who forges his passport (future Academy Award nominee for HOTEL RWANDA Sophie Okonedo in her second American film [the first was ACE VENTURA: WHEN NATURE CALLS]). He pays her £125 extra, compliments her work and even gives her a small smile and a "cheers"!
That's only his third scene, so I wondered "What if this guy is genuinely nice in every aspect of his life except that he gets paid to assassinate people?" Would've been interesting, but does not turn out to be the case. She might be the only person who's ever seen that side of him.
Part of the fun is seeing the different disguises he uses, especially the ones where he gets to do a character and an accent and stuff.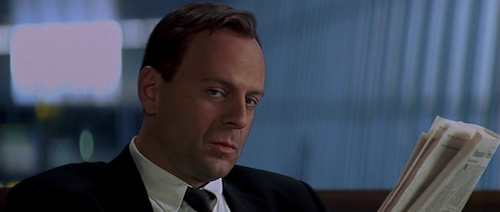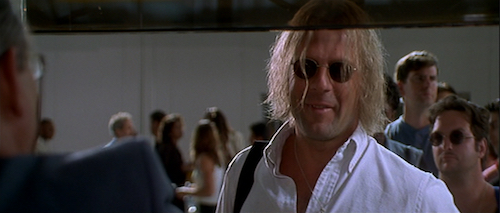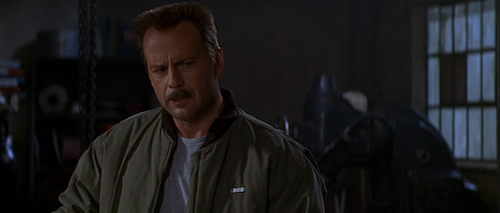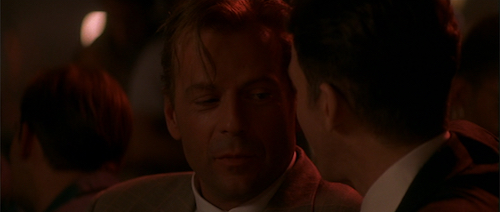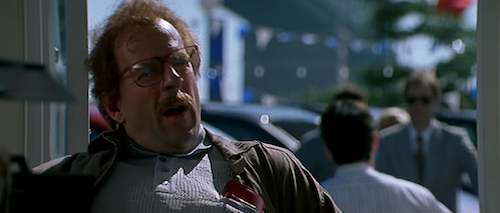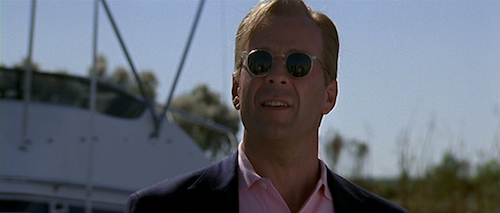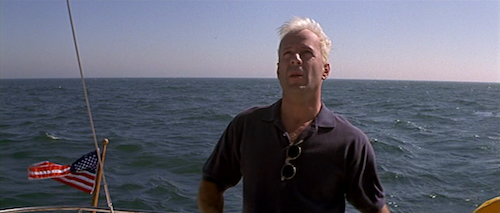 It's like Bruce's version of an Eddie Murphy movie. He gives them different postures and quirks. As himself he would walk very intently but at the airport he'll be awkward and scratch his leg and shit.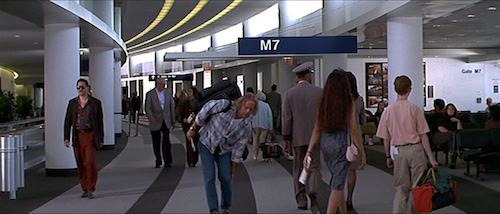 Why would he feel it necessary to be that detailed in his portrayal of "random long hair guy at the airport"? Well, maybe he doesn't. Maybe he just wants to do the best possible job at everything he does, whether or not he has to. Or maybe he just loves to act. Maybe bringing life to these characters is the only thing that makes him feel alive.
This character below says the Canadian "eh" and sweats alot. I don't know if he fakes it somehow or if the fat suit just overheats him.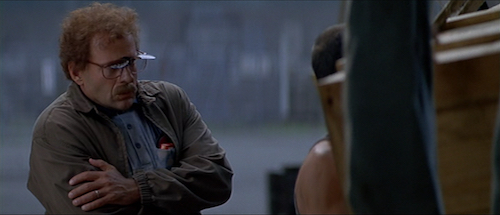 There's a part where he scares Preston and Koslova by playing loud music and then appears dressed as a ninja. In another part he kinda looks like Steven Seagal.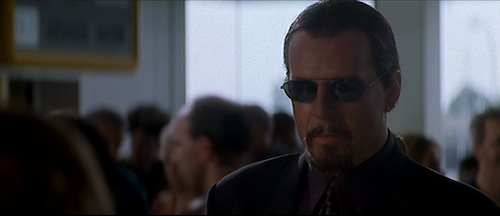 I like the moment when he comes face to face with Mulqueen. The score gets all HUNT FOR RED OCTOBER choral and there's creepy slow motion as the Jackal smiles and waves.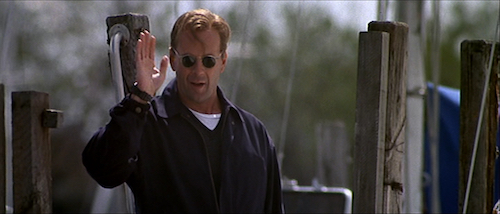 But I wish Mulqueen gave an awkward wave back like in OUT OF SIGHT. Also it's clumsily staged/edited that Jackal pulls out a gun and aims it at Mulqueen, Mulqueen seems to see it and just stands there, Koslova runs over and sees it, yells "Declan!" as if he needs to be warned of the thing he is standing and staring right at, then the Jackal looks over at her, distracted, so Mulqueen is able to dive into the water before being shot. Why did the Jackal just stand there and not shoot yet? That's not the Jackal I know.
Pretty much the only thing I remembered about this movie is that it featured Jack Black in that period after I knew him from BOB ROBERTS but before the world knew him from HIGH FIDELITY, Tenacious D, etc. This was between the obscurities CROSSWORLDS and JOHNNY SKIDMARKS, and a year before parts in ENEMY OF THE STATE and I STILL KNOW WHAT YOU DID LAST SUMMER. His character Ian is standard funny Jack Black as an engineering genius hired to build a rig for the Jackal's automated super-gatling-gun prototype. And he gets the most memorable scene because he gets way too excited and interested about the gun, asks for more money, and its aim is a little off, so the Jackal decides to test it on him. The part where he shoots his arm off is the nastiest bit in the movie. Maybe that's what made Jack a star.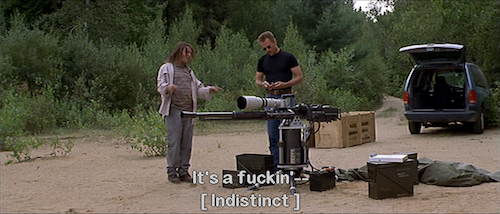 ("It's a fuckin' mode troll"? Is that what he said? I feel you, subtitler.)
There are some other more-familiar-now faces in here. J.K. Simmons is one of the FBI guys. He doesn't get to be funny, he's just regular deep voiced exposition guy, so this doesn't change my belief that Sam Raimi was the one who broke him wide (FOR LOVE OF THE GAME —> THE GIFT —> SPIDER-MAN 1, 2 and 3). Also Daniel Dae Kim has a small part as a soldier, having only been in AMERICAN SHAOLIN and ADDICTED TO LOVE. Come to think of it he's also in FOR LOVE OF THE GAME and SPIDER-MAN 2 so, shit, this must be where Raimi knew them from!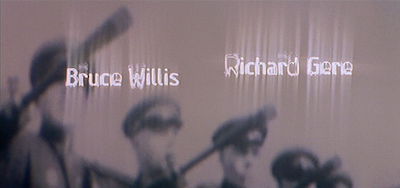 They didn't make as many thrillers of this type in the '90s as in the previous couple decades, and it's interesting to see which aspects seem dated. One pretty funny one is the opening credits sequence, a montage of Cold War file footage deteriorated with various video formats, slathered in rockin guitars and Massive Attack, and stamped with an ugly ass 1997 font. Maybe some day those late '90s fonts will look cool again, but today is not that day in my opinion.
Of course there's also some goofy computer stuff. He goes to an internet cafe. He has a computer that he talks to and it talks back to him in a computer voice. I enjoy the '90s movie computers that are so primitive compared to what we have in our pockets now but were far-fetched at the time.
But the aspect that's most unusual for the genre and that places it at a specific moment in time is that it has what Caton-Jones describes on his commentary track as "a kinda modern British dance music soundtrack." Some of the songs are by Fatboy Slim, The Prodigy, Massive Attack, Goldie, Moby, but I gotta be honest, it all sounds pretty mild and mediocre to me. The score is by Carter Burwell and I thought he was at times trying to trip hop it up, with slightly cheesy results. But on the commentary Caton-Jones explains that he took Burwell's orchestral score to the producer Danny Saber, who remixed it and "laid on overdubs of drum loops and guitars and what have you."
Burwell was not happy about that. He wrote about it on his official websight:
"Michael politely asked if I wanted to be included in this process, but my one day of sitting in on Danny's sessions was too dispiriting to repeat. He was recording electric guitar power chords over David Torn's much more interesting guitar work. In the end all I could do was listen to Danny's results and list a few pieces that I thought were frankly embarassing in that hope that Michael would not use them. In the end they were all in the film."
I like that he also includes a negative quote from Todd McCarthy at the bottom of the page.
One thing I've noticed depressingly often when revisiting late '90s movies is shocking homophobia. This one apparently came pretty close. As part of his scam, the Jackal goes to a gay bar and picks up a guy so that he can hide out at his place. I don't think there's an indication whether this represents the character's sexuality or whether it's just something he's willing to do for his mission. It's interesting to see Bruce playing gay (or playing playing gay), and he even kisses the guy (though it doesn't seem super convincing). Later the man recognizes the Jackal from a wanted sketch on TV, so the Jackal kills him.
According to Entertainment Weekly at the time, the scene originally had him killing the man unprovoked. As a sample of how ugly things were at the time, a test screening audience "loudly cheered the killing." GLAAD heard about that and convinced the producers to change it before it was released. (Seems like maybe they should've figured that out themselves!)

With the sometimes cheesy music and merely competent direction, THE JACKAL doesn't feel smart or serious enough to make up for just being a thriller and not building to more than some foot chases and an intimate subway station showdown. There's also an imbalance because Bruce's character is just more interesting to watch than Gere's, so the movie spends more time on him. You're supposed to be rooting for the good guy, but he feels like the supporting character.
I think Gere does what he can with it though. He's got that squinty handsome charming guy thing. I was a little concerned when I realized he would be doing an accent, but I didn't find it distracting. I guess I'm not picky. According to Wikipedia, he was nominated for "Worst Fake Accent" at "the 1997 Stinkers Bad Movie Awards," but lost to Jon Voight for ANACONDA and MOST WANTED. Which proves that the Razzies aren't the only dumb assholes with bad taste who need to fuck off. I don't care what you say about this one, but if you don't see the joy of Voight's accent in ANACONDA you're disqualified from saying which movies are good are bad.
This was Poitier's first theatrical movie since 1992's SNEAKERS, though he had since been in the mini-series Children of the Dust and the TV movies TO SIR, WITH LOVE II (directed by Peter Bogdonavich!) and MANDELA AND DE KLERK. It was also his last time on the big screen, followed by four final TV movies. Unsurprisingly he adds some gravitas to the proceedings, particularly when yelling "That's enough!" to the gangster at the beginning for calling Koslova the c-word. He makes the bond between the mismatched partners of Preston and Mulqueen more effective than it would've been otherwise. I also really liked Venora's firm presence and her (unless I missed something) unexplained facial burns.
And of course I was watching this to celebrate Bruce, and it's a fun novelty to see him playing dress up and using Quiet Bruce mode for evil. So THE JACKAL did the trick this time.