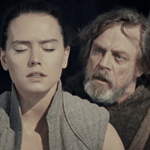 This is an ALL SPOILER review, written assuming that everybody has seen THE LAST JEDI before reading.
* * *
If you're not familiar with my take on the Star Wars, I'm a devout follower, but a heretic. I'm out of step with the mainstream because I hold George Lucas in high regard and I prefer the innovation, ideas and idiosyncrasies of his prequels to Disney's more polished and socially acceptable continuations (though I like those too).
I've also been pretty alone in my skepticism about director Rian Johnson. That might be overstating it – I thought BRICK was very well made and I did like LOOPER – but some of the ideas are a little corny to me, and I never related to the effusive praise from my friends and colleagues. So I wasn't over-the-forest-moon about him doing a Star War.
After THE LAST JEDI, though, I'm sold. And worried about him not doing the next one. In his capacity as the first sole-writer-and-director on a Star War since Lucas, Johnson succeeds in so much more than I could've hoped: continuing and deepening the characters from THE FORCE AWAKENS, bringing back Luke Skywalker for a powerful completion to his arc, thrillingly upending some of our expectations, putting a personal mark on the world of Star Wars, and saying new things about the meaning of the saga as a whole and its application to the world. Also there are some weird new creatures, and Luke milks one of them. (read the rest of this shit…)