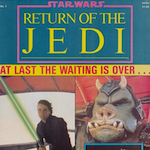 May 25, 1983
Nobody was surprised that the movie of the summer, and of the year, was RETURN OF THE JEDI. It was the thrilling final(ish) chapter to the biggest pop culture juggernaut in the world, it was the ultimate summer popcorn movie, the movie others had to get out of the way of, or ride the coattails of, and of course became by far the highest grossing movie of the year (trailed by TOOTSIE in second place).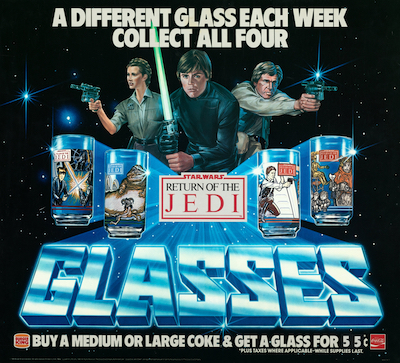 It's one of the two movies I remember seeing in a theater that summer. That was monumental because I'd seen the other two at the drive-in while very young, but this one I was able to see with slightly more awareness of what was going on, and I'd bet the crazy discussions we had of it later on the playground were a little closer to what actually happened in the movie. Not that I was all that savvy. I remember my family went to Burger King after the movie and got RETURN OF THE JEDI drinking glasses, which seemed like a coincidence. Hey, this is the movie we just saw! What are the chances?
That's the sort of thing I intentionally avoided talking about when I reviewed RETURN OF THE JEDI nine years ago as part of my "Star Wars No Baggage Reviews" series. The rule was that I had to look at episodes 1-6 as they existed at that time, in the current George Lucas-approved cuts, as if there had never been any other way to look at that story. I couldn't complain about any Special Edition alterations, or lean on childhood nostalgia, or disappointment about the prequels not being what we'd dreamed of. It was a fun exercise designed to jettison all the stuff people usually discussed about those movies, things I was sick of hearing or talking about, and I think it was a worthwhile experiment that turned out well.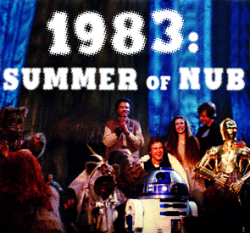 For this revisit of RETURN OF THE JEDI in the context of the summer of '83, though, I won't give myself those constraints. I'll try not to get hung up on any bullshit. (read the rest of this shit…)