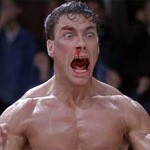 I've talked to alot of people who are going back and rediscovering Mickey Rourke performances after seeing THE WRESTLER. They rent BARFLY, maybe 9 1/2 WEEKS, ANGEL HEART, JOHNNY HANDSOME, THE POPE OF GREENWICH VILLAGE. I was thinking about that and suddenly it occurred to me that I don't hear anybody talking about a little picture I am very fond of but haven't seen in many years, one with a cover that says VAN DAMME – RODMAN – ROURKE. So I rented it in preparation for a post-Oscars celebration.
Well, poor Mickey didn't get the Oscar, but who needs an Oscar when you can say 'I WAS IN DOUBLE TEAM, MOTHERFUCKER'? I mean, which would YOU rather have? Okay, I guess most of you probaly said the Oscar, but what would your second choice be?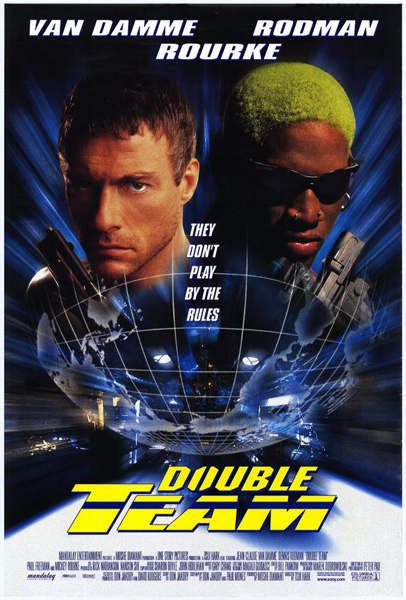 Anyway I love this movie. It joins STONE COLD in an elite category of highly enjoyable action movies that combine serious action chops, high energy, a way above average number-of-explosions-to-minutes-of-screen-time ratio, a stupid story, a great actor playing the villain and a goofy performance by a ridiculously dressed flash-in-the-pan professional athlete turned non-actor.
Jean-Claude Van Damme plays P. Jack Quinn, a secret agent involved in the attempted assassination of Stavros (Rourke), a former agency asset. It turns out Stavros has his little boy there, the kid gets shot, and Quinn must be avenged. (Come to think of it, this movie could be told from Rourke's point of view and he would be the good guy.)
If you're into this kind of movie, which you are, it won't take long to realize that this is in the higher echelon. Within the first fifteen minutes or so you've already seen Quinn driving a futuristic truck full of plutonium off a mountain, Stavros walking slo-mo away from a cab he blew up, a bunch of people at a carnival still going on rides even though Stavros and Quinn are running around firing guns and blowing shit up, a hand grenade thrown into a baby's bassinet (man, Stavros carries alot of grenades with him when he brings his kid to the carnival)… and then when Quinn gets knocked out and wakes up he kills a TV because it informs him that his wife thinks he's dead and he's now living on an island called The Colony where all the world's most dangerous secret agents are spending their golden years hanging out at a pool and then wearing sci-fi goggles and poring over data about recent terrorist acts to offer their analysis. So Quinn trains himself up BLOODSPORT style, executes an impressive escape from the island, finds out his wife had a baby but Stavros kidnapped it, then goes to the Roman Collisseum with Dennis Rodman to fight Stavros and a tiger without setting off landmines. You know, one of those kind of movies.
Rodman is, let's just say, a unique movie presence. In my experience most movies don't have a 6′ 8″ foot tall dude with tiger striped hair wearing pink spandex pants and a silver bra selling weapons. Later when he wants to blend in he changes the hair to green and wears a nice suit and fedora but still has two nose rings and 3 hoop earrings and drives a tiny car with his head sticking out of the sun roof. He looks good in the fights too, he's no Kareem in GAME OF DEATH but he does have a similar thing going on with the ridiculously long legs doing high kicks. Also he tends to toss people around like basketballs. Actually, he uses your arm sort of like a handle, just lifts you up and throws you against a wall or through a window. He's a weapons dealer who invented a special basketball shaped parachute and a smoke bomb coin. He turns out to have a heart of gold, so when he finds out about the kidnapped baby he goes along in the mission free of charge. But then when he rescues the baby from the tiger/minefield he just hides him in a hole in the wall and abandons him.
Xin Xin Xiong, who was in some of the ONCE UPON A TIME IN CHINA movies, choreographed the fights, and I guess he figured if you want it done right do it yourself, so he has the best fight with Van Damme. He jumps up and kicks his shoes off in the air, then produces a switchblade from his foot and has a knife fight. The weird thing is I figure he doesn't really do anything he couldn't do better with his hands, but he just knows it's gonna fuck with a guy's mind if you come at him holding a switchblade in your toes. People tend to lose their shit when you pull freaky tricks like that.
As for Rourke – okay, this is not exactly the greatest showcase of his talents, but they don't completely waste him. He treats it seriously and doesn't play it as a maniac, he is obviously in the right from his point of view. He even gives Quinn a chance to win his son back, and if not he's gonna raise it as his own, not kill it. So he's a nice villain. Rourke also gets to take his shirt off and do a little boxing. Kind of cool to have the boxer vs. the kickboxer (although they have Mickey doing some kicks too). Anyway I thought this was being entirely forgotten in his filmography, but to my surprise they showed some clips of it before his interview on the Barbara Walters Oscar special. In the interview he talked about a low point in his life after his wife left him and he had taken a movie just for the money and felt like a whore. But don't worry, I did the math, it can't be this one! Maybe the Stallone remake of GET CARTER, but not this one, he was still with his wife during this one. Phew!
But obviously it's more of a Van Damme movie and it's easily one of my favorites because it's so over-the-top and such a weird combination of elements: a cool ripoff of THE PRISONER crammed into the middle of this weird Dennis Rodman movie. I didn't even mention the computer expert monks who return in Rodman's SIMON SEZ, the out-of-place basketball references or Van Damme's bohemian disguise. There's really no other movie like this except Van Damme's other movie with director Tsui Hark, KNOCK OFF (the two are often referred to as Van Damme's surrealist period, although only by me.)
Whenever somebody wants a recommendation for a completely insane, hilariously stupid but also awesome action movie, this is one of the first titles that pops into my head. If I had an Oprah's book club type deal I would have to assign this one. Go watch it and let me know what you think.
This entry was posted on Tuesday, February 24th, 2009 at 12:26 pm and is filed under
Action
,
Martial Arts
,
Reviews
. You can follow any responses to this entry through the
RSS 2.0
feed. You can skip to the end and leave a response. Pinging is currently not allowed.