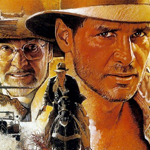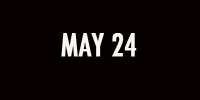 When INDIANA JONES AND THE TEMPLE OF DOOM came out two years after RAIDERS OF THE LOST ARK it was off-putting to many, and its PG-rated monkey brain and human heart munching outraged enough parents to inspire the more hardcore PG-13 rating. So five more years passed before director Steven Spielberg and producer/story-provider George Lucas came up with the next one, INDIANA JONES AND THE LAST CRUSADE, for summer of '89.
To pull it off they had to back away from everything new they'd tried in TEMPLE OF DOOM and walk right up to everything old we all loved in RAIDERS. So it's less mean, less weird, less gross, and more directly built onto the template of RAIDERS. Not that it was a total rehash. Nazis are involved, but not necessarily in charge. Marion isn't there, and the new love interest follows a very different arc. There's less desert and more water. There's a wacky old man sidekick played by Sean Connery (ENTRAPMENT). And a whole sequence from Indy's childhood. But he steals an artifact and brings it to school and then finds out about a quest for another artifact and offers his expertise and travels to different countries and looks at ancient texts that lead him to a series of riddles that he solves while pursued by Nazis, murderers and betrayers and teamed with Brody and Sallah and ultimately when they find the thing it kills the bad guys in cool face-melting special effects sequences and etc. So it's kind of the same thing. But they did a good job of hiding it. (read the rest of this shit…)
VERN has a new action-horror novel out called WORM ON A HOOK! He has been reviewing movies since 1999 and is the author of the film criticism books Seagalogy: A Study of the Ass-Kicking Films of Steven Seagal and Yippee Ki-Yay Moviegoer!: Writings on Bruce Willis, Badass Cinema and Other Important Topics as well as the crime novel Niketown.