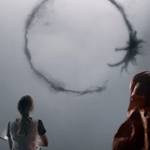 ARRIVAL is a new one in that category of serious smart sci-fi where huge momentous things happen between the human race and alien life and/or outer space, yet it's really about something very intimate and human (see also INTERSTELLAR, CONTACT, THE FOUNTAIN, GRAVITY). In this case it's about twelve giant alien objects (they look like smooth flat stones you would find on a beach, balanced on the side) that come down and float in various locations around the world, yet also it's about love and family and tragedy.
Director Denis Villeneuve (PRISONERS, SICARIO, ENEMY) is no chump, so the unfolding of the historic first contact is a powerful oh shit sequence. Perpetually calm language professor Dr. Louise Banks (Amy Adams, CRUEL INTENTIONS 2) ignores the commotion of students gathering around a TV, then the miniscule attendance of her lecture, but when everyone's phones keep ringing the information finally gets to them. Sorry to interrupt – it's just that the world has completely changed forever.
Because of a previous gig translating insurgent videos for the CIA, Colonel Weber (Forest Whitaker, BLOODSPORT) recruits Dr. Banks to try to figure out a way to communicate with the aliens. They have not even publicly admitted that the spacecraft are manned, but there you have it.
This whole beginning part reminds me of JURASSIC PARK: secretive group hires team of renowned experts in different fields to come take a look at an earth-shattering breakthrough, doesn't really prepare them for what they're about to see, camera holds off showing us the sights, instead getting their reactions.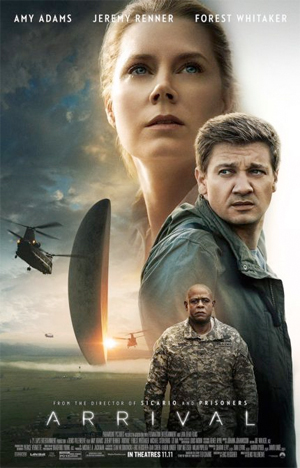 But Jurassic Park was a slick operation. They'd had years to make plans and set up the infrastructure and figure out how to operate. With this we're in the first 48 hours. They've already had a team go in and fail and they've put together a method for wearing bio-suits and going up into the thing, but that's about it. Much like when the scientists studied E.T., you have to wonder if they've ever had to do anything at all like this before, if they have some procedures that had already been prescribed in case a situation like this ever came up, or if they really are just making shit up as they go. As much as we all fear government, it's nice to think they'd be ready for any crazy shit that came up, from outer space or otherwise.
We only see glimpses of how the other eleven ships are handled. In China they build a military presence and are on the verge of drafting us all into our first intergalactic war. The one in Montana is important not because it's above American soil, but because it's the one Dr. Banks is at. She comes up with the method for word by word learning to communicate with the aliens.
By the way, when we finally do get to see what these space boys look like, the design has drastically changed from the backwards-kneed humanoidish dudes in the original THE ARRIVAL I and II starring Charlie Sheen. Now they're two giant squids ("heptapods") that they nickname Abbot and Costello. I wonder if they considered Tango and Cash? Or Bartles and Jaymes? Or Chuck and Flav? Obviously if it had been me it would've been Screwface and Screwface's Twin Brother.
So then it's not so much like JURASSIC PARK, more like a Quatermass movie, because it's not stringing together chase sequences, it's mostly montages and meetings about smart people working together to try to solve a complex problem. They stand in front of a glass window writing words on a dry-erase board, the aliens responding by shooting circular pictograms out of their tentacles, which comes off seeming less weird than it is if you think about it.
Jeremy Renner (DAHMER) is there too as Ian Donnelly, the physicist on the team, but seems to take a backseat to the language department when it's clear that she's onto something. He does get to do some narration in the middle about what they've learned, almost like we're watching some educational show.
Colonel Weber (by the way, Whitaker is trying out some kind of accent) is always threatening to pull the plug, so Dr. Banks has to keep making persuasive arguments for her method to get more time. And the plot is much like learning language: you figure out a piece here, a piece there, they start to connect, then you realize what order they go in, and holy shit, that's what it means!
A major concept in the movie that you wouldn't get if this was, say, an INDEPENDENCE DAY, is the idea that the structure of your language affects how you see the world. Apparently this is called the Sapir-Whorf hypothesis. I will not be remembering that. Dr. Banks worries that the Chinese teaching the aliens through a game of chess will frame their communications as competition. This reminds me of some book I read a long time ago about semantics, which pointed out gratuitously violent metaphors in our language. The theory is that if we talk about "attacking" or "shooting down" an argument we're already setting ourselves up for a fight instead of a discussion. I don't know how much I believe in that, but I love it as something this linguist would be on the lookout for to avoid catastrophic misunderstandings with heptapods. Smart people care about the details.
The solution to the puzzle here is great, because it's show-stoppingly clever while at the same time very emotional. I have heard many reports of crying, which I did not experience, but it's fair to say that this avoids being one of those cold, distanced movies certain people (not me) hate. When you figure out what's going on it reveals something very moving, so it engages two drastically different parts of your brain. The brain part of the brain and the heart part of the brain.
It's also one of Adams' best roles in a while, a quiet, composed hero who leads the way with knowledge, reason and understanding. Intellect and humanity working hand in hand. And hats off to them for keeping the name from the short story ("Story of Your Life" by Ted Chiang, adapted by Eric Heisserer [A NIGHTMARE ON ELM STREET remake, THE THING premaquel]). You don't get many movies where the hero is named Louise. Congratulations to all the Louises of the world for this milestone.
I don't want to raise expectations too high though, Louises and everybody else reading, because I personally didn't have the rapturous reaction I've heard about from others, or had hoped for from this promising director. To me it's no more or less than a neat little Twilight Zone type story. It's unique and cool but kinda light, its power dissipating shortly after the credits roll. But that's not a criticism. You'll like it I think.
This entry was posted on Thursday, November 17th, 2016 at 10:43 am and is filed under
Reviews
,
Science Fiction and Space Shit
. You can follow any responses to this entry through the
RSS 2.0
feed. You can skip to the end and leave a response. Pinging is currently not allowed.