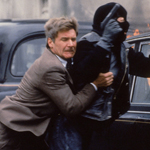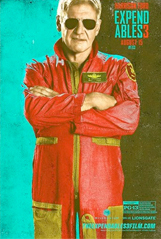 The traditional action hero is a loner. He might have friends, but he lives and travels by himself. He drifts into town on a motorcycle or on foot, or he lives alone in a filthy apartment, loft, car, or trailer. Maybe he has a kid, usually a daughter, but if so she's likely been kidnapped and he's trying to get her back. He might've had a family before, might be seeking revenge for their deaths. More likely he just screwed it up. He was too obsessed with his job, or with a specific case or vendetta. She wanted him to quit. Couldn't take all the worrying anymore. He meant well but he knows it was all his fault. Now he drinks.
There are exceptions to this, but how many? Off the top of my head I can only think of Billy Jack, who is married, Charli Baltimore, who already has a family when she remembers she's an assassin, and Riggs, who goes and gets married after a couple of sequels. So it happens, but not that often.
That's one reason why ex-CIA-analyst Jack Ryan (Harrison Ford) feels different from other action heroes, and why this type of movie could be considered Adult Contemporary Action. Not only is he a family man before he's an asskicker, but the movie heavily deals with his family life. He's got a very successful surgeon wife (Anne Archer), who is pregnant, and a young daughter (Thora Birch), who has pinups of Jason Priestley. They go on a trip to London. They live in a big town house out in the country near DC. He works as a history professor and lecturer (arguably not a badass juxtaposition, since he's teaching about historical conflicts and strategies, things meant to be applicable to his CIA agentry).
But he has the traditional problem of the family not wanting him to do the job. He's retired, but there's always a threat that the agency could want him to come back, especially now that he happened to be crossing the street next to an IRA assassination attempt on a royal cousin and he thwarted the attack and killed terrorist Sean Bean's brother right in front of him.
The Ryan ladies are used to the job ruining their fun. When they're getting into the car to go to the ballet or something and James Earl Jones and some other guy pull up, wife and daughter say hello, exchange a sad look and just go back inside. They don't have to be told that fun time is cancelled.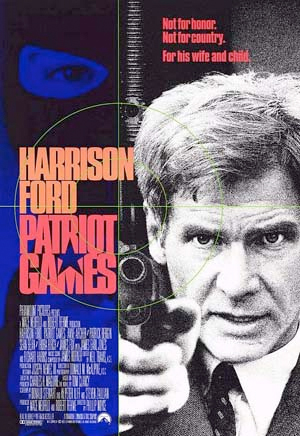 I'm not saying Ryan's a wimp, I just want you to know that it's almost halfway into the movie before his family gets attacked and he finally has their permission to go after the bastards. So it's different from your standard action movie that would get all that shit done in a few minutes.
Bean is very good in a low-dialogue role, burning with hatred, compromising even his own more-extreme-than-usual faction of the IRA by focusing just on getting revenge against Ryan. He spends most of the movie waiting – locked up, breaking out, fleeing, hiding out, training in North Africa – and then pouncing on Ryan when he gets his window. I know hindsight is 50/50 or whatever but maybe his jailers should've fuckin known what was up when he spent his captivity staring at a newspaper article about the "hero" who killed his beloved baby brother. Maybe they shouldn't have cut out the article for him in the first place. Or at least they shouldn't have given him the tape to hang it up, in my opinion.
Ryan's not just the guy that can save the day because he's good at shooting and punching. That is part of his training, and it's crucial in the climax. And I can't deny a subtext of nerdy wish-fulfillment in this guy being told he's "not a field agent" and then when the shit goes down he knows exactly how to handle it.
But that's what makes this interesting: he's not a soldier, he's an analyst. Maybe the most dramatic scene in the movie is about him thinking. Connecting dots, walking away from a conversation, looking at himself in a bathroom mirror, remembering things he glimpsed earlier and using them to form a theory. Figuring shit out.
It's an intelligence procedural. He has to come up with his theory and convince the other people that it's worth exploring. Then the other things have to start coming together: pieces of evidence, info collected from informants, from spying on associates, from satellite footage. Like ZERO DARK THIRTY he just has to compile everything he knows but he can't possibly be sure but he has to put in his best guess. And then he doesn't go in like Rambo. He stays home and watches on a screen as SAS raids the camp.
But it's a thriller, so then the terrorists actually come to his house all decked out like Navy SEALS, like they're raiding his compound now. The score by James Horner throws in a little Celtic music as they bust in, which is kinda funny. You hear that in TITANIC and a million other scores, but rarely do you hear it over images of heavily armed and masked warriors invading a home to murder a bunch of innocent people. It's usually more of a nostalgic sound. Anyway, the rest of the score pretty much sounds like ALIENS, which is a plus.
I know the character of Jack Ryan was originally played by Alec Baldwin and has been taken up by others, but this movie takes advantage of very specific Harrison Ford qualities. He is absolutely believable as a guy who's very intelligent, who can be quiet and seemingly meek, who just wants to get out of the game and be with his family, but who also has some bitterness in him, and an obsessive nature that's good for problem solving. And when you set him off you will regret it. His anger comes out even before his family is threatened. When his buddy Samuel L. Jackson asks what he was thinking (or not thinking) spontaneously interfering with this assassination attempt, he confesses that it just pissed him off to see those guys doing that. So he wasn't gonna just let it happen.
This one's based on a Tom Clancy novel of course, but with no submarines. The screenplay is credited to W. Peter Iliff and Donald Stewart. The interesting thing about that is that before hand Iliff's only credits were PRAYER OF THE ROLLERBOYS and POINT BREAK. His "Starts with P" trilogy.
I'm happy to say that I enjoyed this one. It feels a little more reality based than your usual spy type movie. I wouldn't want that all the time, but it works well here because there's a good balance, it knows when to abandon realism. Director Phillip Noyce (BLIND FURY) has the right idea: just because this guy is a smarty pants doesn't mean he's not gonna end the movie in a fist fight to the death on a speed boat that's on fire and careening toward land with no one driving. I guess that's not in the book at all, but it's a noyce place for a movie to end up.