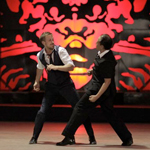 For ONLY GOD FORGIVES, the latest from writer-director Nicolas Winding Refn (DRIVE, VALHALLA RISING, etc.), Ryan Gosling trained in Thai boxing to play a quiet American running a Muay Thai gym in Bangkok. That lady who sued DRIVE for not being like THE FAST AND THE FURIOUS is gonna have to sue this one for not being like BLOODSPORT.
Or for not being like DRIVE, for that matter! This is not a commercial movie at all. It's all mood and ambience. Slow, deliberate camera moves down hallways, precise, Kubrickian compositions, men introduced standing in poses rather than walking into rooms, not alot of dialogue, credits in Thai. It doesn't explain much and leaves alot of weirdness lying around to either interpret, enjoy as surrealism, or get frustrated by. Of course I like to read a little symbolism into some of it, but I think it also works taken literally. This is a foreign, dangerous world that people like us wouldn't understand. Not just because it's Bangkok, either. The Bangkok you live in is just a sugar coated topping.
The gym that Julian (Gosling) runs actually doesn't look that sketchy at a glance. There are kids training with pads and fighting in a ring with a referee. They're not fighting to the death or anything. There aren't even torches on the wall, it's like a legitimate athletics facility. But the camera looks closer, watches the people in the crowd, sees them sneakily passing money from one to another. In a dark back room Julian and his older brother Billy (Tom Burke, DRAGONHEART: A NEW BEGINNING) are involved in some kind of nefarious dealings. I think they're recruiting some of their young athletes to do illegal shit for them. Not cool.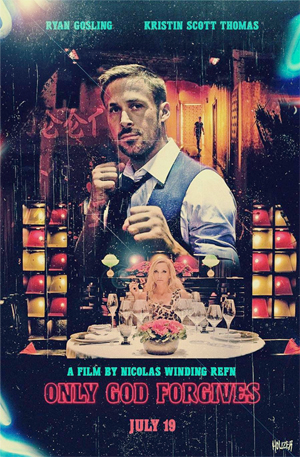 Oh, you know what else is not cool? What Billy does to a prostitute. This family is involved in the drug trade, not the sex trade, but they seem to enjoy those services alot. I don't know if they have a deal worked out between the two businesses, they could give each other discounts or put them on a list for freebies or whatever. Anyway, Billy is a really, really bad customer, he would get alot of negative feedback if this was ebay, because he comes in drunk one night and leaves a young woman dead, and that's what starts the whole mess that this movie is about.
You know how people are, so you might think the rest of Bangkok wouldn't give two shits about a dead prostitute. That's why killers get away with this shit. Luckily (?) there's a cop who cares a whole lot. And not like your standard run-of-the-mill cop care. His name is Inspector Chang (Vithaya Pansringarm, who's also gonna be in NINJA II) and he's not a guy who investigates crimes. This is a guy who comes to people who are in the wrong, he pulls out his sword, and if he's feeling merciful he only chops off a limb and lets them live. Most of the time he doesn't feel merciful.
Chang gets the dead prostitute's dad and makes him beat Billy to death. Before long the family is sending hitmen after the dad, and Chang is sending cops after the hitmen, and the family is sending other guys after the cops…
It's a war between two sides, one fighting for family, the other for law and morality. But both are total savages. Of the two sides, I would argue that Chang is the more justified one. His victims were a rapist-murderer, a man who sold his daughter into prostitution, various people involved in massacring police officers… the other side is just after revenge for the death of the rapist/murderer from their family. So he's closer to being the hero, but he's easily the biggest psycho in the movie. He mutilates people and then goes to sing bland karaoke in a little club for about a dozen of his fellow officers, who watch expressionlessly.
It's a different type of revenge movie because right from the drop you're thinking I can't really get behind avenging this particular person. Even his own brother feels that way. So you don't have any righteous excuses for enjoying all this brutality.
It really earns that great title. Just about the only non-horrible people in the movie are the little girl, who says to leave people alone and work things out by talking (but she's probly just talking about a conflict between her dolls), and the poor, gorgeous "entertainer" Mai (Yayaying Rhatha Phongam) who Julian pays to masturbate in front of him and to pretend to be his girlfriend at a dysfunctional dinner with his mom (Kristin Scott Thomas, UNDER THE CHERRY MOON). She barely says anything but sits in for the audience by looking disgusted at the horrible things mom says.
I had no idea it was Thomas playing the bleach blond, trashy crime queen. I've seen her look compared to Donatella Versace, but she made me think of Hulk Hogan's wife when he was on that reality show. She gets most of the laughs in the movie as not necessarily the worst person but definitely the most hatable. She's evil in larger than life ways but also mundane ones, like being a total bitch to the innocent woman behind the desk at her fancy hotel. Even if she hadn't started taking out hits and talking about her sons' dick sizes I still would've hated her.
Gosling's character isn't that far of from what he did in DRIVE, leaning against walls with his short sleeves rolled up, trying to look badass, barely talking, his face seemingly dead to emotion but sometimes revealing that something is broken, and that he's still a child in some ways, even though he's prone to sudden explosions of ultra-violence. But he's great again. Always good to see actors that understand the value of shutting the fuck up.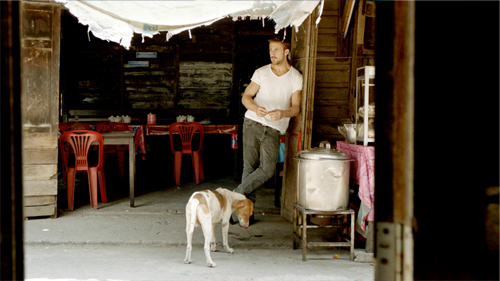 Chang is an instant classic villain, if he is a villain. He's old and small and looks tired and I absolutely believe that he could and would disembowel me. When he duels Gosling and beats the shit out of him I believe that too. I don't care if Gosling's been working out, this is a guy who transcends working out. This is not a guy who drinks protein shakes. This is a guy who eats your babies: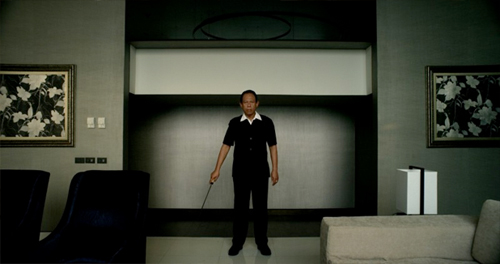 There are so many strange, memorable bits: the weird little cross-eyed kid sitting in a chair watching an intense interrogation, making us uncomfortable because we don't know what's gonna happen to him, we don't know what he's gonna see, we don't know why he's there, we don't want to be staring at him. Also, the fight between Julian and Chang, which takes place on cement, Julian wearing dress shoes without good traction. He had plenty of time to take off his vest and tie, but he didn't. I love the scene where Chang crucifies a thug in the middle of a club where a dozen or more dressed up ladies sit with their eyes closed, as instructed. Their long fake eyelashes don't even twitch at his screams of agony. I feel like maybe they've done this a few times.
The score by Cliff Martinez is outstanding. It alternates between very dramatic low tones and percussion and gentle ambient sounds, almost like bells blowing in the wind from another room in a Buddhist temple. Also, some electro shit in one part. But I think most of it would work really well on a normal b-action type martial arts movie. They should start ripping it off, I bet it would work really well with some of those.
I think this is a great movie, the kind where the more I write about it the more I think "oh shit, I have to go see this again." But I think that all normal people and plenty of others will hate it. I've heard the phrase "all style and no substance" thrown around. I disagree. It left plenty of things in my brain to chew on, and that's substance. But I also don't think all movies really need to have substance, or that very many movies really have anything very deep to say anyway. It's just that in this movie the style is so undeniable that it overwhelms some people. It's not that it's not enough substance for them, it's that it's too much style. Please, sir, your style is making me uncomfortable. Tone it down.
But to me, some of the best movie experiences come from undiluted filmatism like this. Using images and sounds to communicate feelings that words really can't.
Not that there's anything wrong with not liking it. It's clearly not for everybody. Despite the pulpy content, the style leans toward the more abstract end of the Arthouse Badass spectrum. But not all the way. It pushes the limits of the control, for sure. Early on there's some non-literal dream imagery type stuff, and I thought it was gonna go beyond the black rainbow, or it was gonna rise Valhalla a little bit, but mostly it stays within the realm of the regular slow and quiet and atmospheric. I thought alot about Johnny To and Jim Jarmusch. One J name that did not occur to me was Jodorowsky, but the first credit at the end is a dedication to him. I don't really see an obvious reason why other than that he's awesome and all movies should be dedicated to him.
To put it in Refn terms it's not as weird as the end of VALHALLA RISING, but weirder than the beginning. I was very glad I saw it in a theater because I might not appreciate it as much with all the distractions available at home. This is the kind of movie you gotta crawl inside of.
I love DRIVE, and I love hearing Refn talk about it, but also the stuff he claims he was trying to put in there sounds ridiculous. With that one he kept saying it was a fairy tale and also talking about it as a commentary on super heroes. I didn't see or want to see any of that. I haven't read too much on ONLY GOD FORGIVES yet, but I did see a quote where he said the idea was "a thriller produced as a western, all in the Far East, and with a modern cowboy hero." And this time that's kinda how I saw it! There is some UNFORGIVEN in there with the prostitute slasher and the psycho lawman who goes too far and the anti-hero who has some morals but not a full checklist of them.
As of now this is the year's very best Danish-French co-production filmed in Thailand that is dedicated to Alejandro Jodorowsky and has an American former Mickey Mouse Club star, and I will be surprised if it doesn't at least make it into the top 5 of those at the end of the year.