ALWAYS is very cutesy and sentimental, it's got some pretty weak comedic bits and it's definitely the weakest full-length Spielberg I've watched in this marathon so far. But it's still pretty good, and with some things nobody could've done as well as Spielberg.
This one's about the pilots who dump the red stuff on forest fires, and the Tom Cruise of red-stuff-dumpers is former shark expert and Close Encounterer Richard Dreyfus. The Anthony Edwards is John Goodman and the Kelly McGillis is Holly Hunter. Actually, Dreyfus looks kinda like Paul Newman in this one, strutting around in aviators, leather jacket, baseball cap and grey mustache. The point is he thinks he's awesome, and everybody else agrees. His girl seems to have when are we gonna settle down? type issues, but he makes her happy by buying her a nice dress, something you don't see around the base much because she's the only woman there.
There's a constant wackiness in the movie that's pretty grating. Goodman does things like drink a Twinkie with a straw or not notice that he shook hands with a guy covered in oil and then find six different ways to unknowingly rub it all over his face. Painfully contrived. The first section reminds me of other movies that glorify the blue collar workers of a specialized type of firefighting – specifically ON DEADLY GROUND and FIRESTORM – except everybody has a wiseass grin on their face. It tries to pull you into their world by sticking you in the middle of all their camaraderie and in-jokes.
But it also gets into some serious stuff. There's something really true to life about the way the night rolls lazily from good times to serious talk and possible breakup. Hunter can't live with the fear anymore of her guy dying, putting his life on the line to save trees. And he can't believe she wants him to quit the one thing he loves, the one thing that makes him awesome, that earned him the right to wear the shades/mustache/hat combo.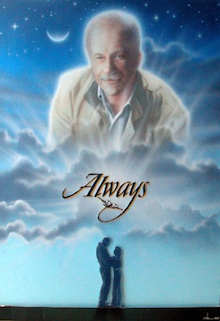 I was glad I managed to watch this forgetting what it was gonna actually be about, so I'll put a SPOILER WARNING here. I was surprised when Hunter rushed to the runway to tell him she loved him before he took off, and then he tried to tell her he loved her for the first time ever but she didn't hear him over the engines. I was like oh shit, he's gonna die? Is this a PSYCHO move, it's gonna be about somebody else now? Well, not really. After he dies heroically he gets to come back to earth to inspire a young pilot (Brad Johnson). He's invisible like Patrick Swayze but he speaks to him and plants ideas in his subconscious. He also gets to see his old friends.
Call me an old softie, but some of this emotional shit worked on me a little. It's a nice idea from both directions – nice to think you might get to stick around and tie up loose threads after you bite it, and nice to think that your deceased loved ones and dead homiez are literally there with you giving you support and inspiration and you just don't know it.
And then, this being a Spielberg movie, it manages to combine that with a thrilling action climax. Good flying and fire effects and a tense scene where all kinds of emotional business gets to be worked out: the girl getting to be the one to risk herself, the fire fighters getting to heroically save lives instead of just trees, him getting to tell her he loves her and also being able to leave her behind so she can live her own life while he goes off to less earthly ghostly duties like trying to kill Pac-Man or whatever.
Kinda odd that this is such a minor Spielberg – obviously not one of the greats, but not notorious like 1941 or HOOK or anything. Just one of the okay forgotten ones. The reason it's odd is because it was kind of a dream project for Spielberg. It's a remake of a 1943 movie called A GUY NAMED JOE which apparently he and Dreyfuss quoted all the time on the set of JAWS, and he put it on the TV in POLTERGEIST.
Spielberg didn't write it though. Wikipedia says the script was started by Diane Thomas, a waitress who had pitched ROMANCING THE STONE to Michael Douglas one day when he was a customer. She had been promoted to writing the RAIDERS OF THE LOST ARK sequel when she died in a car accident in 1985. ALWAYS was finished by Jerry Belson, whose other credits include EVIL ROY SLADE and SMOKEY AND THE BANDIT II.
Spielberg bungles some of the comedy I think, but for the most part he directs the shit out of it and makes it way better than some Joe Johnston or somebody would've. He gives the characters gravity with the way he shoots them, he heightens the drama with the scary firefighting sequences.
I like Goodman in this too. He does that thing he did on Roseanne where he's a goofball most of the time and then all the sudden you start noticing the serious undertones. He's not only a loyal bud but turns out to be a really caring and supportive friend to Hunter after his buddy's dead. It's real sweet. In fact now that I think about it, Holly Hunter and Laurie Metcalf have always kind of reminded me of each other. Probly because of this:


And that's almost the same relationship Goodman's Dan had with Metcalf's Jackie on Roseanne. Except without ever having had a thing for her. He's such a good friend to her that he encourages her to see another, younger dude. He doesn't try keep a manly loyalty to the dead guy or anything. He's realistic about it. Life goes on. Always.
That's kind of a dumb name. Fits the movie though. Pretty corny. I liked it though.
(I recommend playing those at the same time.)