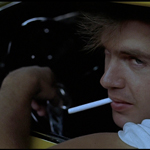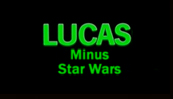 I honestly had never seen this movie until now. So this will likely be the last George Lucas directed movie for me, unless he ever goes through with making those inaccessible art movies he always says he wants to make. AMERICAN GRAFFITI is different from the other ones he directed  because it's the only one that's not in space or in a futuristic dystopian worker colony under the earth. At least as far as is revealed in the text. Also it's his only directorial work that has, like, wall-to-wall jams by Frankie Lymon and the Teenagers and The Platters and people like that. Maybe he shoulda done that trick on ATTACK OF THE CLONES to make the young love go down easier.
Yeah, it's weird that this is a really distinctive, personal and hugely influential film that was Lucas's big breakthrough in Hollywood, and then he never did anything much like it again. He just let other people make Happy Days and shit while he was tinkering in the FX lab.
I'm not sure what the title means exactly, but it's kinda too bad they used it for this because it would've made WILD STYLE seem more epic and important. This is the story of a bunch of Los Angelenos Modestenos graduating high school in 1962, and having one last night out together before some of them leave to begin their adult lives. Curt (Richard Dreyfuss playing a teenager just two years before JAWS!) is supposed to leave for college on the East Coast the next day, but he's getting cold feet. Steve (Ronny Howard, later star of Happy Days) is also leaving and wants to convince his younger girlfriend Laurie (Cindy Williams, later star of Happy Days spin-off Laverne & Shirley) that they should still technically be together but also see other people. Terry (Charles Martin Smith, later in THE BUDDY HOLLY STORY) is a huge nerd who borrows Steve's awesome car to drive around and impress people. And John Milner (Paul Le Mat) isn't going to college, so to him it's another night as the tough guy cruising for girls in the area's most badass yellow drag racer. But then he gets tricked into picking up somebody's little sister Carol (Mackenzie Phillips), cramping his style.
This format of movie is very familiar now, copied most directly in DAZED AND CONFUSED. There's not that much of a traditional narrative, but there's a group of connected characters who all have their own little storylines going on as the time passes. Most of them either learn a lesson or come to some kind of understanding near the end. Meanwhile, we bask in the music, fashion and slang of the period. In this case it's the early sixties, but it's mostly imagery that we associate with the '50s. This is the problem with generalizing by decade, is that it bleeds over. When they started high school it was still the '50s, so they still love things from a few years ago. It would be easier if at the end of a decade everybody hands in their clothes and gets the new ones.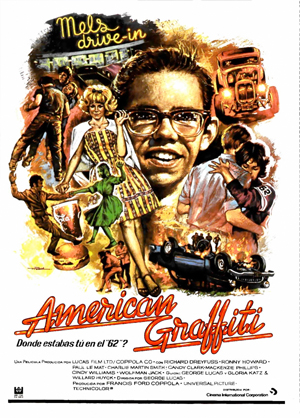 Anyway we got these hot rods, slicked back hair, undershirts with a pack of Camels tucked in the sleeve, that was Lucas's idea of cool. But the college boys like Steve and Curt aren't pretending to be badasss, they're kind of meek dudes in plaid shirts who actually are friends with girls, they're not just hunting for them. So adult Lucas has the plaid shirt and a pompadour. He's a combination of the two types, with added beard because of the '70s.
It's an excellent ensemble cast, of course. Howard is sort of the relatable nice guy nerd with dickish underpinnings. He wants to try out other girls but doesn't have the balls to tell his girlfriend. Williams made me wonder why she didn't become a movie star. I guess because 2 years later she was playing Shirley on Happy Days and then Laverne & Shirley and there was also a cartoon spin-off and by the time she moved on in 1983 everybody was always gonna think of her as Shirley. Harrison Ford also shows up as a villainous redneck who wants to race. He has on a cowboy hat and I didn't recognize him at first.
But the most interesting character is actually the one actor I didn't recognize from other stuff, Paul Le Mat as John. He's the more macho of the group of friends, the one who knows how to fix cars, who can't afford to go to college, and never expected to. He goes out here trying to pick up women, ends up babysitting somebody's kid sister. At first he's horrified, and afraid of how it will look, but then he starts to enjoy her company and become protective of her. It's a cliche character arc for a reason. It works.
Le Mat actually played Donald Westlake's character Dortmunder, but it was in the movie JIMMY THE KID starring Gary Coleman. He was also in PUPPETMASTER.
Wait a minute, hold on a second here. In the STAR WARS prequels by George Lucas, Anakin Skywalker has a fondness for fast, show-offy yellow space ships. In fact, in CLONES he uses a yellow speeder with an exposed engine much like Milner's. That's gotta be a reference. And also there's that diner that Obi Wan goes to, it's different but it's kinda in a similar vein…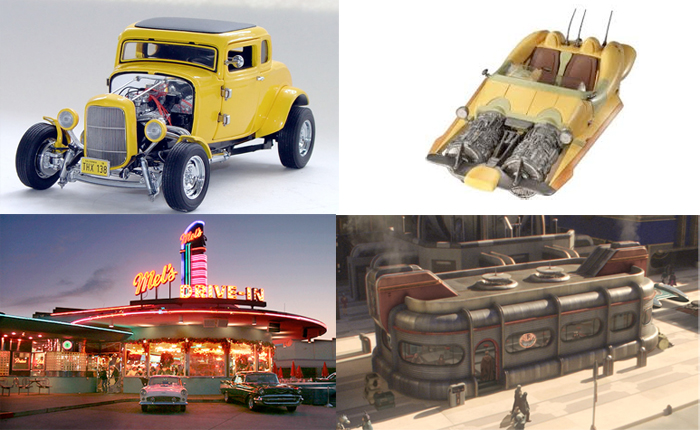 Oh damn, I'm sure everybody already noticed this (yeah, here's a page on starwars.com about it) but like I said, I never saw AMERICAN GRAFFITI before, so it's new to me. Somebody really should edit CLONES with the GRAFFITI soundtrack. But this is exactly the topic for not this series of reviews, which is about not being about STAR WARS. So let's move on.
AMERICAN GRAFFITI is an ode to simpler times. We learn the fates of the characters via text at the end. One, of course, dies in Vietnam. So it's saying remember back then, when we could drive around and hang out, and there wasn't all this turmoil? But in a way that's naive. Maybe there was no war in Vietnam, but it was not really a picnic all the time for black Americans. These kids might not've paid attention to that until they got a little older. I don't believe there are any black people in the movie, but there is one casual reference to the acceptance of racism: they all listen to Wolfman Jack on the radio and one character confesses that her parents won't let her listen to him "because he's a Negro." (If you don't get the joke, the real Wolfman Jack later appears as himself. He does not appear to be a Negro.)
But anyway, a yearning for simpler times is also an acknowledgment of complicated times. It was talking about its today by toasting its yesterday. That sounded kinda fancy what I just wrote there, but I meant it.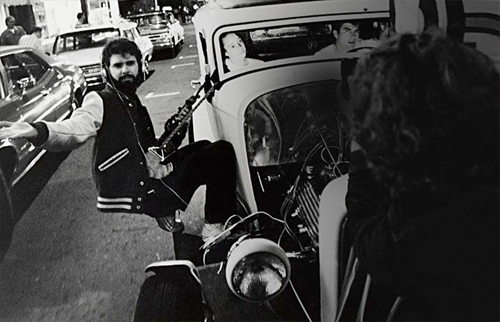 The AMERICAN GRAFFITI lifestyle seems so far away, it's funny to think that it was only 11 years ago when the movie was made. Man, 2004 doesn't seem long enough ago to make a nostalgic period piece about it. People would call each other's cell phones instead of texting, maybe. They would still have VCRs, but would use Tivo, and the TVs wouldn't be flat. A marquee in the background would say SPIDER-MAN 2 and SAW. The soundtrack would have "Drop It Like It's Hot" and "American Idiot." It wouldn't be that exciting.
And maybe that's why this one was so powerful at the time. The culture was changing at a much more rapid rate. The civil rights movement was new, America losing a war was new, seeing terrifying images of these things on TV was new, so the music and the fashion and the movies and the drugs all got a jolt from that. People started trying to be open to new ideas and rejecting The Man and it was scary and they started to miss their old hot rods and cruising for girls, is my guess. And AMERICAN GRAFFITI does a good job of capturing both of those moments: the one where you were young, and the one where you missed being young.
THE CHILDREN OF AMERICAN GRAFFITI: '80s nostalgia for the '50s nostalgia of the '70s led to crap like the above, which we are now nostalgic for.
This entry was posted on Thursday, December 3rd, 2015 at 8:36 am and is filed under
Comedy/Laffs
,
Drama
,
Reviews
. You can follow any responses to this entry through the
RSS 2.0
feed. You can skip to the end and leave a response. Pinging is currently not allowed.