The remake of 3:10 TO YUMA is a pretty good modern western, but it dilutes the simple power of the original by overcomplicating it. Delmer Daves and friends took this very short story mostly about two men in a hotel room (don't take that the wrong way please) and expanded it to movie length, but I thought they made it work beautifully. Now they take that expanded version of the simple idea and they go expand on that. Give the hero more of a backstory, involve his son in the action, have the outlaw escape and get captured by other people, etc. The only thing they simplify is the number of guys in Ben Wade (Russell Crowe)'s gang, so you lose that menacing scene of them all lined up at the bar with one defenseless woman pouring them all shots.

They kind of pump it up to make it more modern. The robbery of the stagecoach is a big action scene with an explosion and everything. The musical score by Marco Beltrami has guitars and shit.
And this really is a remake, you can't claim it's just going back to the book and starting over like they say about TRUE GRIT or something. They use the same character names that were made up for the movie and the same idea of Dan Evans not being a marshal but a rancher trying to get some money to save his farm. And the same idea of his sons thinking he's a coward. This time Evans is played by Christian Bale and his family seem to just be ashamed of him and think he's a loser because he can't get this money.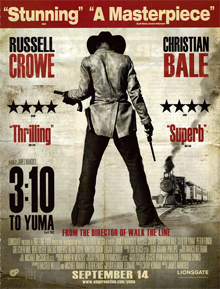 I really despised his older son (Logan Lerman) who's even more of an ungrateful little shitbag than the brats in the original, and old enough to know better. When he sees the Ben Wade gang robbing and killing he not only thinks his dad is a coward for not rescuing everybody, he also gets excited about Wade's shooting, saying "He's fast!" Wow, that guy was awesome when he murdered that innocent man right in front of us! Also, dad, you are such a pussy for not running down there and catching the bullet in your teeth or something. I hate you! LEAVE ME ALONE!
Evans is a civil war vet, sharpshooting for the North (phew!), and he lost his leg. Later on Wade'll give him a bunch of shit about it and try to make him angry about getting a $198.36 payment for it. I know, it sucks to think of your leg as a side of beef or something, but that was actually pretty good money back then I bet.
So it's Bale in his grim mode. He's always good, and I will even defend his currently out of vogue Batman voice, but he should cut down on these pouty roles. He's so much better when he can be funny and likable, like THE FIGHTER, or funny and not likable, like AMERICAN PSYCHO.
Crowe has a good take on Wade, though. You really can't rationalize the stuff he does, but he still ends up pretty likable. Maybe it's 'cause he's aware he's a bad guy. When Evans's asshole son tries to find his good side ("Because you're not all bad,") Wade says "Kid, I wouldn't last five minutes leading an outfit like that if I wasn't rotten as hell." He does his share of Luciferian philosophical-tempting, saying shit like "It's a man's nature to take what he wants, Dan," which is an obvious movie villain kind of thing, not that great. But he's also pretty good at insulting people. When he says he doesn't want to talk because "I just don't find you that interestin'" it hurts.
Also he draws a picture of a hawk at the beginning. He's an artist. So he's sensitive.
The most show-offy performance is Ben Foster as Charlie Prince (Richard Jaeckel's character in the first movie). He plays him as openly psychotic and kind of swishy, and at some point we find out people derisively call him "Charlie Princess." It's weird because he played kind of a subtler version of this character in the remake of THE MECHANIC, complete with the ambiguous sexuality. It's a fun kind of comic book bad guy, but I have to say I prefer Jaeckel's regular old menacing hardass. He's scarier.
With Ben Wade's gang so much smaller than in the first movie the filmatists gotta figure out a way to make the trip from hotel to train dangerous, so Charlie Prince offers citizens $200 to shoot Evans. This is a reverse of the original, where they're paid to help transport the prisoner. That kind of shows that things have gotten a little more cynical in 50 years. In '57 you figured the people would try to do the right thing but would chicken out. In '07 you figure they don't mind doing dirt if somebody'll give 'em a buck for it.
Surprisingly though this one comes off a little more macho than the original. Evans explains to his son why he's not gonna give up, and is gonna go on what pretty much amounts to a suicide mission. It makes alot of sense for a dude to explain to his son, but then he has to explain it to his wife (Gretchen Mol), and it seems to make a little less sense.
Crowe's charisma is strong enough that it's real exciting when they're making the run for the train together and he decides he likes Evans enough to help him get there. He even yells "Dan!" to warn him when a gunman is behind him.
The '57 version had a more of a big-smile ending, this one is a mix of tragedy and victory with a nice little touch: one of the old prisoners on the train gets up and offers Ben Wade his seat. 'Cause Ben's a likable killer. I bet he wouldn't've done that for fuckin Charlie Princess.
This version was directed by James Mangold (WALK THE LINE, KNIGHT AND DAY) and written by Michael Brandt & Derek Haas (2 FAST 2 FURIOUS, WANTED). As much as I like 2 FAST 2 FURIOUS I'd say it's a little better than that pedigree would imply.