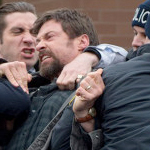 PRISONERS is a crime mystery elevated to near-epic status by its patience and taste. It has intense performances, especially by leads Jake Gyllenhaal and Hugh Jackman, but also supporting players Paul Dano, Terence Howard, Viola Davis, Maria Bello and Melissa Leo. It has gorgeously bleak Roger Deakins cinematography of grey, rainy Georgia suburbs that looks just like my neck of the woods. Serial killer central. It takes its time, doesn't drum up fake excitement with bombastic music. It has the kind of careful, deliberate camerawork and pacing we associate with Kubrick, or at least Fincher. Smart directors with so much cinema in their blood they don't know how to shoot anything without transcending the perceived limitations of its genre.
I haven't seen anything else by this director to know if he's one of those. He's Denis Villeneuve, the Canadian whose movie INCENDIES was nominated for the best foreign film Oscar two years ago. I'll have to keep an eye on him I guess. The writer is Aaron Guzikowski, who did CONTRABAND, a Mark Wahlberg movie I skipped. Based on their reputations then that seems like a pretty good highbrow/lowbrow mix there, and I think they came up with a movie worthy of more attention than it has received.
I think because of a couple of Fincher's movies there's this idea that there's something deep and philosophical to find in stories of killers and the men who obsess over finding them. Didn't that Nietzsche guy say something about something something THE ABYSS something serial killers? And isn't Nietzsche supposed to be, like, some kind of deep guy? With depth? I believe so, but I'm not sure there's a whole lot there.
That's not a complaint. To me what we have here is an impressive enough feat, a kidnapping thriller where the family feels a little more real than usual, the mystery a little more hopeless (and therefore suspenseful), the moral compromises taken by the understandably desperate protagonists more involved and messy. I think this is also a political parable, but it doesn't have to be seen that way for it to be interesting, which is how it should be.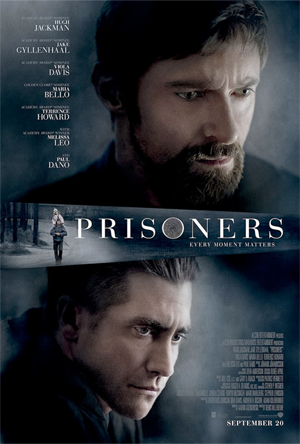 It's a story of two families, the dads Keller (Jackman) and Franklin (Howard) best friends since childhood. They both have wives (Bello and Davis), teenagers and young daughters, and they all have Thanksgiving together. The different age groups end up in different parts of the house, as happens, and at some point they realize that the youngest ones wandered off somewhere and didn't come back. The only clue is that the older kids saw a dirty RV parked nearby earlier, and now it's gone.
Later the police find the RV, and the driver Alex Jones (no relation) (Dano) tries to run, but he turns out to have the IQ of a 10 year old and no trace of the kids in his vehicle.
Keller understandably has a problem with the cops letting him go. He thinks that's the guy. He's also pretty paranoid, a survivalist, and macho. This is another impressive performance by Jackman, maybe the most complex I've seen him do. He's playing a heartbroken asshole. He's the worst person in the family, but still sympathetic. He decides to kidnap Alex Jones and imprison him in an abandoned apartment building he owns. He keeps him there for days, torturing him, trying to get information, convinced it's in there somewhere.
The worst part of the movie is that the lead detective (Gyllenhaal) is named "Detective Loki," but the best part is his character. No one ever tells us about his past, but he has all these tattoos, and a blinking tic. He's solved every case he's had and it seems to have taken a toll. He might look like some burnt out David Ayer character, but he doesn't play it that way. He spends much of the movie being professional, absorbing Keller's aggression, saying "I understand what you're saying" and "I hear what you're saying, sir" and trying to avoid speaking the inevitable "but" that leads to the next part of that sentence. He gets called to investigate claims that his experience tells him are dead ends ("I heard my daughter in her room"), his eyes tell us that it's kinda sad to him, but at times almost funny, and that he's willing to play along to make them feel better. Other times he's alone so we get his honest reactions – "Shit" he says when he's in his car and sees Keller coming to talk to him.
Gyllenhaal is one of those actors who's good at playing dim-witted characters, and it tricks me into underestimating him. He's better than I tend to remember. I mean, he even surprised me in that stupid PRINCE OF PERSIA movie, but this is the kind of performance that really makes me reconsider him and think of him as the type of actor where a movie might be worth checking out just because he's in it.
It's a good mystery, not too obvious or formulaic for me. Since it doesn't feel like a typical Hollywood thriller, and since it has the same actor who starred in ZODIAC, I wasn't even 100% sure if the mystery would be resolved. Detective Loki stumbles into shit he can't believe, crazy shit that seems like too much to be going on in this one area, but that doesn't immediately answer the important question, which is "Where are those girls?" And little things come up that make you keep questioning your assumptions about every character, but without an obvious red herring scent to them.
At one point it goes from quasi-realism to events so strange that I started to question if it was a dream sequence, but I think it's a successful (if not entirely believable) progression into the surreal. Maybe that's because the idea of the kidnapping of the kidnapping suspect is already a little crazy. Once we've accept that we've accepted that the story is not going to stay entirely grounded. The script has explanations for why it's believed that the kidg got spooked and took off, and how they hide him. And there's this expanding bubble of guilt as Keller brings Franklin, and then Franklin brings his wife, and those two say that they know it's wrong, but then fail to stop it.
The movie never announces a political agenda, but it's easy to see the War on Terror parallels. They lock up this guy to question him. They know it's not legal, but time is running out. They beat him and question him, threaten him, put a bag over his head, deprive him of light, torture him with water, and keep doing it despite no sign that it's helping in any way. Franklin and his wife immediately know it's wrong, they ask Keller if he's lost his mind, but then they give in to his logic anyway, because they're too scared to let the kid go and then be wrong. It's already done, they say. But (SPOILER) the kid doesn't give them any helpful information. In fact, it's only the process of freeing him (and informing his aunt of his whereabouts) that the truth is accidentally discovered.
See, that's how you do it, KILLING THEM SOFTLY. You do it softly. Then it's better politics and better storytelling. Put the sledgehammer down. You coulda been a contender.
Don't watch PRISONERS for the politics. Watch it to see a good mystery thriller, and you get some thought provoking as a bonus.
* * *
SPECIAL ONLY PEOPLE WHO HAVE SEEN THE MOVIE DISCUSSION FROM THIS POINT ON:
Here's a hilarious story I heard before seeing the movie, but it's best to hear afterwards 'cause it could've been a giveaway. Lee Daniels talked on KCRW's The Treatment with Elvis Mitchell about when he was attached to the script, before he did THE BUTLER. He really wanted to work with Oprah Winfrey, and he told her she was going to be playing "the serial killer." She didn't want to but he told her to trust him and read the script. He laughs that not only did reading the script not convince Oprah, but when he told the producers he was trying to get her they fired him from the movie. He loved how it turned out without him or Oprah, though. I'm sure if he had done it it would've been much sillier and crasser but interesting in different ways.
One great and outlandish part of the movie is what Loki finds when he knocks on the child molester priest's door. I love his look of exasperation when he discovers the hidden room. Like he's not up for such a discovery, and also kinda disappointed that the Father is so bad at covering his tracks. That he finds this dead body that seemingly has nothing to do with the kidnapping seems like too much of a coincidence, like how there's all those serial killers in the area in I SAW THE DEVIL. But of course it's a little easier to swallow when you realize that all this stuff is connected.
I like that the priest learned of this guy's killings through confession, and when Keller locks up Alex Jones he ends up building a little box around him and speaking to him through a little hole, a sort of confession booth by accident. I'm not sure what it means, but it's an interesting parallel.
Of course, the ultimate irony is that this kid who Keller's trying to make confess is actually a victim of the confessor that the priest killed. Another victim just like his own daughter. Bonus irony layer: you could argue that torturing this innocent victim did the trick. They didn't get any information out of him, but the discovery of Keller's vigilante crime leads to the uncovering of the "aunt's" crime, not only saving Keller's daughter but reuniting Alex with his actual parents. Ah shit, war on kidnapping, why are you so morally complex?
Thanks to Jason Humptulips for convincing me to give this one a chance. Good call
This entry was posted on Friday, January 24th, 2014 at 12:43 pm and is filed under
Uncategorized
. You can follow any responses to this entry through the
RSS 2.0
feed. You can skip to the end and leave a response. Pinging is currently not allowed.