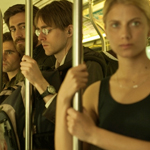 ENEMY is a weird, spooky thriller that director Denis Villeneuve and star Jake Gyllenhaal did right before PRISONERS. The arthouse freakout before the expensive studio drama that Lee Daniels got fired from. PRISONERS made me pay attention to the former and gain new respect for the latter, so here I am watching ENEMY.
Gyllenhaal plays a depressed college history professor who rents a movie one day and notices that the part of Bellhop #3 is played by a guy who looks exactly like him. Creepy. He does some detective work and tracks down the actor, who also has his same voice and an identical scar. He's not sure what the fuck is going on, and he's fascinated, but he's weird about it. He calls and confuses the guy's poor wife.
The mood of this thing is as heavy as PRISONERS. There is no humor in it. They don't even have a brief chuckle of disbelief about the weird situation they're in. They're curious, but too creeped out or bull-headed to sit down and figure it out together. Instead they tell each other off and investigate from a distance. He starts stalking the guy's wife. Or the guy starts stalking his girlfriend. Or he's stalking his own wife. To be honest I couldn't keep track.
It's kind of like a dead serious version of the part in SCHIZOPOLIS where Steven Soderbergh follows himself home and says "Oh my god. I'm having an affair with my wife!" And you really don't know if you should be more scared for this guy or of him.
I think I was left more behind than you're supposed to be, but it's intentionally difficult to follow. They don't have any visual cues to tell the lookalikes apart, they don't have one guy that wears an eyepatch or pink spandex. In fact they kinda taunt us about it by having one of them contemplate shaving his beard off but then not go through with it. (Another good move would be if he shaves it off but then the other one also shaves his off.)
I wasn't always sure if scenes were in order – are we cutting from one Gyllenhaal to the other one, or is he remembering something that happened before?
Some events repeat. A lecture he gives about dictatorship repeats pretty much back to back like we're watching Teletubbies. Or as if we are supposed to be drawing parallels between what he's talking about and the subtext of the movie. Hmm. Maybe I was too distracted trying to decode that, because it wasn't until near the end that I understood that the creepy opening at a sex show wasn't a dream, and it wasn't until reading about it afterwards that I found out it was supposed to be the actor in that scene, not the teacher. And I'm still not sure if that was a storytelling trick or if I was supposed to know what was going on and I blew it.
Also I cannot tell you what to make of the bizarre ending. It's kinda terrifying and kinda laughable. Beats me if it means something.
But I also believe that you don't have to really understand an experience to enjoy it. I don't have to know exactly what is going on in this movie to approve of it, and I don't have to assume that because I didn't get it that there's nothing to get and it's just pretentious bullshit. Maybe I don't love the movie but I appreciate the uncomfortable feeling it gave me. It's pretty good.
I remember one of my Canadian readers got mad at me one time for using "filmed in Canada" as a synonym for "cheesy." So let me give credit where it's due, this Canadian production shows Ontario looking every bit as foreboding and cinematic as New York ever has on film. It's kind of a noir look – overcast, deep shadows, with ominous Kubrickian panning. This guy does a whole lot of his storytelling just with lights and camera equipment. Way to go Villeneuve and cinematographer Nicolas Bolduc. That's what I'm talking aboot.
I think this is a bit of a Cronenberg homage. Grim, sad, angry Canadian professionals in ties stumbling upon creepy, fetishistic underground subcultures that seem dangerous just to know about. The nightmare logic and atmosphere also reminded me of LOST HIGHWAY and MULLHOLLAND DR. I also thought a bit about EYES WIDE SHUT in some of the best moments, when this curious schmuck is awkwardly faking his way into places he doesn't belong.
As good as Gyllenhaal is and as much as I hope these two continue to be a team, don't you think this one would be even better as a Jean-Claude Van Damme movie? He loves to play twins or clones and he already is a movie star and it would be cool to see him giving a college lecture. We could assume the Belgium accent was a French Canadian type deal and I'm sure he'd be filming something else in Canada at the time anyway so it would be easier to get him there. And best of all, they would definitely keep the same title! I'm surprised there isn't already a Van Damme movie called ENEMY.
Nice try Villeneuve but you fuckin blew it not getting JCVD in there. Otherwise pretty good work thanks Canada.