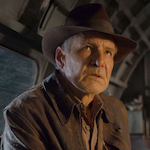 INDIANA JONES AND THE DIAL OF DESTINY is the final Indiana Jones picture, the only one not directed by Steven Spielberg (ALWAYS), and the only one not conceived by George Lucas (AMERICAN GRAFFITI). Personally I did not ask for such a thing. Even if the boys were still in charge (they chose to just be producers, with only Spielberg being hands-on) I'm one of the weirdos who enjoys visiting the Kingdom of the Crystal Skull, so I had no need for another one to set things right. But Harrison Ford (EXPENDABLES 3) wanted one more for closure, and I'm glad he did. I think it's a good movie, and a good ending.
The director is James Mangold (COP LAND, WALK THE LINE, 3:10 TO YUMA), who is also credited as writer alongside Jez Butterworth & John-Henry Butterworth (EDGE OF TOMORROW, GET ON UP) and David Koepp (I COME IN PEACE). Koepp wrote multiple drafts when Spielberg was gonna direct and the other guys drastically rewrote it for Mangold's version. Mangold is, I can exclusively reveal, not Steven Spielberg; he's a totally separate person. So by definition the many fine and spectacular action set pieces throughout this movie are not Steven Spielberg fine and spectacular. But I'd say Mangold is a stronger Spielberg substitute (or Sammy Fabelman, if you will) than any of the JURASSIC PARK or JAWS sequelizers, let alone the makers of any Indy-inspired adventure movies such as THE MUMMY.
It helps that he's not trying to disguise himself as Spielberg, he's openly James Mangold. DIAL OF DESTINY shares many concerns with my favorite of his movies, LOGAN. Like Professor Logan Wolverine in that film, this Indiana Jones is washed up, beaten down and unhappy in an era that has left him behind, alone, disillusioned, and haunted by tragedy as he wastes his extraordinary skills on a shitty job, starting not to care anymore. Then he's thrust into some trouble protecting a younger female protege from some bad people (even including a redneck psycho played by Boyd Holbrook, minus the cyborg hand this time) and he finds new purpose.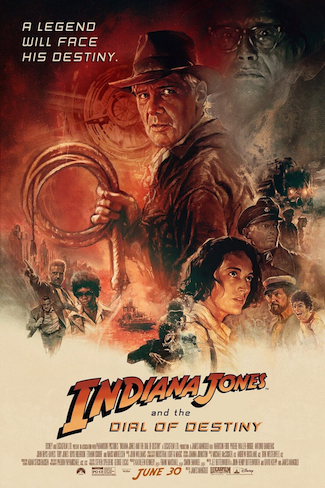 Like THE LAST CRUSADE, this episode opens with a younger Indy having his first encounter with a particular legendary artifact. In this case it's not during his childhood, but 1944 (in between parts 3 and 4), when he and newly revealed life long friend Basil Shaw (Toby Jones, YOUR HIGHNESS) of Oxford are infiltrating Nazi looters at Nuremberg Castle, trying to retrieve what turns out to be a fake Spear of Longinus. They're separately captured and reunited on a moving train where they find more action against Nazis and also more stolen artifacts, most notably one half of the Antikythera mechanism, a.k.a. Archimedes' Dial, an item also sought by Nazi astrophysicist Jürgen Voller (Mads Mikkelsen, RIDERS OF VENGEANCE), who believes it can calculate "fissures in time." There's a thrilling battle on top of the speeding train as Allied Forces drop bombs all around them, but our guys get away with their half of the Dial.
It's a thrilling 25-minute-long set piece full of great little gimmicks (Indy trying to escape a noose, alternately helped and hindered by a bomb dropping through the roof; a Nazi gun turret spinning out of control, massacring the shit out of their own guys) and exchanges (the realization that the Nazis think the Spear has magic powers while our boys just think it's history that needs preservation). But I know some viewers will reject this for the simple fact that it's achieved not through the miracle of recasting (as they once did with River Phoenix) but the pagan sorcery of digital de-aging. I sort of get it, 'cause when I first heard Ford's current grumble coming out of a youthened Indy I thought it was gonna be a problem. Then like ten seconds later I forgot about it. It's not IRISHMAN goofy at all, and THE IRISHMAN was a great movie anyway, so what are we even talking about?
As with many things in art and life, I'm agnostic on de-aging. It just depends. There are many cases where recasting is the way to go. THE GODFATHER PART II turned out pretty good, I thought. There are also cases where recasting is a shame because de-aging would've been so much funnier (F9). DIAL OF DESTINY is a case where de-aging was absolutely the correct choice. The "okay, I will pretend Sean Patrick Flanery is young Indy" mental hurdle would kill the main point and joy of the sequence, which is the jarring moment when the wave of glorious pulp heroism whipped up by thirtysomething Harrison Ford punching Nazis to John Williams music crashes down in 1969, with octogenarian Indy asleep in a chair in his tiny NYC apartment, getting woken up by his hippie neighbors blasting "Magical Mystery Tour" and stumbling down in a backwards inside out t-shirt to bang on the door with a bat. (I like that they know him as Dr. Jones, and smile when they see him.)
Much like CRYSTAL SKULL worked in lots of emblematic fifties business (Elvis, hair grease, Russians, nuke tests, flying saucers), DIAL OF DESTINY works in sixties shit: the Beatles, the moon landing, the Vietnam War. For at least two reasons we can speculate about, the CRYSTAL SKULL character Mutt Williams does not appear (SPOILER), instead being turned into the emotional linchpin of the story: grief over his death in Vietnam pushed Indy and Marion to separate. He's a depressed husk as he resignedly retires from his current job at Hunter College, teaching largely disinterested students about historical shit that happens to be related to the Dial.
Speaking of which, good ol' Basil Shaw (RIP)'s daughter Helena (Phoebe Waller-Bridge, SOLO: A STAR WARS STORY) shows up at the college asking for Indy's help researching the Dial. He's her godfather, lovingly calls her "Wombat," but hasn't seen her since she was a kid. She's playing him – he reveals that his half of the Dial is in the university archive, and she runs off with it to sell at a black market auction just as government agents arrive, chasing her.
They pretend like it's a legitimate police matter, but also gun down innocent witnesses, because although they work for Uncle Sam their loyalty is to Voller. That's right, even in the Saturday morning serial world of Indiana Jones, it turns out, the defeat of the Nazis wasn't as thorough as we'd like to think. Voller is not only alive and still seeking the Dial, but working for and protected by the U.S. government, having been given a new identity to work on the space program (as in the real life Operation Paperclip). It's like he's reversing Indy's old trick of putting on the Nazi uniform, but much more permanent. His security detail/hit squad includes a well-meaning CIA agent and some Nazi or Nazi-wannabe goons like this Juggernaut-looking motherfucker named Hauke (Olivier Richters, KNUCKLEDUST, BLACK WIDOW) and a regular sized maniac named Klaber (Holbrook, THE PREDATOR), who's trying to learn German.
Indy leads these assholes on a chase through the streets during a ticker tape parade for the Apollo 11 astronauts and an anti-war demonstration, so he's caught in the collision of the optimistic and turbulent sides of the era. He does what an old man thinks he's supposed to do in a situation like this – wave down a cop – but they're no help, so he ends up stealing a police horse and riding it into the subway. I love movies!
If you're gonna compare this to the horse chase in TRUE LIES then you're right, that was a better action sequence. Mangold is not Steven Spielberg or James Cameron. But this is still a cool scene and I certainly prefer its themes and attitudes to those of Cameron's only cold-hearted, hateful movie. Underneath the excitement here is the realization that Indy did his part to stop the Nazi menace, only to find his government collaborating with some of them (while sending his son off to die in a meaningless war).
Mangold puts an even finer point on it in a scene where Voller makes racist insinuations to a Black porter at the hotel (Alton Fitzgerald White, THE MAN WHO KILLED HITLER AND THEN THE BIGFOOT). We learn that this man is a WWII hero, now serving food to a Nazi being given the VIP treatment by the same government that treats him as a second class citizen. Mikkelsen is perfect, never going over the top, or even very close to the top, but conveying that familiar smugness of a guy who knows you know what he is and that it's all the more infuriating if he unconvincingly claims he's not.
There's one other Black character, the CIA agent Mason (Shaunette Renee Wilson, a 1992 Dora Milaje in BLACK PANTHER). Her cool afro and leather jacket suggest one of her roles is informing on Black militants. She doesn't know what Voller and company are up to, tries to to keep them in line, thinks she can do the right thing within this fucked up assignment the system has given her. That doesn't work out.
Worried about the Dial falling into Voller's hands, Indy goes after Helena, with passport assistance from his old pal Sallah (John Rhys-Davies, SWORD OF THE VALIANT, BLOODSPORT III), now an American citizen thanks to his help. I know some people grumbled about Sallah returning because of the outmodedness of a white due playing an Egyptian, among other reasons. But I like this scene because it's this established compatriot from parts 1 and 3 excited to help Indy, wanting to go with him, being all this is great, this is just like old times, we get to go on an adventure! And Indy straight up tells him no, this is not an adventure. That's not what this is.
Don't get me wrong – for us it's an adventure. But for him, he's correct.
When he crashes Helena's auction in Tangier we learn more about her. I like the specific ways she mirrors and differs from her godfather. Disillusioned by her dad's tragic life, she uses her vast knowledge of antiquities for opportunistic, capitalistic purposes. But she's like young Indy in her cavalier attitude toward relationships, breaking the heart of Moroccan mobster Rahim (Alaa Safi, AMERICAN ASSASSIN), who thought they were a couple. She also has her own Short Round, an orphan pickpocket teen named Teddy (Ethann Isidore) who at one point gets kidnapped and held hostage but at other points takes out the biggest Nazi goon and figures out how to hotwire and fly a Cessna. I love when he lectures her about violating their code of only treasure hunting "for the right reasons" but by "the right reasons" he means for the money.
Indy and Helena debate their motives in the middle of a crazy tuk-tuk chase through narrow streets, eventually joining forces to search for the other half of the Dial, a journey that takes them underwater and into the traditional INDIANA JONES territory of tunnels, tombs and puzzles. There's a brief appearance by the great Antonio Banderas (FEMME FATALE) as another new old friend of Indy's, "Spain's greatest frogman" Renaldo. I think the limits of the 1969 diving equipment make for a tense sequence. Also I'd like to note that I thought one of the guys on the boat was Renaldo's boyfriend, but no one else I've talked to thought that, so I probly imagined it. I'm still gonna take it as an homage to THE LOST WORLD: JURASSIC PARK, where Pete Postlethwaite's character was in a committed same sex relationship but they cut out the parts that made it clear.
As in all INDIANA JONES adventures (or not-an-adventures) he does get his hands on the artifact and find out that oh shit it really does have powers. In this case they're explained as mathematics, not magic, though admittedly it's a Nazi who says that. I never heard of it before, but the Antikythera mechanism is a real archaeological find, considered the first known analog computer. The connection to legendary mathematician Archimedes is only one theory, because one of the calendars engraved into it is believed to come from Corinth and, as seen in the movie, Archimedes lived in the Corinthian colony Syracuse.
I think it's a great McMuffin because it's very different from the others (not being of a religious nature at all), but it looks cool (working parts!) and it's a neat sci-fi premise that it can calculate these so-called fissures and be used SPOILER SPOILER SPOILER BUT YOU PROBLY GUESSED IT for time travel. But also because making the Dial all about time and time travel fits with the theme of Indy's aging, feeling out of place in the modern world, and having to accept that he can't (or I guess shouldn't) change the past.
The Dial gives us the movie's biggest swing when Voller's stupid plan to go back in time to assassinate Hitler (but not to stop him – to take over for him!) goes horribly wrong. I like both Indy's first theory for why it happens (miscalculation due to continental drift) and later realization that it's something else (an intentional plan by Archimedes). But the point is SERIOUSLY THIS THE BIGGEST SPOILER they end up in 212 BC flying bombers over the Siege of Syracuse (previously mentioned in Indy's class). Man, it's so funny, and also very believable, that Klaber doesn't know what to do so he just starts shooting at everything.
The silliest part, that I imagine might be a bridge too far for some people, is that Indy actually gets to meet Archimedes (Nasser Memarzia, THE RHYTHM SECTION) and wants to just stay there and get to know him. We all know from Indy's young chronicles that he got to meet Teddy Roosevelt, Norman Rockwell, Ernest Hemingway, T.E. Lawrence, Pablo Picasso, Al Capone, Edith Wharton, and others, but this is obviously a bigger deal due to the many centuries previously between them and also because Indy seems to be a huge Archimedes fanboy. I don't know enough about the Archimedes lore and mythos to pick up on the easter eggs, so I can't say whether or not Indy is just Mangold's insert character for shameless wish fulfillment and Archimedes fan service. But it works. A crazy choice, but just about the right amount of crazy for me.
On that topic of fan service, there are specific references or connections to the other movies – the tragedy of CRYSTAL SKULL's Mutt, mention of the events of TEMPLE OF DOOM, a repeat of RAIDERS dialogue in his SPOILER SPOILER SPOILER reunion with Marion – but I think in pretty much every case it's used as an emotional moment for the character, not a "ha, did you catch that?" for the audience. Oh, I guess an exception is when Teddy says a swarm of eels they have to dive into look like snakes and Indy angrily grunts "No they don't!" But that's okay, that's a good joke.
The response to this one seems pretty mixed so far. Lots of like, maybe less love, which is fair. It definitely hasn't gotten the same widespread condemnation as CRYSTAL SKULL, but I've seen some pretty savage pans. Otherwise I'd have assumed it would appease most of the anti-SKULLniks. It's not as goofy as CRYSTAL SKULL, it's steadier, more modulated, better structured, arguably better looking, less green screeny. But I guess it still doesn't do it for some people.
That's fine. I get to enjoy both. Suckers!
Between the two I probly lean CRYSTAL SKULL for the sheer, intoxicating momentum of Spielberg's filmatism. Fuck you, the refrigerator sequence is an all-timer, that's non-negotiable. The advantage of INDIANA JONES AND THE DIAL OF DESTINY is that it's that thing I love so dearly: the entertaining popcorn movie that also has some substance under the surface for those who care to look for it. On a political type level it notes that insidious ideologies persist and poison systems as the lines between "good guys" and "bad guys" become less obvious. On a more personal level it reminds us that the world changing (in Indy's time and in ours) is okay. Once we accept this and stop clinging to the old days we can move on to new things, and Indy can have the happy ending he deserves, walking off into the sunset with the woman he loves, probly playing some saxophone, and probly still crawling into an ancient tomb or two, even if the rest of us take care of most of the Nazi-punching.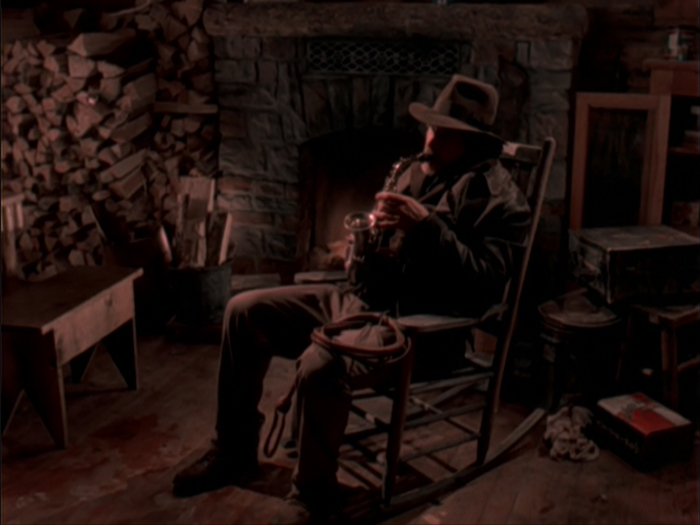 Other notable Hunter College faculty: Dr. Joyce Brothers, Dr. Ruth Westheimer. Actress Rhea Perlman studied drama there and graduated with a B.A. in 1968, so she may have passed Dr. Jones on campus if she didn't take his classes. Vin Diesel also attended but long after Indy retired from teaching… unless he decided to come back, which in my opinion he did when he heard about Vin Diesel being there.
update: I'm afraid I have been corrected. According to Shana K., "Rhea Perlman went to the Bronx campus, not the main campus in Manhattan where Indy taught. My mom went to school with her. She's in my mom's yearbook." Thanks Shana! But I stand by my belief that Indy met Vin Diesel.