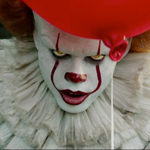 STAND BY ME vs. THE THING. A group of young nerd friends in the small town of Derry, Maine battle a shape-shifting (usually clown-shaped) thing-from-another-(not-specified) that feeds on the fears of children. Oh, and also feeds on the actual children, apparently as a way to create more of that sweet fear.
Stephen King's book tells the story of this "Losers' Club" in 1958, and then reunites them as adults to do It in grown up style. Andy Muschietti (MAMA)'s movie just handles the childhood half of the story, moving it up to the summer of 1989, three years after the book even came out.
I read the book probly 30 years ago and only remember it well enough to be thankful they left out the pre-teen gang bang scene. I still question the part where a bunch of boys and one girl go swimming together in their underwear and then hang out that way. Maybe it was different on the east coast but this seemed like an alien clown's idea of what the youths do together. Also the graphic blood pact seemed to me from a different time, but I guess God bless those little psychos for being up to that kind of self-mutilation. I couldn't do it.
Though I can't really comment on how well it adapts the book, this movie definitely paints a vivid picture of the Stephen King view of the world (especially the past). You got your young people with their old timey bicycles and adult-level sentimentality – kids in touch with their feelings enough to hug their little brothers and their friends before or after major life events. They come from working class families that don't understand them. Most have a parent who's either stiflingly overprotective or sickeningly abusive. They're terrorized by older kids who are even more working class, and part of some macho rebel subculture (rocker dudes now instead of greasers) and their ringleader, Henry Bowers (Nicholas Hamilton, CAPTAIN FANTASTIC), is a straight up psycho who proves to be homophobic, abusive of animals, and racist and anti-semitic in an old school KKK harassing-people-and-telling-them-to-leave-town kind of way. He goes nuts and poses as much of a threat as the evil shapeshifiting clown monster Pennywise (Bill Skarsgard, ATOMIC BLONDE).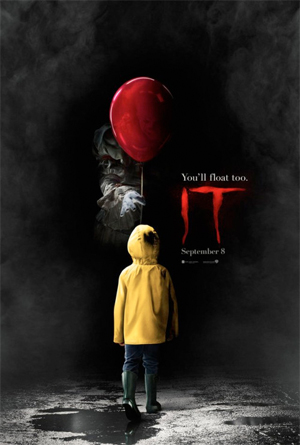 Our lead Bill Denbrough (Jaeden Lieberher, MIDNIGHT SPECIAL) is kind of the square, sensitive guy like Gordie in STAND BY ME (from the novella The Body). While Gordie was haunted by the death of his cool older brother, Ben is the cool older brother haunted by the death of his younger brother Georgie (Jackson Robert Scott). Poor kid gets snatched up in the nightmarishly effective opening, but Bill won't give up on him being alive. Instead of getting his friends to come look for a dead body he gets them to come explore the sewers, where he hopes to find the non-dead body of his brother, swept away and just kicking it somewhere I guess.
A new member of the clique is Ben (Jeremy Ray Taylor), who is chubby and thus the most violently picked on by the bullies. I have to confess I have no idea why, when he gets legitimately slashed with a knife, the kids don't go to an adult, but instead shoplift medical supplies to secretly bandage him with. They act like he got that wound robbing a bank. Maybe I missed something.
Richie (Finn Wolfhard from AFTERMATH and having the greatest name ever) is a standout Loser because he's the obnoxious smart ass kid who gets most of the funny lines. This makes him more likable than his straighter character on Stranger Things. By the way I wonder if after we all pass this guy will be dragged out as an expert on the 1980s.
The coolest Loser is the only girl they know, Bev (Sophia Lillis). She's a rebel introduced smoking in the girls' room (though she then gets toilet water dumped on her head). She's even cooler after she cuts her hair short. That was considered unacceptable when the TV character Felicity did it, according to what I've read, but now people like it. One of the kids compares her to Molly Ringwald as a way to teaser her but also nudge the audience that hey she's like the Molly Ringwald character this is like an '80s movie you guys.
I think in the book she was a tomboy who fit in as just one of the boys. This is a different dynamic because the camera keeps emphasizing her eyes and you figure Bill and Ben can't be the only ones with crushes on her. Poor Ben is writing love poems to her and she loves them and he still gets no traction. She looks like his big sister. Out of his league.
Honestly it seems like she's out of the entire Club's league. She's only a Loser because of (incorrect) rumors of so-called sluttiness. The whole town judges and degrades her for her alleged sexuality while her dad (Stephen Bogaert, AMERICAN PSYCHO) creeps on her for it. Thankfully whatever abuse is going on is not shown.
My favorite bit in the whole movie is actually a sweet friendship thing between Bev and Ben. Bev discovers that Ben secretly loves a certain top 40 group that it wasn't cool for boys to like. She never tells anyone, but will use titles of their songs when talking to him, and it doesn't read as a taunt, but as a secret code saying we have this thing between us that nobody else knows about.
It's these touches of humanity that make the evil clown movie work, and even the lead bully has a few of them. Many of King's bad guys seem one-dimensional, especially by the time they've been simplified into movie form. This could be said of Henry Bowers except for one upsetting scene where he's playing target practice with beer cans and tries to get his friend to hold up a cat as his next target. Suddenly his dad (Stuart Hughes, FOOD OF THE GODS 2), a cop, shows up and stops him. But his dad fires a few shots near Henry's feet, making him cry to demonstrate to his friends that he's not really as tough as he pretends to be. It's a traumatic plunge from cat rescue to bully comeuppance to oh-shit-this-guy-is-a-maniac-and-that-must-be-part-of-why-his-son-is-such-a-piece-of-shit. And then you think about Henry's bigotry and that he must've learned it from somewhere and that this guy he probly got it from is allowed to be a cop.
Later Henry is still moping about the incident. And you still fucking hate him, and he's only gonna get worse. But for a little bit there you can see where it comes from, what broke his humanity, and you can have a tiny bit of sympathy for him.
Even though Bev had it worse and she's still nice to people.
The 1989 setting is pretty smart – a way to make the story nostalgic for the generation that grew up on the book rather than the generation of the guy who wrote it. And unlike the brothers who do the somewhat similar Stranger Things show, Muschietti was of age at the time and remembers what it was like (at least in Argentina). As always, there are trivial things that don't ring true to me: a kid making fun of a mullet and knowing to call it a mullet, for example, and the bedroom with the GREMLINS and BEETLEJUICE one sheets. I'm not entirely against the pandering – honestly I had cooler shit on my wall at that time – I just don't buy how neat it is! There ought to be all kinds of ugly magazine ads and shit taped all over that wall. And throw in some stuff that's not cool to make it more believable. Some Budweiser swimsuit ads, a Lamborghini, a Pepsi logo. You can't tell me these kids don't like stupid shit.
(Except Bev. Her room has concert posters for Siouxsie and the Banshees, Psychedelic Furs and Young Fresh Fellows, a Seattle band that I don't think had much national exposure. She out-eclectics her fellow Losers.)
But let me tell you the one thing I absolutely cannot buy about IT: it starts in June 1989 and not one person suffers from Batmania. We see BATMAN on the marquee of the local theater (along with LETHAL WEAPON 2, which, it has been pointed out, came out in July), but nobody ever acknowledges its existence. Nobody is lined up outside of this theater during the first week of release.
Seven nerds in their early teens, not one of them wears a bat-symbol shirt or plays a "Batdance" cassingle or says "we can't keep searching the sewers for your dead brother forever, we haven't even seen BATMAN yet and we are literally the only people in the entire world who haven't seen it and I am dying inside because you guys it's BATMAN, we are Americans"? No way. Not believable.
A minimum of four of those kids should be wearing Batman shirts. Two to three should have the poster on their wall. The bullies should also be wearing Batman shirts. The fucking clown should be wearing a Batman shirt if it's gonna be realistic. Or I guess a Joker shirt. That's just how it was back then.
Many who lived through Batmania also saw the IT tv mini-series the next year. Some are married to Tim Curry's version of Pennywise and were turned off by this even more straight-forwardly sinister design because he could never be an actual working clown looking like that. To that I say, first of all, that the demonic farting clown from SPAWN was hired to do a birthday party. And secondly, I like him. With his rat teeth, his abnormally large head, his thick caked-on face-paint texture, and his strange twisty-turny movements he looks like he's not actually human. He doesn't know how to be a circus clown, he just knows how to be the kind of clown that sticks his head out of a storm drain to offer a kid a balloon. The kid who talks to a clown in that situation (Georgie) clearly will talk to anybody, so you might as well make him as weird and scary as you want. And Skarsgard gives a very good performance of malevolence and occasional goofiness. Like a mean hyena that sometimes plays dumb.
I like the clown, his expanding mouth and multiplying teeth, his appearance as a woman from an expressionistic painting. I like the scene where Bev is attacked by a hair clog and a spout of blood from the bathroom sink. It's part EVIL DEAD tree attack, part Johnny-Depp's-bed-in-A-NIGHTMARE-ON-ELM-STREET, part CARRIE menstruation terror. I think there's a Freddy type logic to the attacks in that they're based on the fears of the victims. I don't think I followed all of them, though. I also didn't really understand Pennywise's whole operation – are the (SPOILER) floating bodies the souls of the murdered? Do they get to go to heaven now? I guess Bev unfroze because… she wasn't scared, they said? But none of the others could come back, right? They're long dead?
This lack of clarity leads to something very effective, though: the long, uncomfortable stretch between when (SPOILER) Bill puts a slaughterhouse bolt in his little brother's head and when the movie confirms that yes, that was It in the form of Georgie (and a metaphor for acceptance of never having his brother back). But I wish I either understood the rules or felt like they were rules that couldn't possibly be understood.
As much as I liked IT, and am already thinking of seeing it again, the thing holding me back from loving it is, weirdly, the horror. This supernatural stuff is cool, but doesn't really give me that primal "oh shit" in my gut that I want to get. I'm not usually that into ghost movies, and this kind of follows a similar pattern: some weird shit happens, back to the plot, some weird shit happens, back to the plot, usually no consequences for the weird shit sequences. They just keep coming, though, as if out of the back seat of a clown car.
(See, because clowns.)
The sequences mostly lack the clever craftsmanship Muschietti showed in MAMA. They're good, but they're not pushing any envelopes. They're just filling up the envelope with a very thick letter, I guess. With all the anticipation and the R-rating and five-minutes-longer-than-DAWN-OF-THE-DEAD running time it feels eventful enough that it oughta be groundbreaking too. It oughta be "Remember the first time you saw IT?" long after it's "Well, they finally did IT!"
I suspect any fault there is with the book itself. The paperback was the size of a brick and it had something like 11 main characters and spanned 27 years like an epic, but when it came down to it was it much more than "growing up is hard and you get scared and there's a monster that likes that so you gotta face your fears to stop it"? Well, that's kinda what the movie is, at least, and A NIGHTMARE ON ELM STREET already cornered that market before the book even came out.
But the first-half approach of the adaptation (credited to original director Cary Fukanaga [True Detective] & Chase Palmer and Gary Dauberman [ANNABELLE]) works really well. It feels like a standalone movie but with a nice lead-in to what the next chapter is about. I was thinking they'd completely restructured the story, but I guess that's just my memory of the mini-series, which intercut the time periods. This left me excited for the next half, though we've grown to like these actors and now will have to switch them out. Or wait 27 years. Or do some amazing aging makeup. Maybe they'll just use the grown up cast of the TV version.
By the way I had this idea that Harry Anderson would have a cameo. It would turn into him to scare everybody. King movies often use pop songs from his childhood contrasted against bad things to make them creepy. It's a shame they don't do that with the Night Court theme.
Whatever may be missing, IT feels bigger and better than your average horror movie of the modern era. It brings me back a little. It saddens me that Fangoria's not around to do an issue on it. If you're a fan of the genre I think you gotta see this. Let me know what you think.