July 12, 1985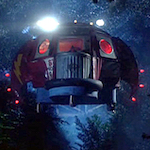 Director Joe Dante came up in the world of Roger Corman – first cutting trailers, then directing PIRANHA – before his success with THE HOWLING (1981) brought him to the attention of Steven Spielberg, who produced TWILIGHT ZONE: THE MOVIE (1983) and GREMLINS (1984). So it's notable that Dante's Summer of '85 entry EXPLOR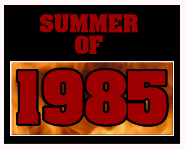 ERS is another that (like D.A.R.Y.L. or especially COCOON) seems like it wouldn't have existed without the influence of Spielberg's films.
In an interview with Podcasting Them Softly, screenwriter Eric Luke confirms, "The thing that sold it, that Paramount thought, let's make this was like the one sentence concept, because E.T. had just come out and been the biggest hit ever, so my answer to that was three boys build their own space ship and go into space and it all works, it's not just a fantasy, there's some scientific underpinning."
VERN has been reviewing movies since 1999 and is the author of the books SEAGALOGY: A STUDY OF THE ASS-KICKING FILMS OF STEVEN SEAGAL, YIPPEE KI-YAY MOVIEGOER!: WRITINGS ON BRUCE WILLIS, BADASS CINEMA AND OTHER IMPORTANT TOPICS and NIKETOWN: A NOVEL. His horror-action novel WORM ON A HOOK will arrive later this year.