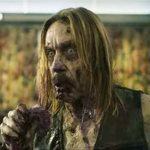 Jim Jarmusch's zombie comedy THE DEAD DON'T DIE is… I mean, it's a zombie comedy by Jim Jarmusch. Which is unexpected. When the trailer came out I couldn't tell if they were trying to mislead us or if Jarmusch had made something totally different from his other movies. The answer is in the middle, leaning toward the first one. It feels closer to normal Jarmusch than to, like, SHAUN OF THE DEAD. It's high on oddness and quirk, low on concept, plot structure or traditional resolution. Compared to ZOMBIELAND or TUCKER AND DALE or something the humor is bone dry and the pace is molasses slow.
But by LIMITS OF CONTROL standards it's an action packed thrill-o-rama. It has a whole bunch of zombies digging out of graves like Thriller or RETURN OF THE LIVING DEAD, pulling out people's intestines for a snack, and getting their heads chopped or blown off. They're respectable zombies, too – o.g. slow shambling style, some personality to them, one played by Iggy Pop (DEAD MAN, THE CROW: CITY OF ANGELS). There's one pretty distinctive touch in that they emit puffs of dust from their wounds. I imagine Jarmusch worked with more FX people on this than on all his other movies combined.
And its recognizably his humor. I can't think of a movie he's made that's entirely serious the whole time, but this has gotta be the silliest I've ever seen him. Maybe because he really believes we're doomed. I kinda loved it for a while.
In the small town of Centerville, Police Chief Cliff Robertson (Bill Murray, BROKEN FLOWERS, WILD THINGS) and Officer Ronnie Peterson (Adam Driver, PATERSON, J. EDGAR) are on The Case of the Missing Chicken. Farmer Miller (Steve Buscemi, MYSTERY TRAIN, SPY KIDS 2) – known to the locals as a racist asshole – has accused local forest-dweller Hermit Bob (Tom Waits, DOWN BY LAW, MYSTERY MEN) of stealing his chicken. Well, Hermit Bob is a nut, but he didn't do it. The truth is that the earth is off its axis and that's causing all kinds of weird shit like animals disappearing, watches stopping and the sun not rising or falling when it's supposed to.
The first chunk of the movie is about Cliff and Robbie and the other characters going through a couple days where everything seems off and ominous. They're very deadpan and unemotional about reality being out of whack and and just worry about normal things like if they should stop for coffee and donuts. There's a long stretch where it always looks like it's early evening when the sun is just starting to go down, but they know it's actually late. I found it genuinely unnerving.
It's an adorable little town, population 738, where everybody listens to old radios and hangs out at an amazing looking diner run by Fern (Eszter Balint, star of STRANGER THAN PARADISE). Hank Thompson (man I love Danny Glover, PREDATOR 2) owns the hardware store and Danny Perkins (Larry Fessenden, ANIMAL FACTORY) manages the motel. There are apparently enough kids and passing road trippers to support Bobby Wiggins' (Caleb Landry Jones, THE FLORIDA PROJECT) cool little novelty/horror memorabilia shop that he runs out of the gas station.
Less quaint is the nearby juvenile detention center where we get to know three teenagers, Stella (Maya Delmont), Olivia (Taliyah Whitaker, ROXANNE ROXANNE) and Geronimo (Jahi Winston, PROUD MARY). Two of the three are black and all seem to be smarter than the adults and authorities, both in realizing what's going on and in trying to protect themselves. Yet they live, without complaint or explanation, locked in this stark building, bossed around by huge white musclemen who not quite affectionately call them "clowns" and "bozos." It's a nice casual presentation of our fucked up criminal justice system that I'm sure Farmer Miller thinks is too lenient.
Hermit Bob seems less of the real world than those kids do – he's surprisingly similar to the character Waits played in THE BALLAD OF BUSTER SCRUGGS – but he might illustrate some of Jarmusch's world view. I assumed he was not long for this world, that he was like the guy who pokes the meteor in THE BLOB, or at best a doomsayer like the laughing cemetery man in TEXAS CHAIN SAW or Crazy Ralph in FRIDAY THE 13TH. But he ends up lasting the whole movie and, due to his connection to the natural world (he goes around looking at ant hills and talking to mushrooms) is able to recognize the coming catastrophe better than anyone.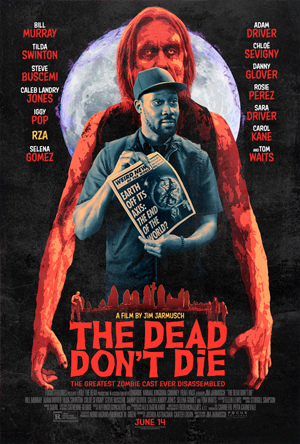 The all-star cast goes deeper still. Chloe Sevigny (THE LAST DAYS OF DISCO) is an officer who responds to the bad shit with more human emotion than the others. Carol Kane (TREE'S LOUNGE) is, when the movie begins, a dead body. Rosie Perez (NIGHT ON EARTH) is an anchor on the local news. RZA (COFFEE AND CIGARETTES) plays a "Wu-P.S. driver" named Dean, which is a bigger if less iconic role than the "Camouflage Samurai" who says "power equality" to Ghost Dog and gives him a pound. As a fan of RZA's work and persona as Abbot of the Wu-Tang Clan I loved that Bobby nervously asks him for some wisdom and he comes up with a little fortune cookie line that's treated as a great philosophy/riddle/poem.
The funniest and most significant character I haven't mentioned yet is the town's new undertaker Zelda Winston (Tilda Swinton, BROKEN FLOWERS, CONSTANTINE), who looks like a cross between Legolas and Gollum, asks strange questions, carries a samurai sword and is ready for what's happening.
There are some questionable meta conceits here. Ronnie (SPOILER I guess?) keeps saying he has a feeling "this isn't gonna end well," and occasionally lets slip that it's because they're actors and he's read the script. Every time it happens it's kinda dumb and kinda funny. My favorite is the first time, when Cliff wonders why the song on the radio ("The Dead Don't Die" by Sturgill Simpson) is so familiar, and Ronnie says "Well, because it's the theme song." I think they could've left it at him just wondering why it was familiar, though, and we'd get it.
Worse (because it's more common in a normal zombie comedy), they keep making reference to NIGHT OF THE LIVING DEAD. And you know I love that movie but if Jarmusch doesn't know there are over ten million zombie movies and somehow fifteen million of them reference George Romero, then it's a rare case of him being out of touch in a way that's not cool. Selena Gomez (SPRING BREAKERS) plays a "hipster" (according to the motel manager) who stops at the gas station and I know Gomez is good because she really sells a line where she seems intrigued by Bobby and says, "Your film knowledge is impressive" just because he mentioned Romero.
I liked that character and was intrigued to see where the story of her and her friends was going, and then… well, this is not the sort of movie where things are going somewhere. Let's put it that way. It raises expectations of a traditionally satisfying story that is just not gonna happen here today.
I don't think anybody mentions DAWN OF THE DEAD, but the movie borrows its zombies-as-consumers symbolism, and really spells it out and underlines it more than anyone could possibly want. I can partly forgive what old news all that is it because the shot where a line of zombies are stumbling along lit by the glow of their cell phones does bring the idea up to date. But when the movie ended with narration about zombies being materialists I winced a little.
But at the times when THE DEAD DON'T DIE was working I felt like it really captured the terror of this moment. There is one specific reference to Trump: Farmer Miller's "KEEP AMERICA WHITE AGAIN" hat. I love that it says the quiet part out loud while also being grammatically incorrect. But to me the movie is less about the specific harm of Trump's actions than what will become of the world without serious people actually trying to solve problems. I don't know if Jarmusch intends a direct metaphor, but there's a pretty obvious climate change parallel. Something called "polar fracking" has caused this catastrophe, so the energy companies and "the authorities" are denying that it's even a problem. Everyone has a sense of doom but also just kind of tries to go on with their regular lives. The sky even reminded me at times of the apocalyptic days we seem to have every summer now when the sun is blocked by wildfire smoke. Even the silly meta shit feeds into this interpretation, because we've seen the script. We know "this doesn't end well." But we don't know what to do other than act it out.
Although I didn't like THE DEAD DON'T DIE very much, I couldn't name a movie that comes closer to capturing the way 2019 feels. Everything is insane and stupid and we feel helpless to do anything but make jokes. Even our great artists are like "I don't know, I guess I'll make one of those zombie comedies?"
This entry was posted on Wednesday, July 3rd, 2019 at 10:01 am and is filed under
Comedy/Laffs
,
Horror
,
Reviews
. You can follow any responses to this entry through the
RSS 2.0
feed. You can skip to the end and leave a response. Pinging is currently not allowed.