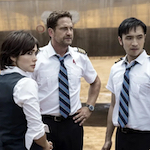 PLANE is the new Gerard Butler movie that had the brilliant idea of using a title so goofy that everybody talked about it and it seemed to end up with more awareness than his last three movies combined. Butler (GODS OF EGYPT) plays Brodie Torrance, an airline pilot who's sent through a storm, his plane gets struck by lightning and loses its power, but he makes a daring emergency landing on an island near the Philippines. Just like SULLY or FLIGHT! Except then it turns into a survival movie (it's very hot with no air conditioning on the plane, their phones don't work [but they still make videos for social media], they have no radio to contact anyone) and also this is some kind of ESCAPE FROM NEW YORK type island where there are no ordinary people, only heavily armed terrorist/druglord/warlord/kidnapper militias, who soon arrive to take them hostage.
A movie like this needs some background and set up to get you interested, and PLANE does okay at that. It's New Year's Eve, that's why there aren't many people on the flight. Brodie is a single father planning to meet up with his daughter (Haleigh Hekking) after the flight. He seems nice, co-pilot Dele (Yoson An, MORTAL ENGINES) is honored to be working with him, and he makes a friendly little let's-go-get-'em speech to the flight crew before they begin boarding. One unusual thing about the flight is that prisoner Louis Gaspare (Mike Colter, MILLION DOLLAR BABY, CARTER) is being transported by mountie Officer Knight (Otis Winston, "Street Man," VENOM: LET THERE BE CARNAGE). He sits in the back and they try to keep everyone from making eye contact.
But when the crash happens and the plane plummets, the mountie gets thrashed around and dies. Actually it's kinda funny – he drops his phone and decides to unbuckle his seatbelt to get it while the plane is falling! Then a flight attendant unbuckles to try to, I don't know, ask him to sit down? Anyway they land and he's dead and now there's this guy in handcuffs who committed a homicide 15 years ago, and apparently he's Brodie's responsibility. Brodie's a pilot, man – he never signed up to be a jailer!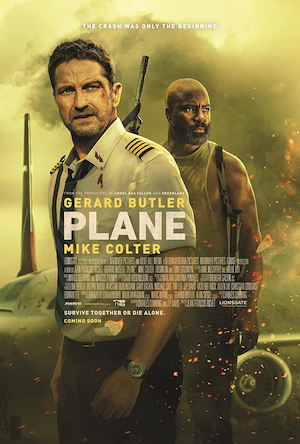 When head flight attendant Bonnie (Daniella Pineda, JURASSIC WORLD: FALLEN KINGDOM/DOMINION) discovers the dead cop she takes his keys from him. I really thought she was gonna uncuff Gaspare, considering the current events, but she's actually taking the keys to keep them away from him. She gives them to Brodie.
I thought this was actually an interesting dramatic quandary, because on one hand what kind of a fascist sicko would volunteer themselves to be the civilian who keeps a guy in custody, but on the other hand it's pretty presumptuous to give a convicted murderer a get out jail free card due to plane crash. There's some uncomfortable tension between the two when Brodie chooses the keep-him-locked-up approach, and then I'm not really sure what makes him change his mind. He decides to leave the crash site, trek through the jungle and check some building for a phone, and he takes Gaspare with him. It might be that his responsibility to keep the passengers safe means he won't leave them with a prisoner. It might be that he recognizes this guy is a bad motherfucker who would be good to have as backup. Or it might be that these people are all so annoying he now realizes that the convict is the one he'd least hate to spend time with.
Some guy in my theater exclaimed, "You're kidding me!" when Brodie uncuffed Gaspare, apparently not familiar with tried and true movie tropes, advertisements for this film, or Mike Colter's aura of obvious good-guy-ness. He didn't pay attention to the set up and assumed it was gonna be the TURBULENCE type of transporting a prisoner movie, not the PITCH BLACK type. He really seemed outraged, like Brodie was endangering all of us with this choice.
As the rest of us assumed, the two don't trust each other, but they have conversations about their pasts, they bond, they fight together. Brodie is in power because he has the mountie's gun, and as soon as Gaspare steals one from an attacker he disappears. Brodie kind of shrugs it off and continues on his own, but when he's in trouble Gaspare shows up out of the blue and rescues him. Why? Because it's cool, I guess. It's all exactly what you expect, but also one of the more enjoyable parts of the movie. I mean, this is a spoiler if you are that guy in my theater, but they end up respecting each other and doing a PREDATOR-esque handshake and Brodie understands that Gaspare is gonna escape, and wishes him well. That's feel good entertainment.
Gaspare doesn't necessarily require any just-how-badass-is-he dialogue, because he looks like Luke Cage, he doesn't need any pumping up. But we learn that he was in the French Foreign Legion, like a Van Damme character. Likewise, Brodie was in the Scottish Air Force before he became an airline pilot. Butler plays it mostly like he's tough but regular, not some elite warrior. He gets through on account of he loves his daughter, and because he takes no guff. There's a pretty funny part where someone wonders why Brodie used to fly the best routes and now they give him shitty ones, and they immediately bring up a video of him punching and then choking out an aggressive passenger. I took it as an homage to Casey Ryback working kitchen duty because he punched out his superior officer.
Also in the UNDER SIEGE tradition we get the war room where a bunch of people sit around discussing the situation from the outside. In one of the few aspects of the movie that is somewhat of a twist on the trope it's following, they're all corporate guys instead of military guys. You have the owner of the airline, Hampton (Paul Ben-Victor, RED SCORPION 2) and a bunch of suits, and they bring in a crisis manager/PR guy, Scarsdale (Tony Goldwyn, THE LAST SAMURAI), as the expert to run the show. He acts cool and talks down to everybody in that awesome way that awesome guys do, but I think all he really does is send mercenaries to save them. And then throughout the movie there is talk about how long it will be for the mercenaries to get there to save them.
I found PLANE watchable, firstly because I like this kinda crap, secondly because Colter is pretty cool, and thirdly because Butler is very likable playing this earnest straightforward hero type of character (even if he's more interesting playing a sleazy guy). I'm glad to have seen many people using the occasion of PLANE to praise Gerard Butler and Gerard Butler type movies, and of course I miss when it was more common for movies about this sort of shit to have decent budgets and theatrical releases. So I'm happy to support it.
But also I gotta be honest, this is a fairly flavorless version of this type of movie. Butler is way more fun in DEN OF THIEVES and COPSHOP, for sure, and if it's only fair to compare to his good guys movies, I think ANGEL HAS FALLEN has way more going for it than this one (and I'm not really a fan of that series). Removing Butler from the equation, this is simply not the level of filmmaking we had when plane-related action thrillers were a thing in the '90s. It is just not on the same plane (get it) as, for example, DIE HARD 2, EXECUTIVE DECISION, AIR FORCE ONE, TURBULENCE, or even PASSENGER 57.
As far as the formula goes for this type of movie, PLANE doesn't follow through with what it needs to. There's a passenger named Sinclair (Joey Slotnick, TWISTER) who is effectively and entertainingly set up to be just the worst prick, making annoying business calls, being rude to the flight attendants from the start, insulting Brodie both before and after the crash landing (that saved his life). And then what? Nothing. He doesn't turn into an Ellis and try to collaborate with the terrorists. He doesn't get a funny death, or death at all, that I noticed. Hell, he doesn't show that he has a nice side. They just forget about him (and basically all of the passengers that have been distinguished from each other).
I don't really know what's up with Scarsdale. I'm okay with them portraying the airline people as being slimy cowards, but it's very weird that the crisis manager guy is treated like we're supposed to want to be him when we grow up. When Brodie comes up with his brilliant escape plan (to fly the crashed plane – hey, why didn't I think of that?) the airline people very reasonably have concerns and Scarsdale says, "They're being hunted, and you're talking about inspections!?" Like, come on ya tight asses, live a little!
It's a strange world view, this idea that the people running airlines are like any corporations, they're fucking terrible, but you know who's great? The hot shots they hire to cover their asses when something goes wrong. Those guys rule! But to be fair the stupidity of it did make it more fun than if it was of the same quality but normal and sane. The Roland Emmerich rule.
For sure the movie's biggest weakness is it's villains. Not just because there's kind of a gross xenophobia to it, the westerners landing in a foreign land and being instantly set upon like a rabbit thrown into an alligator pen. Scarsdale explains to the war room/board room that the island of Jolo is "controlled" by extremists (the real island is home to the terrorist group Abu Sayyaf), but it seems there is no one who has a house there or enjoys any sort of regular activities, there's only scuzzy sweaty snarling guys driving around in Jeeps with machine guns and rocket launchers doing evil. If they ever see a white guy, a woman, or really anyone not wearing camo, they know to drag them to one of their abandoned warehouses and make a hostage video.
That's fine, whatever – the bigger problem is that it would be generous to call them half assed villains. They seem like placeholders for characters that will be created later if someone has time. Only a couple of them stand out, and only because the camera shows them more times, not because they have a personality or lines or something to do.
Most movies of this type are not gonna have a villain as good as Hans Grueber, or of Tommy Lee Jones in UNDER SIEGE, Eric Bogosian in UNDER SIEGE 2, Gary Oldman in AIR FORCE ONE, etc. But you try, right? You gotta have a colorful character in that slot. Here they just put a piece of tape over the slot. The leader of these inhuman savages is Junmar (Evan Dane Taylor, CASTLE FALLS). Taylor is a stuntman more than an actor, so previous roles include "Mugger #2," "Bodyguard," "Boxer" and "MMA Fighter." He just doesn't look like the lead villain, he looks like a third string henchman, and they don't give him much dialogue or anything at all non-generic for him to do, so he never overcomes that. It honestly feels like a movie where they forgot to include a villain.
When the passengers are boarding one of them worries that it's an old plane, and Brodie brags that these things are indestructible, which would be nice set up for some THE GAUNTLET type shit at the end. Maybe that's what they were thinking, but they don't go very far with it. The saving grace that keeps the ending from being a dud is that the mercs show up with ridiculously powerful guns and there are some graphic shots of them blasting through vehicles and a guy being splattered like a victim of Gallagher. (That reminds me, there was also a good part earlier where Gaspare hit some guys with a sledge hammer.)
I also liked that Brodie takes out the leader by hitting him with the plane, but there should really be, like, a face de-skinning on the landing gear or something crazy like that. You don't really see anything. Oh well. I definitely had more fun with this than I did with Butler's submarine movie HUNTER KILLER, and will likely remember it a day or two longer. I'm just saying let's not insult this genre and ourselves in trying to protect it. We must admit that even a movie starring Gerard Butler, about this, and called PLANE, could and should be better than this.
PLANE is directed by Jean-François Richet, who I was surprised to realize was the director of MESRINE and BLOOD FATHER, because those feel quite a bit more artful to me. In the U.S.he's just known as the guy who did the ASSAULT ON PRECINCT 13 sort-of-remake. The script is by spy novelist Charles Cumming and J.P. Davis (THE CONTRACTOR).
P.S. Although this takes place on New Year's Eve I don't really recommend it for New Year's Eve viewing. I don't even remember if they mention when it's midnight.