Well, this is depressing. I skipped over Spielberg's stone cold masterpieces RAIDERS OF THE LOST ARK and E.T. OF THE EXTRA-TERRESTRIALS 'cause I've seen 'em a bunch before, but decided to watch TWILIGHT ZONE: THE MOVIE because I don't think I've seen it since the '80s. Turns out it's Spielberg's first bad movie, at least for his segment. And that's small fish compared to John Landis's, since it was an actual legitimate tragedy that ended lives and derailed a great filmatist. Bummer. Not worth it.
Landis did the prologue, one of the highlights of the movie. The punchline is kind of weak (a practice run for the end of the "Thriller" video?) but I just like seeing a long, simple scene of Dan Aykroyd and Albert Brooks in a car talking about inconsequential shit to pass the time. And it's kinda funny that even in the official TWILIGHT ZONE movie the characters have some confusion and debate about which stories were on TWILIGHT ZONE and which were on OUTER LIMITS.
But Landis's actual segment isn't as good. It's a simple concept: bigoted asshole (Vic Morrow), angry that he got passed over for a promotion, rants in a bar using a variety of slurs. But when he leaves the bar he goes through a series of living nightmares where he's a Jew in Nazi Germany, a black man being chased by the Klan, a civilian stuck in the Vietnam War. The opening, with the guy's friends trying to stop him from making a scene, has some pretty good tension. And it's interesting how it parallels the nightmare scenes in AMERICAN WEREWOLF IN LONDON. Otherwise it would be, at best, a passable episode of the '80s TWILIGHT ZONE.
I made the mistake of reading up on the accident before watching the movie, so I had that in my head. Due to a foreseeable problem setting off pyrotechnics too close to a flying helicopter the vehicle lost control and crashed, killing Morrow and two kids he was supposed to be rescuing in the scene. Landis and others were on trial for years afterwards, and no doubt will always be haunted by what happened. I can't imagine how terrible that would feel. I accept Landis's defense that he hires experts to fly helicopters and set off explosives and counts on them to tell him if there's gonna be a problem. But unfortunately the kids were being paid under the table to get around curfew and safety regulations, so there's no way around the guilt on that one. They weren't supposed to be there. So that's gotta hurt for everybody involved. Just awful.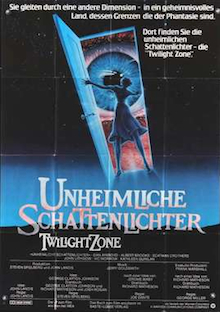 So after watching that you get segment #2 by Spielberg, and it's so treacly it feels like a waiter being overly fake-friendly after screwing up your order. This is the rare Spielberg joint that fully fits his reputation as a corny sentimental do-gooder. It's about Scatman Crothers checking into a retirement home and starting up a conversation that makes the old people nostalgic for the games they played as kids. He turns out to be some kind of magical being who travels around giving retirees one night of being a child again in order to re-awaken their youthful spirit and also to make them realize it's okay to be old so you don't have to go to school or hang out with boys who smell like pee and eat their boogers.
I mean it's a cute enough idea I guess, but the score is "isn't this shit MAGICAL?" overbearing and the ol' Spielberg naturalism was starting to give way to backlot idealized phoniness. This doesn't look like any nursing home I ever saw, doesn't have an authentic clinicalness or sadness. Just some eccentric old people who all live in a house together and rebel against the doctor in charge. Then it's precocious child actors doing funny imitations of old fuddie duddies. Yippee.
"Kick the Can" is an early warning sign for HOOK… in fact, is that British kid that does a flip and jumps out the window actually supposed to be Peter Pan? Sure seems like it. Is this a prequel to HOOK? This is like one of the bad episodes of Amazing Stories, and watching these Spielberg movies chronologically makes me realize it's his first bad one. I mean, even if you don't like 1941, it's like… DUEL, SUGARLAND EXPRESS, JAWS, CLOSE ENCOUNTERS, the one you didn't like, LOST ARK, E.T… and then this corny ass bullshit about lovable seniors acting like little kids. Talk about a sudden loss of momentum.
Luckily the last two segments, by Joe Dante and George Miller, are much better. Dante's is the one about the creepy little boy (Jeremy Licht) who gets everything he wants because of his god-like powers. Kathleen Quinlan backs over his bike with her car, gives him a ride home and is invited to hang out with his family (Kevin McCarthy from INVASION OF THE BODY SNATCHERS, the voice of Bart Simpson, Cherrie Currie from The Runaways). They all act very bizarre and you slowly realize it's because they're terrified of the kid and have to do whatever he says, including eating hamburgers with peanut butter on them and saying they love it.
The most Joe Dante-ish moment is probly when a weird Tex Avery meets Rat Fink cartoon creature comes out of the TV. Not animated, a great looking rubber animatronic character. Better than anything in his later movie LOONEY TUNES: BACK IN ACTION.
My favorite segment is definitely Miller's "Nightmare at 20,000 Feet," the famous one where John Lithgow is freaking out on a plane, at first because he's scared of flying and then because he legitimately saw a fuckin gremlin on the wing of the plane. Keep that in mind next time you're close to suicide because they won't let you look at Twitter on your iPad for 5 minutes while they prepare for takeoff and you disagree with the FAA that it could ever interfere with their navigation or communications equipment and god damn it I'm the customer I DEMAND respect this is an outrage I'm suing everybody forever what about freedom. No, this is a fucking gremlin, this is a grownup problem, but for some reason nobody believes him about that so he makes them more and more uncomfortable as he starts to seem crazier and crazier dealing with the matter. It's an everybody-pin-down-the-unruly-passenger situation long before 9-11.
The setting is different from other Miller movies, but the filmatistic mastery is not. He knows how to move the camera around to keep things visually exciting in a confined location as well as to illustrate the increasing confusion and disorientation of Lithgow's character. And of course Lithgow is pretty good at being a wild-eyed, sweaty, ranting mess. That's one thing he knows how to do.
My favorite part is when a little girl on the plane looks at him and says "You big silly! You used to be a normal person!"
It's too bad Spielberg was being such a big silly with his segment, but I bet he'll bounce back eventually.