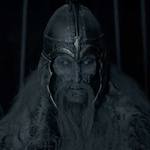 THE NORTHMAN is the new one from Robert Eggers (THE WITCH), his version of a badass viking revenge story. Of course that's filtered through his arcane sensibilities, making it a cousin to David Lowery's fantasy-by-way-of-A24 movie THE GREEN KNIGHT and, moreso, Nicolas Winding Refn's VALHALLA RISING. It's actually a little bit more straightforward and traditionally entertaining than either of those, or at least doesn't descend into an abyss of strangeness with no visible exit sign. But it's not GLADIATOR either. It won't pass as a movie made for normal people.
It has a basis in Icelandic folklore, especially versions of the story of Amleth, which inspired Hamlet. Eggers wrote it with an Icelandic author named Sjón, who wrote REYKJAVIK WHALE WATCHING MASSACRE and LAMB, but also grew up with Bjork, co-wrote some of her songs and performed with The Sugarcubes under the name "Johnny Triumph," so he got her to have a cameo as a prophetic witch or whatever. A significant casting coup there in my opinion. She doesn't act that much but it would be cool if this gave her the bug again and then she got to be a villain in FAST X or something.
Alexander Skarsgård, who I thought was excellent in THE LEGEND OF TARZAN, brings those same rock-like shoulders and enormous Jack-Kirby-designed fingers to another shirtless barbarian role, Amleth, a slave determined to avenge the murder of his father, King Aurvandill (Ethan Hawke, THE EXPLORERS) and abduction of his mother, Queen Gudrún (Nicole Kidman, BATMAN FOREVER) by his uncle Fjölnir (Claes Bang, THE GIRL IN THE SPIDER'S WEB), now known as Fjölnir the Brotherless. The guy is a sonofabitch but I kinda respect the audacity of trying to make his greatest sin into a cool nickname.
Li'l Amleth (Oscar Novak) actually witnesses his father being killed and his mother being carried off. They intend to get him too but he cuts the nose off of his attacker (Eldar Skar, SONJA: THE WHITE SWAN) so the guy tries to save face (get it?) by claiming to have killed him. (Later that guy's called Finnr the Nose-Stub and just has a skeleton hole instead of a nose.) Amleth escapes in a canoe chanting, "I will avenge you father! I will save you mother! I will kill you Fjölnir!"
Kids, huh?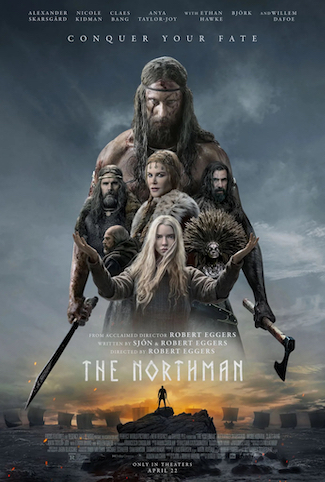 So he ends up raised by Vikings, grows into Skarsgård, learns how to battle, etc. One day after some pillage-related activities he meets Bjork, who tells him a prophecy about taking revenge on Fjölnir. So he starts chanting that to-do list again and sneaks onto a slave ship to get close to his uncle. Living as a slave he finds that his mom is now married to Fjölnir and has a young son named Gunnar (Elliott Rose).
Fjölnir's older son Thorir the Proud (Gustav Lindh, RIDERS OF JUSTICE) notices Amleth's fighting prowess and uses him for some tasks, acting like he's doing him a huge favor. This guy has the absolute perfect look for an entitled douchebag within this world, from the face to the hipster goatee to the viking version of a fur coat.
Amleth also meets Olga of the Birch Forest (Anya Taylor-Joy, PLAYMOBIL: THE MOVIE), a slave who's at an extra risk because of her long blond hair, but seems good at defending herself. She says she's a sorceress and helps Amleth to plot his retribution.
My only complaint about the movie is that it's so visually dark, even during the day time, I felt like I had to keep squinting. Maybe that was a projection problem, I don't know. Like THE WITCH, this has a a constant muddy, overcast bleakness to go with its historical verisimilitude. I love how it can feel realistic while also taking all the mythical shit literally. Ravens and wolves contribute to the cause. He gets a sword called "the Night Blade" that cannot be drawn during daylight. Touching blood gives him visions. He has an important talk with Heimir the Fool (Willem Dafoe, SPEED 2: CRUISE CONTROL)'s severed, mummified head.
Eggers doesn't seem overly concerned with respectability. I swear Ethan Hawke talks in a Christopher Lambert voice. Kidman seems like a damsel in distress and then suddenly has a big scene where she does some wonderful mega-acting. She also gets to yell "KILL HIM!" like she's Rita Repulsa or somebody. I love it.
One of my favorite things in the world is a movie that fuses pulpy genre entertainment with some weird, arty shit. For me the sweet spot is usually leaning closer to the pulp side, which is not the case here, but that's okay. I'm up for it. I can take it. Better yet, this one also has something to say that speaks to me. Eggers has found a way to deliver on the Viking shit – Amleth is really viking some motherfuckers up, let me tell you – while still playing to me like a critique of the alphas-and-betas overcompensating manliness horse shit that plagues our own culture(s) to this day.
I'd never heard an interview with Eggers until he was on WTF recently. He seems cool because he's not into the same stuff most people are into and has his own esoteric obsessions, but seems to have zero pretension about it. And he gives a surprisingly concise explanation of what he tries to do in his movies: depict the beliefs of the time without judgment. He gives one example of where his own feelings about it bleed in, but he's trying not to do that.
Maybe that's why THE NORTHMAN so successfully has its cake and eats it too. To me it works like a good samurai tale or a Paul Verhoeven sci-fi movie – it stays fiercely dedicated to the point of view of its world, doesn't give us a speech about how it's bad, allows us to figure out on our own that even though it plays like a happy ending when the hero chooses to die violently rather than go off to live with his new love and unborn twins, perhaps this world view is not super great.
300 kinda had that approach too, but it was taken as a sincere celebration of these attitudes by many people who liked what they thought it was selling. I'm sure that will happen here too, and there might even be some of those well-meaning people who think it would be better if it spoon fed us a lesson with a bunch of flashing arrows pointing at it. (The WOLF OF WALL STREET argument.) To which I can only quote what the character Michael Bolton said in OFFICE SPACE when asked why he doesn't go by "Mike" so as not to be confused with the singer Michael Bolton: "No way. Why should I change? He's the one who sucks."
Let me get into some more serious SPOILERS so I can dissect some stuff I see here.
On the surface this seems like a simple revenge story. He announces from childhood what he's gonna do: "I will avenge you Father. I will save you Mother. I will kill you Fjölnir." In some movies the satisfaction of a story element like that is anticipating him crossing off each line of his KILL BILL death list.
But in THE NORTHMAN, none of those things turn out to be as cut and dry as it seemed to him as a kid.
#1 – He can't fully avenge his father because Fjölnir doesn't even have the kingdom to steal back – he was since usurped and is now running this little village in Iceland like a chump. Also, his father doesn't deserve to be avenged at all, because his mother reveals she was actually his slave and rape victim.
#2 – He's not gonna save his mother because she wasn't abducted, she was in on it and is happily with Fjölnir now. In fact he has to kill her!
#3 – I guess he can still kill Fjölnir though, so you don't feel let down. You get a naked sword fight next to an erupting volcano. Many – arguably even most – movies these days don't have a naked sword fight next to an erupting volcano. Thanks alot, Marvel.
The rite of passage at the beginning of the movie also seems like kind of a goof on masculinity. The ritual involves father and son crawling into a cave pretending to be dogs, barking and growling at each other, slopping up bowls of bone water. Then they must prove to Heimir that they are men, not animals, and the way they do this is by burping and farting. (The latter implies that they are not actually familiar with dogs.)
The most fucked up thing about this ceremony is that the king makes his son promise to avenge him if he's ever killed, after we've already seen him tell his wife he wants to die in battle. So he's trying to make sure his son lives a life of violence like he did. The motherfucker. (It's so perfectly mythical that he gets killed immediately after this. And seems surprised.)
After Amleth has his teen years running with that rough Viking crowd there's this really powerful scene of the raid on Rus. I heard some criticism of the fighting, but I sure didn't notice. I love the way the camera sort of floats through this melee without seeming to be attached to Amleth, but always keeping him as its focal point. You know that he's the most badass guy in a big group of badasses because he's the one who catches a spear and tosses it back! You start off a oner with that and follow this guy battering through every person he encounters and you can't help but get pumped up. But the shot ends on him staring at a barricaded door on a barn that's rattling as children try to get out and Amleth's buddies set it on fire. So, uh. Maybe this was not the most heroic victory.
Another really memorable scene is when Amleth is enslaved and his douchey cousin makes him participate in a violent sport – apparently it's called knattleikr – which is kind of like football with bats. They're allowed to beat the shit out of each other, so of course (after some hesitation about what he can get away with) he's a natural.
On the sidelines Amleth's little half brother Gunnar is getting way too into the game, a very recognizable form of over-the-top sports fan hooting and hollering, in this case literally calling for blood. And then he gets so into the game that he actually runs onto the field and tries to run off with the ball.
The Queen and everybody freak out, their baby boy has just done something unfathomably idiotic, and an enormous player on the opposing team named Thorfinnr (6' 9" champion strongman Hafþór Júlíus Björnsson, KICKBOXER: RETALIATION) is about to pulverize him into a pile of moosh. Luckily Amleth intervenes and savagely headbutts Thorfinnr over and over as if hammering a nail with his face.
The terrified Queen runs out to cradle her kid's limp body, crying and begging, but when he does turn out to be alive she praises his toughness. "Just like a chieftain's son!" she says, suddenly proud of the dumb little shit for very nearly being crushed into pulp in front of her eyes just because he got too excited about a stupid fucking game. That's the culture. Seems weirdly familiar for some reason.
In the end, Amleth comes face to face with a prophecy that he would have to choose between kindness toward his kin and hatred for his enemies. And we are so engulfed in the fantasy sword guy world that that doesn't seem like the most obvious multiple choice test ever given. Duh, dude. Give up the hatred. (Also, did your mom count as kin or enemy?)
Amleth is about to leave to start a new life with Olga, but his magic blood-reading powers tell him she's pregnant with twins, and he has a eureka moment: he can do both the hatred and the kindness!
But in his interpretation kindness to his kin means dying in battle because he thinks leaving Fjölnir alive endangers them. Classic macho man hero shit. To be fair, he is breaking the chain of vengeance, and I appreciate that. He's not doing what his dad did, expecting his kids to avenge him. And he's covering his tracks, killing the guy that's killing him. The only person those kids will have left to avenge is the deadbeat who abandoned them and their mother because he thought it was more important to have one cool sword fight than to live and love and find happiness.
I hope you get as much out of this as I did. If not, you will still enjoy all the cool-ass shit that I didn't even go into here.
This entry was posted on Wednesday, April 27th, 2022 at 12:05 am and is filed under
Action
,
Fantasy/Swords
,
Reviews
. You can follow any responses to this entry through the
RSS 2.0
feed. You can skip to the end and leave a response. Pinging is currently not allowed.