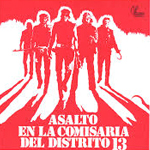 "Hey, this is regular vanilla. I wanted vanilla twist."
PROGRAMMING NOTE: I sincerely thought CREED was coming out last Friday and wanted the ROCKY reviews to run right into my review of that. But now I ran out of ROCKYs and I don't want to leave you guys with nothing new to read on the day before Thanksgiving. So here's one that has a minor connection to the ROCKY series that will come up later. This movie is based on westerns, and the characters who represent the cowboys and the Indians don't even come close to eating sweet potatoes together, but I still think this is a good one for Thanksgiving. This year (as in many years) we've lost some really extraordinary people who inspired and entertained me over the years. That really reminds me not to take for granted the directors and movies I love, for example John Carpenter and ASSAULT ON PRECINCT 13. Thank you, people who make great movies, and thank you all for being here with me to share in their celebration.
Of all the John Carpenter movies that are like westerns, ASSAULT ON PRECINCT 13 is the most like a western. You've got a lieutenant (Austin Stoker, BATTLE FOR THE PLANET OF THE APES, MACH 2) who's like a sheriff, holed up in an about-to-be-shut-down police station that's like a jailhouse. You've got a prisoner transfer and a siege where the lieutenant and a notorious killer (Darwin Joston, THE FOG, ERASERHEAD) have to work together, and they sort of become friends. The hostile territory is a ghetto, Anderson, California, and the Indians are a WARRIORS-like multi-ethnic gang. They even do a bloodletting ritual before the siege.
But the scary thing about these gangsters is they don't talk, and they keep coming. We mostly see them in the distance, at night, scurrying behind trees for cover. Then we see their hands reaching through the windows, or their bullets hitting windows, walls, cops. It's such a good approach because there are so many ways these types of characters could've been silly. If the guy who looks like Che were talking to the cops he would probly use dated slang, have some corny line delivery, make us laugh. It would be fun to watch, but he'd be less menacing. As a silent force he's much more effective.
At first there are four of them. Then you see more running up. Twenty plus. Then more. Who knows when they'll stop coming? The bulk of the movie is confined to this space, but maybe that's a good thing. When this war creeps into the real world, and the daylight, Kim Richards, the little girl from ESCAPE FROM WITCH MOUNTAIN, gets blown the fuck away while eating an ice cream cone. Even by modern standards this early scene tells you the movie means business.
I've always thought of ASSAULT as more of a loose remake of NIGHT OF THE LIVING DEAD than of RIO BRAVO, which it seems to get compared to most. A group of people stuck together, sheltered in a place they're not all familiar with, arguing about what to do, working together to come up with a plan using the resources they have. There's even boarding up the windows and making a run for a car, not to mention a black hero without any explicit discussion of race.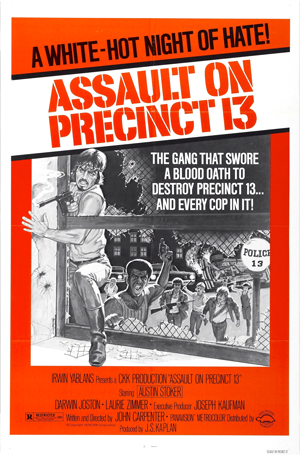 The convict anti-hero is named Napoleon Wilson, the first in a long line of colorful names for badasses in Carpenter movies. And I guess he's more RIO BRAVO because he has a face straight out of an old western. Joston did get a couple chances: he was on an episode of The Virginian, and in a western comedy called CAIN'S WAY. He's so cool in this movie that it's surprising he didn't move on to something bigger. He ended his acting career with a string of bit parts on '80s TV shows, the final one being "Dog-Pound Attendant" on an episode of ALF in 1986. But apparently he worked as a driver and transportation captain on movies into the '90s before dying of leukemia in '98.
But that lack of familiarity from other roles only adds to his iconic appeal as the prototypical Carpenter anti-hero, who teases but never explains his infamy or his nickname. He never denies being a bad person, but acts like a decent, honorable one the whole time we're with him. He spends the first 2/3 of the movie trying to get a cigarette, so when the secretary Leigh (Laurie Zimmer, who somehow only did three other movies) not only obliges him, but lights a match one-handed to ignite it, you want to marry her on the spot.
She's actually my favorite character. In contrast to the other secretary (Nancy Loomis, who was later in HALLOWEEN and THE FOG) she keeps her cool. When an invader knicks her arm with a bullet she doesn't scream or complain. She stands and stares him down as he aims at her chest, then she kicks him hard in the dick. In another scene she puts her hand over the barrel of the prisoner Wells (Tony Burton, who plays Apollo Creed's trainer Duke and is the only actor besides Sylvester Stallone and Burt Young to appear in all six ROCKY movies – see, I told you it would connect)'s gun as he threatens her. She tries to talk him down and then turns away in disgust when she notices the gun isn't even loaded, says it's a waste of time.
By the way, if I understand correctly it's actually an assault on Precinct 9, Division 14. But Precinct 13 sounds cooler. I don't blame them.
These three badass characters manage to defeat the attacking hordes with a brilliant strategy: luring them into a hall, holding them back with a barrier built out of a sign until they can shoot a tank and blow them all up. It's a little bit Battle of Thermopylae the way they're so outnumbered and manage to corral them into a narrow spot like that.
Only then does the backup finally fuckin arrive. The officers step through the piles of burnt up bodies and as the smoke clears they see our trio standing there holding a club, a gun and a bedpost, ready to bash anybody else who comes at them.
When they tell Leigh they have a stretcher for her she takes a good long look at Wilson, knowing this is goodbye. Then she struts away. No stretcher.
It feels like this temporary truce has involved strong enough bonding for a life-long friendship, but they're not gonna all turn into the Fast and Furious gang afterwards. They recognize that they have to go back to normalcy now, and probly never see each other again. But they also know they have each other's permanent respect.
"It would be a privilege if you'd walk outside with me," Lieutenant Bishop says.
"I know it would," says Napoleon.
He laughs. "You're pretty fancy, Wilson."
"I have moments."
A perfect ending is made double whammy perfect by the incredible keyboard theme that comes on as they walk out together. This happens to be my favorite Carpenter score. So simple and catchy, half eerie, half badass. The ultimate analog synth score, it found its way into Afrika Bambaataa's DJ routines, and became his theme:
And did you know about the British version with added horns and soul vocals by Jimmy Chambers? I didn't until frequent commenter Anaru enlightened me not that long ago. Check this shit out:
That's amazing, partly because I went so long not knowing it existed, partly because as much as I love both Carpenter themes and soul music I'm still surprised how well they fit together. But I just like listening to it as a song. As a theme on the actual movie I think it's misleading, because it implies a movie with more anger at "the system." This is more matter-of-fact about it. The gangsters do seem to have been wronged, because in the opening inciting incident police open fire on gangsters who don't appear to be armed, and then it's described as a shootout. But if the song is about their struggle it's giving them a humanity that the movie deliberately takes away. If it's about Napoleon it's overdoing it a little too, because he's not fighting against the system, he's actually working with it for survival.
Anyway, I love ASSAULT ON PRECINCT 13. Way to make a first post-film-school feature, John Carpenter!