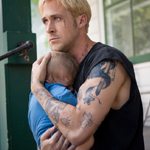 From the trailers, THE PLACE BEYOND THE PINES, from director Derek Cianfrance (BLUE VALENTINE), seemed weirdly similar to DRIVE.  Instead of a movie stunt driver who's also a getaway driver, Ryan Gosling plays a carnival motorcycle stunt driver who becomes a bank robber. Instead of having a weird relationship with a married woman and her son he has a weird relationship with an ex-fling (Eva Mendes) who he's just found out has his son (but lives with a boyfriend who doesn't want him coming around). I'd heard that it wasn't really what it looks like, that it "turns into something different," that it's "epic." All these things are true, and I'm glad I didn't know the specifics of it. But I gotta talk about those specifics if I'm gonna review it, so be warned.
Gosling plays "Handsome" Luke Glanton, bleach blond, shittily tattooed Metallica enthusiast. He's as distant and dead-eyed as in DRIVE but not as sensitive. When he finds out about his son he's more angry at the mom for not telling him than aware of his own failings for abandoning her without a trace a year ago. But he realizes that his father not being around is part of what made him a guy with a dagger-tear face tattoo, so he decides to try a non-deadbeat approach to life, quit the carnival, stay in town and try to provide for them. And he's a really talented mechanic and finds a job and home with Ben Mendelsohn from ANIMAL KINGDOM, but they don't get all that much work and babies are expensive. Next think you know they start doing bank robberies together.
It's shot in a matter of fact way, alot of following around from behind, a style I believe was popularized by the Dardenne brothers but I've seen it in Gus Van Sant and Darren Aranofsky movies. It's kinda hypnotic to follow behind him on his motorcycle, driving and driving. But the best shot is right at the beginning of the movie, and he's actually walking his bike through the carnival grounds and into the area where he and two other riders drive inside a round cage at the same time. It's obvious where the sleight of hand takes place but still great to see it all done in one shot.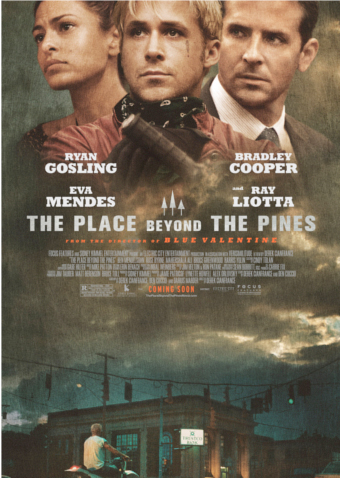 It's another really captivating Gosling character, part badass, part poser, kind of a weirdo, kind of cool, interesting to watch. And I always enjoy the thrill and dread of a well done crime procedural. You watch him enough that you identify with him and want him to get away with the money and help with that baby. But he's not a gentleman thief, and his shrieking "GET ON THE FUCKING GROUND!" bankside manner is probly an expression of his true self.
He's trying to change his life and do good by his son and baby mama, but he's forcing it. He gets them together for a photo, like a family photo from happier times. But it's not even happier times. He has to put his hand over her face because she's crying. It comes off looking playful.
Around this point you might remember, like I did, that the trailer and the credits had MIDNIGHT MEAT TRAIN's Bradley Cooper in them. Well, this is where it turns into something different. One day Luke pushes it too far, gets chased down after a robbery, and Avery (Cooper) is the cop who corners him in a house and shoots him. Dead. So now all the sudden we get PSYCHOed, or even FROM DUSK TILL DAWNed, we're watching this other movie about this cop who's being called a hero, but who is haunted by guilt over shooting a guy that he maybe didn't have to, and who at any rate left behind a one year old son just like he has. Cooper is really good in this, particularly in a scene with a therapist, trying to come to terms with his guilt.
It's funny, he gets shot too, and when he wakes up in the hospital Bruce Greenwood is there to question him about what happened, just like what happened to Denzel after his plane crash in FLIGHT. Rule of thumb: if you wake up in a hospital and Bruce Greenwood is asking you questions, you're in trouble.
To make matters worse, Avery is off the streets while recovering and some cops stop by one night during dinner to say hi and one of them is Ray Liotta. And that's a rule that's set in stone, man. If Ray Liotta is playing a cop he's not there just to say hi.
Well, there's this whole story that happens dealing with the consequences of the shooting and people wanting the stolen money and how Avery tries to navigate the situation and then all the sudden… 15 YEARS LATER. I actually said "Oh shit!" I didn't know it would have this kinda scope.
We pick up with Avery, now a a bigshot running for attorney general, and his fuckup son AJ (Emory Cohen) wants to come live with him. He's a loud-mouthed, slicked-back hair meathead and he comes to this new school in Schenectady, sits down by Jason (Dane DeHaan, the kid who is in every movie that has been made since CHRONICLE) in the cafeteria, starts talking to him about what they do around here and maybe we should go smoke some weed together, and you probly see what I was too slow to see coming, that this is the late Luke Glanton's son.
So this is a story about the two 1 year old babies now teenagers and getting into  trouble together. And during this time Jason finds out who his father was and figures out who AJ's father is. And there's alot of irony here. The son of the neglectful cop turned out way more of a douche than the son of the dead bank robber. On the other hand, the more likable kid is the more psychotic one, the one that might actually be dangerous. And Avery, as much of a sleazeball as he's turned into, behaves honorably when he realizes that this is the son of the guy he killed.
I think the titleatical place beyond the pines refers to where the climax takes place, but I don't know. It sounds metaphorical, doesn't it? I don't know the significance of it. It does seem like a story that would be based on a novel, and a novel would have a title like that that would make more sense in the book, but that's not the case here. Maybe it's just a cool title made up for the drive-ins like LAST HOUSE ON THE LEFT.
I really dig the unusual structure of the movie. It's kind of like an anthology of three short stories, but they're so tied together that it's a little more than that. It's about different characters from two sides and two generations but their stories all work together to explore variations on this theme of fathers and sons, how the fathers try and fail to do the right thing, how that affects the sons, and how much their fathers mean to them, even though they don't want to admit it.
This multi-generational approach also creates a unique opportunity for us to both relate to the kid's quest to find out about his dad and be the older guy who was there and knows how it really went down. There's a great scene where Jason tracks down the old crime partner Mendelsohn, who waxes nostalgic about his old man. And it's weird because we know about their falling out that he's not mentioning, that led to Luke's downfall. You can't blame him for not wanting to do robberies anymore, but he probly feels some guilt since Luke wouldn't have been caught if he wasn't on his own. We also know Luke wasn't the great guy he sounds like in these stories. But also we have to admit that the stories are true. He was great on a motorcycle, he was funny sometimes, we liked watching him and understand why this guy was friends with him. And maybe the kid deserves to know some positive things about where he came from that aren't gonna be in the newspaper articles he found.
And then there's that family photo again. It shows up at a perfect time, in a meaningful place. It looks so happy. Maybe it's better if we pretend it is.