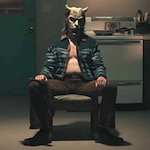 (beware The Spoiler)

THE BLACK PHONE is a solid, straight forward horror tale set in a Denver suburb in 1979, when a succession of boys have gone missing. Locals blame it on someone they call "The Grabber." The story centers on a kid named Finney (Mason Thames, young Walker in the new version of Walker: Texas Ranger), who's either in middle school or high school (definitely pre-driver's license age).
His life is not the easiest, but he gets by. He and his sister Gwen (Madeleine McGraw, AMERICAN SNIPER) have to walk on egg shells around their alcoholic father (Jeremy Davies, punk rock Toyota commercial) as well as various bullies closer to their own age. On Fridays Gwen sleeps over at a friend's and Finney "takes care of" Dad – tucking him in and watching Emergency! by himself.
It's a pretty tight movie, but I appreciate that it doesn't rush the section where it establishes Finney's daily life and the ominous mood of the place and time. One day there's a fight outside of school, some big creep named Moose (J. Gaven Wilde, HALLOWEEN KILLS) calling a smaller kid named Robin (Miguel Cazarez Mora) a slur and taking a swing at him, at which point we learn that Robin is some kind of junior high Billy Jack who this kid absolutely should not have fucked with. Finney doesn't know how to do that when he gets chased into the restroom by three dickheads, so it's a relief when Robin walks in. Turns out they're friends, though I get the sense it's one of those friendships where one (Finney) is in awe of the other and feels surprised and lucky the guy even talks to him. (read the rest of this shit…)