VALHALLA RISING is a slow, quiet mood piece about back in the day when Christians had "pushed the heathens to the fringes of the earth." Mads Mikkelsen, the bad guy from CASINO ROYALE, plays one of those heathens and he starts out the movie in those fringes, locked in a cage, then tied to a pole like a junkyard dog, forced to beat other warriors to death. Not in a cool action type of way but in an upsetting "oh shit, he just exposed that guy's brain" type of way.
Before long he's free and traveling toward "home," wherever that is. He tells people he came from Hell, and he's such a scary motherfucker they tend to take that literally. Actually, he doesn't say a word, but a little boy accompanies him, speaks for him, and names him "One Eye." "Well, you need a name," he explains. "And you have one eye."
The specific cause of the mass of scar tissue in place of his left eyeball is thankfully never shown, so he gets to remain a mysterious wanderer. He's a fuckin brute but we side with him because we see the hypocrisy of his enemies. They're every bit as savage as him, but hiding it in "God's will" and a search for "the Holy Land." He kind of reminds me of Lone Wolf and Cub the way he embraces being seen as some kind of demon, and lives up to it with his violence, yet consistently shows a stronger sense of honor in his actions than the non-demon-affiliated individuals around him.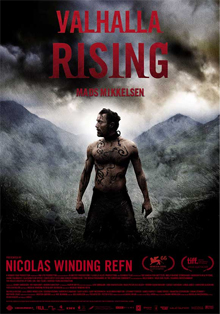 The movie is divided into chapters, which I really liked because they're like little interconnected short stories about this character. One about him being a slave, one about him running into some vikings, one about him on a boat with them, etc. The mood and atmosphere are as thick as anything I've seen in a year or two. Beautiful, naturally lit shots of these filthy warriors traveling through fog-shrouded land; long takes with sparse dialogue and a score that's more simple, eerie tones than what you might call "music." It gave me a strong feeling of being there, not just in that place but in that time, when you could travel for days on end and never see other people, and if you did it might be a problem.
Mikkelsen is supremely badass, communicating everything with his disfigured face, dispassionately bashing skulls or disemboweling guys. I like how he's by far the scariest guy in the movie and also the one you identify with. One look at him and people know everything they need to be scared about. They see the tattoos and the scars, they know he's not a Christian, that he's been treated badly, that he's not happy about that. Walking, silent revenge. A heathen that was not interested in living on the fringes of the earth, it's not his type of neighborhood. Get the fuck out of his way.
The director is Nicolas Winding Refn, who did the PUSHER movies, and shot Tom Hardy out of a cannon called BRONSON straight into Hollywood. The only one I'd seen before this was BRONSON, and although that had that great performance and some nice Kubrick-inspired moments I wasn't as in love with it as everybody else. But it was good enough to make me interested in what else he gets up to, and this is a good pay off. Now he's got that movie DRIVE coming out this week, which I look forward to seeing, and he's flirting with becoming a Hollywood guy. He was on a list of people they were supposedly considering for DIE HARD 5 (I doubt they had seen his movies if they were serious about that), and he's been attached to a remake of LOGAN'S RUN for a while. I kinda hope he does something mainstream because he seems like the kind of director whose personality can't be completely suppressed. You might chain him to a post but you might regret it. We'll see what happens, I guess.
I'd been warned that it's not really an action movie and required patience. I so much expected it to not be that type of movie that it ended up being closer to one than I expected. It's definitely not the modern definition of action, and it surprises me that they played it at Actionfest. It seems like that could've caused problems. But it's not like THE LIMITS OF CONTROL or something that builds up to violence and then skips over it. I don't think it's far off from the old westerns or samurai movies. There's not any drawn out action sequences or motorcycle chases or nothin, but there's tension and stare downs that occasionally erupt. It's over quick, like most incidents that involve the drawing of swords or guns. But it's there.
Of course, then it goes a little end-of-2001 on us. It gets a little more abstract the deeper it gets into Hell. I'm sure there's meaning to alot of this that I didn't really get. He starts doing weird things like balancing a bunch of stones on top of each other. There's some homeless guy who does that along the Seattle waterfront – I wonder if he's descended from vikings?
I think that structure works pretty good, but I admit I'm literal-minded enough that I probly would've liked the movie even better if it ended on a more concrete note. I guess if I have to interpret it I'd say it's kind of like how I interpret the end of HALLOWEEN: he dies, but now he's everywhere. More than that, the living spirit of suppressed religions has sacrificed himself to save the kid, his voice. But he's still there, watching over the kid with his lack of depth perception. He is Valhalla and he is rising just like the apes, like Cobra, like the machines, like Taj, like Hannibal, etc. He can't watch 3D movies, but he can watch you, so be on your best behavior.
.
.
.
bonus: a dumb post I wrote on an IMDb message board
This entry was posted on Wednesday, September 14th, 2011 at 1:00 pm and is filed under
Fantasy/Swords
,
Reviews
. You can follow any responses to this entry through the
RSS 2.0
feed. You can skip to the end and leave a response. Pinging is currently not allowed.