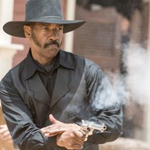 First of all, man, I am never gonna get that theme song out of my head. It's on the original and the three sequels and on this remake it's just on the end credits, other than some sly hints at its rhythm adapted to percussion and that exotic flute type thing that modern film composers love. But it's so catchy and I've heard it so many times this last week or two that it's burned onto my brain like what used to happen to TVs if you left it on a DVD menu all day. Thanks alot, Elmer Bernstein.
In Antoine Fuqua's THE MAGNIFICENT SEVEN, we have a small town in Kansas (not Mexico) being threatened by a wealthy land baron (not bandits) who comes in with a bunch of killers, and makes a shitty, non-negotiable offer for their land, that he says they can accept or be killed when he comes back in three weeks. And he makes this threat at gunpoint inside the church! Not cool.
This opening shows the dangers of normal people standing up to these bullies: they quickly execute the first guy who does it, and this escalates into a massacre. This asshole Bogue (Peter Sarsgaard) tells the in-his-pocket-out-of-fear sheriff to leave the bodies where they are, burns down the church and stops by the whorehouse on the way out.
It's the widow Emma Cullen (Haley Bennett [THE EQUALIZER], but many will probly just think it's Jennifer Lawrence) and her friend Teddy (Luke Grimes, ALL THE BOYS LOVE MANDY LANE) who, without the approval of the rest of the town, ride out looking for magnificent help. They witness badass bounty hunter Chisolm (Denzel Washington, VIRTUOSITY)'s daring shooting of a wanted man in a saloon and convince him to help. He needs help helping so he puts together a team. I am not gonna give away the number of people on the team but I think fans of SEVEN SAMURAI, THE MAGNIFICENT SEVEN and SE7EN will be pretty pleased.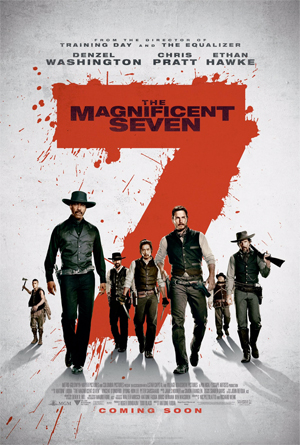 In the Steve McQueen first-guy-he-finds slot is Josh Faraday (Chris Pratt, JENNIFER'S BODY), a drinking, gambling, cheating scoundrel with not enough money and too many enemies. He's the funny guy, so it's kind of harsh when he shoots a guy's ear off for coming after money he cheated. Didn't expect that out of that lovable goofball. I guess it's kind of in the tradition of how they introduce Han Solo in STAR WARS, that part in the cantina where you can't really see what happened but George Lucas says Han Solo defends himself in a cool way and the fans say that Lucas is lying and actually Han committed a cowardly cheap shot murder of a fellow professional trying to legitimately collect money that he knows he's way overdue on and he wouldn't have been dealing with a vile gangster in the first place if he was a responsible adult, so he should be ashamed of himself, the no-business, born-insecure, rat-soup-eating nerf herder!
Pratt always wears a vest and rolled up sleeves designed to show off the shoulders and forearms he got from Marvel. I don't think we ever see him punch anybody out or chop wood, so I'm not sure why he needs those in the old west, but he gets a scene where he's very nimble with various firearms, proving that he got some training specific to the role.
But him and Chisolm don't become best buds like I kinda expected. He stays closer to his old friend, Goodnight Robicheaux, played by Ethan Hawke, which between Denzel and director Antoine Fuqua makes this a TRAINING DAY reunion. Seven King Kongs ain't got shit on these seven. Robicheaux brings with him Billy Rocks (Byung-hun Lee, I SAW THE DEVIL), who's introduced with a knife vs. gun duel like James Coburn, but also knows how to slash. Then there's Vasquez (Manuel Garcia-Rulfo, From Dusk Till Dawn: The Series), a bounty who Chisolm tracks and then hires rather than arrest, and Jack Horne (Vincent D'Onofrio, THE BLOOD OF HEROES, ESCAPE PLAN), a legendary mountain man, plus Red Harvest (Martin Sensmeier), a badass Comanche warrior who says he follows his own path.
I like that all the magnificents have pretty good gimmicks. Faraday does card tricks. Billy Rocks is a suave cigarette smoking brooder – the South Korean James Dean? – acting like a rock star in a country that demeans him. Robicheaux loves to speak in flowery metaphors, and suffers from some kind of PTSD. Hawke brings his regular-guy charisma even while trying to talk kinda like Colonel Sanders.
The funniest performance is definitely D'Onofrio. Of course he's gotten bigger over the years, but seeing him run around with a bushy white beard it seems like he's turned into late-period Orson Welles (after playing the young handsome version 22 years ago in ED WOOD). Then he gives him a weird, high-pitched mumble, the voice of a man who's been alone in the woods for years, only himself and the bears to make chit-chat with.
Red Harvest is the Boba Fett character, the one that doesn't talk much, but wears fearsome-looking war paint and looks cool leaping across the rooftops and firing arrows. Of course he ends up facing off with Bogue's bigger, older Comanche henchman Denali (Jonathan Joss, TRUE GRIT), who throws a mean tomahawk.
It's not like they do anything deep with this, but it has a theme of different types of people learning to work together. Chisolm and Robicheaux were on opposite sides of the civil war before they became friends. Horne is said to have scalped numerous Native Americans, but is working alongside a badass Comanche. Faraday turns racist as soon as he sees Vasquez, who understandably hates him. The last two are the only ones that really have an arc of starting to care about each other (actually similar to what happens between Joe Don Baker and Bernie Casey in GUNS OF THE MAGNIFICENT SEVEN), but the idea comes across.
Despite this theme, any issues of Chisolm's race are only dealt with indirectly. When he walks into the saloon at the beginning and everyone turns to look at him it could be because of racism, or it could be because he's a scary looking stranger, as happens in many westerns. When he says that he's not for sale it takes on a different meaning than if it had been Yul Brynner saying it. But his past as a civil war veteran seems more like a sports rivalry than the personal fight that Washington himself got to portray in GLORY. The past event that he blames Bogue for does involve Bushwackers, but sounds like it could've happened to any northerner, regardless of race.
And when Chisolm first confronts Bogue's men it's the Asian guy they wonder about, and Chisolm pretends he's his manservant. (He claims to have met him in Shanghai, though Lee is Korean.) Racism against Asians is mentioned, though not seen.
The battle is pretty well done, with plenty of tricks up plenty of sleeves, and the resolve to stick with the suicide mission story and kill off several sequel-worthy characters. I do wish they had more time to hang out and get to know each other, the advantage of SEVEN SAMURAI's 75-minutes-longer running time. But I think this does a better job than THE EXPENDABLES of balancing the needs of the cast with the expectations of the genre. Actually it made me wish THE EXPENDABLES had been a loose remake of SEVEN SAMURAI or 13 ASSASSINS.
By the way, the screenplay is by Richard Wenk (EXPENDABLES 2, THE MECHANIC, 16 BLOCKS, also directed VAMP) along with Nic Pizzolatto (True Detective).
Now let's look at it as an adaptation. It has all the prerequisite MAGNIFICENT SEVEN parts: the attack on the village and decision to get help, the tough guy introduction of the lead where he meets his sidekick, the recruiting of the team, the preparations, the battle, the departure. It also has the Elmer Bernstein theme song, but only on the end credits, unless you count the way they subtly reference it with percussion and those exotic flute things that modern movie score composers love.
None of these things are done incompetently, and none are done exactly like the original. I think the introduction of Chisolm is the one that pales most in comparison to the original. It's a well done bounty-hunter-comes-into-a-saloon-and-everybody-scoffs-at-him-and-he-shows-them-who's-boss scene, but far too standard a scenario to match the novelty of the original's hearse scene. It also seems like their research for how bounty hunters operated in the old west was to write down some of the dialogue from DJANGO UNCHAINED.
None of the characters are specifically based on characters from the original, which means they're even further removed from the ones in SEVEN SAMURAI. But they do a good job of making them distinct from each other and giving them different skills (though in the battle most of them do the same kind of stuff as each other – mostly shooting and detonating bombs).
They make an effort to slightly female up the sausagefest (and/or to be more like TRUE GRIT) by having the stubborn young woman insistent on justice or vengeance, on participating in the battle and spunkily telling off Faraday when he assumes she needs gun tips. (opening scene spoiler) Her husband at the beginning is played by Matt Bomer (MAGIC MIKE) and it's kinda cool that it's a known actor because it made me think he'd be the Chico character, but then he doesn't make it.
I'm not really sure why they took out the aspect of the farmers not having much money to offer, and having to find gunmen who are either desperate for work or can be convinced it's a good cause. In this version they have no problem at all providing money, taking away a major source of drama for both SEVEN SAMURAI and MAGNIFICENT SEVEN.
It's probly bad luck to say this out loud, but I think it's cool that Fuqua has made a western that nobody would think of as a "black western" like POSSE, and nobody thinks it's unusual. There was a time when black directors mostly had to make "black" movies, and I don't think that's really true anymore. Tim Story did two FANTASTIC FOUR movies, F. Gary Gray did THE ITALIAN JOB and BE COOL, the Hughes Brothers did FROM HELL, John Singleton did that terrible teen BOURNE movie, Rick Famuyiwa is doing THE FLASH.
Fuqua has been telling interviewers that he made this movie to put Denzel on a horse. Has he really gone horseless so far his entire career? The strutting, gun-slinging, hat-wearing, all-black-western-attired Denzel is so natural that it doesn't seem that new. Of course he's cool in this. It doesn't feel entirely like his movie though, and that in itself is kind of impressive. Denzel doesn't usually share.
This is far from the best of the modern westerns, but like the original (if you want to call it that) it's a pretty solid and entertaining take on the great story of a much better movie, that has a good ensemble cast playing pretty cool characters and having fun working together. I had a good time watching it in a theater, but its true purpose is for you to watch it a few years from now with your dad on a Saturday afternoon.
p.s. So there are the western remakes of SEVEN SAMURAI, and the fantasy version and the space version and the martial arts version, and you guys have let me know there's an animated bug version and a post-apocalypse version. What's left? Cop version? Werewolf version? Porn parody?
The Magnificent Checklist:
1. SEVEN SAMURAI
2. THE MAGNIFICENT SEVEN
3. THE RETURN OF THE SEVEN
4. GUNS OF THE MAGNIFICENT SEVEN
5. THE MAGNIFICENT SEVEN RIDE!
6. SEVEN MAGNIFICENT GLADIATORS
7. SEVEN WARRIORS
also: BATTLE BEYOND THE STARS