aka SHAOLIN MASTER KILLER
So you got these fuckin Tartars goin around oppressing people, right? No surprise there. Humiliating people, publicly executing people, fucking with innocent people's seafood shops and all that kind of crap. I mean let's be honest here, we all know how these fuckin Tartars are. And in a Shaw Brothers classic like this, we know Gordon Liu is gonna do something about it.
There's this classroom of kids (played by adults) and they've been learning about the importance of their country and standing up to their enemies but they can't figure out why they're learning this in the classroom and then watching the Tartars pull this kind of crap. Are those lessons just words or are they concepts they should really live by? They decide on the second one and when they try to stand up and make a difference, they are rewarded with a serious assbeating.
But Gordon gets away, and you know what he always does when he gets away. He finds his way to the Shaolin Temple where the monks patch him up, then he demands to stay and become a monk, and then he asks to learn kung fu.
Most of the movie is about Gordon learning lessons of kung fu, having to pass 35 "chambers" before he has mastered shaolin kung fu. Most of them are not fighting, but things like jumping across a bundle of sticks floating in water, then jumping across just one of the sticks. We see him grow and build his powers until he has finally mastered all 35 chambers. Then he has to defeat one of the other monks in a duel in order to take charge of any one of the chambers. This takes several tries and in the process he invents the 3-section staff, one of the most badass kung fu weapons you're gonna see. It's like super nunchucks. I would like to thank Gordon Liu for inventing the 3-section staff. Also could you give me lessons is my next question, let me know Gordon, you got my email.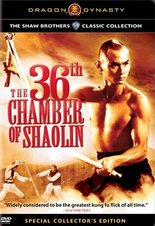 When he finally earns the right to become a master, he requests that his chamber be the non-existent 36th chamber, where he teaches shaolin kung fu to everyday average joes or gordons who just want to live a humble life and defend their seafood shop from the god damn Tartars. His request is rejected but he goes anyway, shows back up at home with his yellow monk robe. Take that fuckers.
You kind of expect everybody to be freaking out on their classmate coming back as a shaolin master, but nobody seems to recognize him, they just call him master. They do a real good job in this movie of showing a transformation. He really has a poise and seriousness when he comes back that makes him seem like a different person from the goofy kid he was at the beginning. And of course the last section of the movie is about him recruiting a couple promising students, teaching them a couple tricks and then launching an assault on the fuckers who wronged him in the beginning.
All of the fights in this movie are great, lots of different weapons and styles are used. These are not big elaborately choreographed battles though for the most part, which is why I like EIGHT-DIAGRAM POLE FIGHTER (not the porno, the Shaw Brothers movie) a little better. But some might prefer the simplicity of this one. It depends on what kind of Gordon Lui going to the Shaolin Temple and demanding to be trained so he can get revenge movie you are looking for.
I love this one though because it's just a great, elemental type story of training to become a master. I like the theme of bringing the knowledge to the people. I think this movie is actually pretty deep, it's about toiling to learn the great knowledge of the masters and then sharing that once elite knowledge, empowering your people to overcome their oppressors. It could be applied to so many situations besides kung fu. It's what we gotta do now, in fact.
On the other hand this movie could just be about teaching people self defense, which is like an episode of Oprah or something, so it's not as deep. When you're going into the parking lot at night, hold your keys between your knuckles in case you have to punch a guy, and that kind of stuff. I like my interpretation better though. So lay off, Oprah, if you're reading this. (thanks for reading though, let me know if you want to use my book for your book club.)
This entry was posted on Friday, June 24th, 2005 at 4:48 am and is filed under
Martial Arts
,
Reviews
. You can follow any responses to this entry through the
RSS 2.0
feed. You can skip to the end and leave a response. Pinging is currently not allowed.