GREMLINS is a weird only-in-the-'80s mix. Like POLTERGEIST it's a Spielberg production of a PG-rated horror movie directed by a legit horror director, Joe Dante. I mean, we can't pretend THE HOWLING is on the level of THE TEXAS CHAIN SAW MASSACRE, but I think it's a minor classic at least, genuinely creepy horror only overshadowed by that other even better werewolf movie that came out the same year.
But the other important factor at play here is that while Dante came up under Roger Corman he's more of a goofball and cartoon nerd than a horror master. So his monsters are vicious bastards but also funny. Like the martians in MARS ATTACKS! they seem to live more to fuck with us than to kill us. And they plan to do both.

But of course they start out cute. Adorable little Yoda-koala hybrid called a mogwai. Pushy inventor guy Randall Peltzer (Hoyt Axton) finds one in a little shop in Chinatown, names it Gizmo, gets it for his son Billy (Zach Galligan) for his birthday. The thing comes with a set of warnings which in my opinion the gwailos do not take seriously enough, so the mogwai immediately end up asexually reproducing. Then they break the "no eating food after midnight" rule (to be fair, how are you supposed to even know what time that means?) and all of the offspring turn into the green lizardy assholes called gremlins.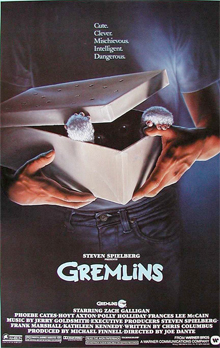 The script is by a young Chris Columbus, before HOME ALONE and all that shit. Watching it now I think I see a little bit of his hacky touch. It's got all the broad small town characters: mean old heartless bitch lady trying to foreclose people's houses, douchey yuppie guy played by Judge Reinhold ("C'mon, we're talking cable!" he datedly brags in an attempt to lure Phoebe Cates to his home), old neighbor always muttering about the war, Corey Feldman. But the formulaic structure is a good skeleton for the gimmicky creatures and the enjoyable chaos they create.
At first the gremlins attack, just like any movie monsters. One of the best scenes is when a couple of them go after Billy's mom. It's a serious and scary section of the movie, a tense cats-and-mouse scene where the mouse fights back. Nobody beats mom in the kitchen, so she destroys the little fuckers using utensils such as a juicer and a microwave. With perfectly disgusting results.
But then they start gathering at the bar. Billy's sort-of-girlfriend (Cates) works there and is intimidated into giving them service. Whole bar full of gremlins and she's pouring drinks for them, trying to light their cigarettes. They have somehow found clothes and sunglasses, learned how to play cards, smoke, chew gum, dance. One is a breakdancer, another wears legwarmers in apparent homage to FLASHDANCE (which was probly playing in Chinatown, and the gremlins retain the memories of their parents?). One reminds me of Fab 5 Freddy, one plays with puppets, another sticks his finger in a light socket, gets smoked by a fire extinguisher. They throw things and laugh and one hangs from the ceiling fan until he flies off and smashes into a neon light. Another shows up with a gun and a ski mask. I don't know which gremlin it was, officer, I couldn't see his face.
I realized watching this scene that back in my day I would've probly enjoyed going drinking with the gremlins. If they don't bite you they're fun guys.
By far the best thing about this movie is the puppets. They're definitely somewhat muppetly in their humor, but they look more alive, with cruel eyes and rigid, scaly bodies and sharp teeth. They come out of goopy, Cronenbergian eggs and they bubble and melt when exposed to direct sunlight. They have squeaky voices and laughs, like bullying Ewoks. They communicate like humans but mostly don't say actual words. (I noticed Michael POLICE ACADEMY Winslow and Peter TRANSFORMERS Cullen among the gremlin voices. Howie Mandel does Gizmo.)
And this force of chaos has found an ideal place to raise hell, a small town so perfect and Norman Rockwell that in part 2 a real estate company will try to recreate it as a pre-packaged living experience. There's an establishing shot of the main (maybe only) street in town and you see all the little shops, mom and pop family businesses, little hardware stores and things, and then all the sudden you see a Burger King, and it's the only thing that doesn't fit in at all. And I really can't tell if it was intentional, but it works as a visual joke about the spread of corporate chains. Soon those things'll be multiplying like mogwais.
Some of the jokes in here are subtle and weird. I like this scene where Billy's mom is in the kitchen preparing food and watching IT'S A WONDERFUL LIFE on a little TV. He can tell she's upset about something, and he asks her what it is. "Oh, it's a sad movie," she lies. And then you realize that she's cutting onions while she says this. She had the perfect excuse and she passed it up, tried to pin it on Frank Capra.
There have been many different versions of gremlins. Roald Dahl, the author of Charlie and the Chocolate Factory, heard about them when he was in the service and wrote a book about them that was almost turned into a cartoon by Walt Disney. One of them did end up in a cartoon called "Fallin' Hare" fucking with Bugs Bunny (Chuck Jones has a cameo in GREMLINS, even though he didn't direct that one). The Looney Tunes gremlin looks nothing like the Joe Dante gremlins, but the characteristic that all gremlins mythologies share is that they like to get into machinery and electronics and fuck the things up. They are the reasons for all the problems with your internet service or whatever.
So I guess that's why Columbus made Billy's dad an inventor. He has all these weird machines around. I'm not sure it's very thought out though because the machines don't work very well anyway, and the gremlins don't really fuck with them. So I'm not sure that aspect of the movie works as intended. Maybe there was more in an earlier draft – that would explain why the movie starts out narrated by the dad, but never comes back to that or feels like his story at all.
Despite that I personally would like to try out the Bathroom Buddy (a sort of Swiss Army knife of toiletries) next time I travel.
The story is an excuse for the puppeteers to come up with different gags and ridiculous things for the gremlins to do. It's what makes it fun but probly a little nightmarish to some of the kids that saw this in theaters, when it was being impregnated by INDIANA JONES AND THE TEMPLE OF DOOM, conceiving their son the PG-13 rating. A few times the puppetry is supplemented by nice stop motion shots, like (I think) the shot of the gremlins coming over the horizon and the closer they get the more of them you realize there are. They just keep multiplying, the crowds of them keep getting bigger, until they're filling a whole theater for a rowdy late night screening of Walt Disney's SNOW WHITE AND THE SEVEN DWARFS.
I can't really ignore the troubling subtext of this thing, even though I never noticed it in the '80s. Discussing the WWII legends of the so-called gremlins that fucked up plane engines, Mr. Futterman (Dante regular Dick Miller) talks about them as this foreign invader, sent by others to sabotage us. (He's also very critical of Japanese cars.) It seems like the paranoid talk of a misguided old war vet, but in fact the mogwai is foreign, something exotic that dad found in Chinatown, and couldn't have gotten anywhere else. (And he got it from a bearded old man smoking an opium pipe! I mean, shit.)
But it's not like the Chinese are sending us gremlins on purpose. The original owner (Keye Luke) refused to sell Gizmo in the first place. It's his grandson who misguidedly snuck the mogwai to Mr. Peltzer to get a little money. As far as grandfather knows this whitey stole it. When he finds out he comes and gets it back. He tried to tell them the rules of the mogwai, and they fucked it up anyway.
So you can't help but read gremlins as an insidious foreign influence tainting a picturesque town of white people, but the way things turn out in the end it sort of switches to the ol' "don't mess with forces you don't understand." It's their fault for taking it and then not being responsible enough to handle it. And there is so much joy in the gremlin mayhem that the movie comes across as a celebration of the fun of horror movies, not as a depiction of a nation's unconscious fears. We embrace the fun of the foreign, we don't demand to see its birth certificate and then demand to see another birth certificate and then hire experts to say that the birth certificate might be fake.
I guess I also need to broach a dreaded topic: you fuckin know this is gonna get a remake. I'm very surprised they haven't talked about it yet. When it happens I hope they do it right. I know people are gonna be bummed when it's not puppets, but I think respectable filmatists could do a great job with computer animated gremlin havoc. I really thought about this when I saw how good those little bastards in DON'T BE AFRAID OF THE DARK looked. With GREMLINS I believe there is all kinds of potential to take a good, well-executed concept and well-execute it in a new and different way. I'd hope they would still keep it semi-serious. Maybe even do it more like the earlier, more horrific draft of the script where Barney gets eaten and Billy's mom loses the kitchen fight and they throw her head down the stairs as Billy gets home. That sounds interesting. However you do it, don't fuck it up you hypothetical assholes.
SPOILERS for PROMETHEUS: when I saw PROMETHEUS I realized… the Engineers had to've created mogwais, right? Put some black goo on a koala or something? Those things got Space Jockey fingerprints all over them: small creature turns into slimy pod, grows into larger, predatory creature. An excellent biological weapon. The mogwai form would be used to smuggle it into targeted societies, they would very easily grow their ranks and then they would transform into gremlins and attack. This weapon would be particularly effective on space ships, where it would sometimes be impossible to expose them to sunlight.
Okay, I'm afraid I've gone off on alot of tangents now with no strong way to bring it together at the end, but I guess that's not all that different from the movie itself. They just kill 'em and there's not much to do after that. But this is a real good time. I think it holds up well and remains a very unique movie. Even the sequel (which I remember really liking) isn't really the same since it abandons any pretense of actually being scary.
So anyway, good movie, Merry Christmas everybody.
…
This review is a special dedication to Jill Shea's boyfriend, for his birthday. She didn't tell me the dude's name but she said he is a big fan and asked me if I could review one of his favorite movies on his birthday. Good girlfriend – you should keep that one around, bud. Unless she's crazy. She seemed nice in the email though. I think it's gonna work out.
Let me know if you kids ever get married. Not unless you're sure, though. I don't want that on my conscience.