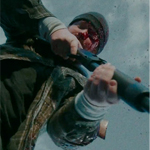 ALMOST HUMAN is a very simple low budget movie from first-time-director Joe Begos. (He has since become a second-time-director with THE MIND'S EYE, which premiered at the Toronto International Film Festival to enthusiastic reviews, and recently got picked up for distribution.) The story begins with the protagonist Seth (Graham Skipper, TALES OF HALLOWEEN) running to his friend Mark (Josh Ethier, also the producer and sound designer and an editor on many other movies)'s house in terror from some lights he saw and can't seem to explain. Against Seth's pleas, Mark goes outside to investigate, and he disappears.
The majority of the movie takes place 2 years later according to the text on screen, "almost 2 years" later according to Seth. He's a mess now, his boss at the hardware store thinking he's on coke, Mark's girlfriend Jen (Vanessa Leigh, veteran of around 20 obscure indie movies just in the few years before this came out) not wanting to talk to him when he shows up at her work warning that he thinks something is happening again.
Jen has moved on, even has a sort of douchey new fiancee named Clyde (Anthony Amarall III), and although she doesn't remember or understand what the hell happened to make her boyfriend disappear she does not believe that it was, like, UFOs or something. But Seth had, and is having again, weird nightmares and visions that he believes are supernaturally or science fictionally related to what happened.
And he's right. He doesn't know it for a fact, but we know that Mark is indeed back, having shown up naked laying in the woods. Then he got up and he's walking around the area going on a killing spree with some kind of super strength and lack of emotions. He seems to have memories of his life as Mark ("What are you doing in my house?" he says before killing the guy who now lives in his old house) but he's not himself. He's got some kinda body snatcher shit going on.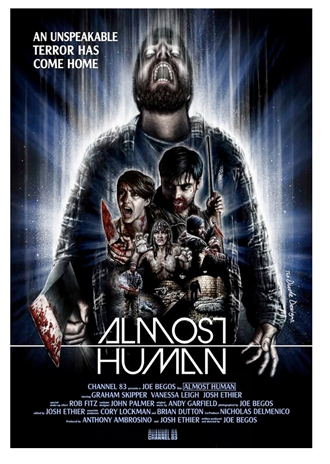 Mostly he just walks around like Jason Voorhees without a mask, but sometimes he uses his weird, inhuman scream to incapacitate people, and then he starts having a green tentacle shoot out of his mouth and implant eggs into the people he kills. Mostly through people's mouths. In one case in a more upsetting place. It's not an entirely un-fun movie, but it does make sure you know that it's not fucking around.
Today's low budget rookie horror pictures are usually not about trying to pull off the most you can with your budget, as in the days of THE EVIL DEAD and HELLRAISER. Now it's about how little you can get away with. Improvised dialogue, digital video, found footage, implied violence, minimal effects, tape running out right before the shit goes down. I'm happy to report that that's not what this one is at all. I respect that although ALMOST HUMAN has that home grown feel of a movie a young guy makes with his friends its aspirations are much more cinematic than that. The moment that really won me over was when almost-Mark blows a guy's head off at the gas station. It's shot POV with the gun firing into the camera, which works fine but is usually a way of not having to do any effects. To my surprise the next shot shows the body laying there with a nasty caved-in head. Elbow grease has been expended.
And this continues into the climax. Since this is obviously a much lower budget than the low budget classics I mentioned above it feels like a real victory when they bring in some gross alien shit. And you'll be happy to know they don't do any of it with the aid of computer technology.
Like many of the up-and-coming horror directors, Begos seems to be infatuated with a certain type of '80s horror aesthetic. He sets the story in '87 and '89, but it's more timeless than period, with everybody wearing plaid shirts and stuff. They just don't have cell phones. And the score by Andy Garfield (not the former Spider-man, but a guy who did scores for a bunch of independent movies, including Adam Green's movies HATCHET, HATCHET II and FROZEN) is definitely influenced by that John Carpenter synth sound we all love. I keep waiting for that fad to get annoying, but I guess I just like that style of music too much. It's not enough to make a movie good but I like that everybody's into that sound now. This one also mixes in different styles – screechy violin sounds, deep brass sounds, a nice mix of the best types of horror sounds. Very effective.
ALMOST HUMAN is a small, humble movie. Its appeal is as simple as its plot. But it's a promising debut, a good version of a "well shit, let's just call in all the favors we have and make our own movie" type of movie. I enjoyed it.
P.S. I should mention that Begos is currently raising money to pay for cancer treatment for his mother. Go to his GoFundMe if you're able to help.
This entry was posted on Wednesday, April 20th, 2016 at 11:52 am and is filed under
Horror
,
Reviews
,
Science Fiction and Space Shit
. You can follow any responses to this entry through the
RSS 2.0
feed. You can skip to the end and leave a response. Pinging is currently not allowed.