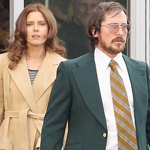 David O. Russell's latest is a fictionalized take on a true 1970s incident when the FBI worked with conmen to entrap politicians to take bribes from a fake Sheik. The movie opens in the thick of it, right before a big attempted sting, with a long, quiet, unbroken take of Irving Rosenfeld (Christian Bale) gluing on his toupee and carefully combing his remnants of real hair over it. It's pretty representative of the movie: silly almost to the point of Will Ferrell cartoonishness, but you have to stare at it and contemplate it long enough that it's on the verge of becoming more sad than funny.
Who does this guy think he's fooling? Why is he so vain? Won't somebody tell him how terrible he looks? So when FBI Agent Richie DiMaso (Bradley Cooper) angrily grabs the toupee and makes it stick straight up, and Irving just stands there angrily, I already feel for him. It's a funny sight gag, but also it says something about human vulnerability. We can be so hung up on a phony image that we fool ourselves.
That's also kinda what the movie's about. Almost everybody here is full of shit. We have our con artists with their fake businesses, our FBI agents with their undercover personas, one main character with an undercover persona for the undercover agents to believe in. Everybody's cheating: Irving has a wife named Rosalyn (Jennifer Lawrence) but is in love with his partner Sydney (Amy Adams). Sydney loves Irving, but must pretend to fall for Richie, and it seems like that might actually be happening, which would be cheating on Irving. Richie has a fiancee back home who he completely ignores, and man does he want to fuck Sydney (although he thinks her name is Lady Edith). Even Rosalyn starts to fall for somebody besides Irving.
And let's be fair, Irving has by far the worst hair, but nobody else is natural. Sydney, Rosalyn and Richie all have major emotional scenes that take place while they have curlers in their hair.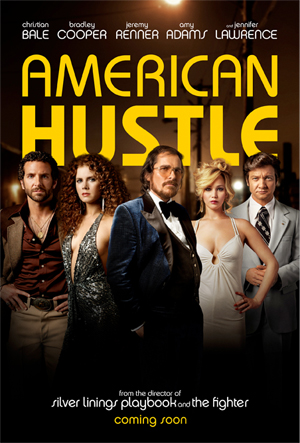 The guy they're trying to get to take a bribe in the opening is the Mayor of Camden, New Jersey Carmine Polito (Jeremy Renner). He wears his hair in a Johnny Cash pompadour, we see him literally shaking hands and kissing babies, and the people love him. He grew up poor and is beloved by the working class and by black people. In a couple scenes you see people coming up behind him smiling, like "Holy shit, that's Mayor Polito! I have to shake his hand!"
So he's secretly a total scumbag, right? He made gambling legal and he makes big inspirational speeches about how they're going to revive the economy in Atlantic City. He's dealing with casino owners, and that means mobsters.
But that's what surprised me in this movie: the guy you most expect to be corrupt is actually the most admirable character. The twist with the mayor is he's actually sincere. He's falling into this FBI trap not because he's greedy, but because he sees an opportunity to get this fictional Sheik to invest in these casinos that he believes will bring money back into the community and help lift many of his constituents out of poverty.
The character is based on a real Mayor of Camden named Angelo Errichetti, but this aspect might have been inspired by the late John Murtha of Pennsylvania. He was celebrated as one of the few war veterans in congress who were critical of the Iraq war while it was going on. He was also plagued by rumors of corruption and had been a target of the real life FBI operation that inspired this movie. Murtha was taped meeting about an immigration related bribe, but he didn't take the money and instead talked about legal ways to invest in his district.
In the movie, when the sting goes sour Irving has to befriend Carmine and make him feel more comfortable about the fake deal, and they end up going out for drinks, expensive food, drunken Tom Jones singalongs.  They're livin it up, but Carmine's not the same as these people with the perms and wigs. He has a wife named Dolly (Elisabeth Rohm) who he genuinely adores. He doesn't have mistresses and when Irving tries to bring along his girl instead of his actual wife Carmine is disappointed in him and convinces him to do otherwise. Carmine has a huge family and his kids all love him and he even adopted a kid, which is Russell's symbol for a good-hearted person (see also I HEART HUCKABEES and FLIRTING WITH DISASTER). In fact, our signal that Irving has some decency left in him is that he legally adopted his wife's son and refuses to skip town because it would be abandoning him.
So I think what ends up happening is the Mayor anti-scams Irving, un-hustles him. Irving is this guy whose whole life is based on lies. His one big instance of being truthful is when he first reveals to his mistress that he's a con man. His career is built on making people believe in these fake relationships: I like you, I'm gonna help you out, Edith here has "London banking connections," this Sheik wants to be your friend, he's even giving you a ceremonial dagger as a symbol of his respect. He's striking up a fake friendship with this guy Carmine, and what does Carmine do? He acts in good faith. He becomes an actual friend.
They have fun together. Carmine likes Irving so much he buys him this new thing, a microwave oven. The American equivalent of a ceremonial dagger, I guess. (By the way, the second I heard Bale refer to it as a "science oven" I knew that would be joining the lexicon.) That's another scene that's emblematic of the movie. Carmine tells him he has something for him, he opens up the trunk of the car, there's a long PULP FICTION shot from inside the trunk of them looking at it. What is it gonna be, a bunch of money? A kidnap victim? No, it's a fuckin microwave, and he doesn't know what it is because it's the late '70s.
That's easy comedy but the real point of the scene is how taken aback Irving is by the gesture. He can't believe this guy just wanted to buy him something because he wanted to be nice to him and not trying to get something out of him. He has to ask him about it, say it out loud to make sure he's understanding this correctly. He's touched, and I think that is kinda touching in itself. Later it's clear that he loves the microwave not because it's an expensive luxury item but because it has sentimental value because of who gave it to him.
These actors are all at the top of their game. In a way Bale gets the shaft because the movie acts like it's about him but then it ends up focusing so much on Adams and Cooper's characters that it doesn't really feel like his story after a while. But of course this is another one of his physical transformation roles (I swear he gained weight in his hands, his hands look fat) and I especially like that he gets to be funny. When was the last time he did that? I guess you could say THE FIGHTER, but before that AMERICAN PSYCHO. Usually he's so grim and broody. Why so serious?
A buddy of mine saw this at a critic's screening, he said "I didn't like it, but you'll love it because Amy Adams has her boobs hanging out the whole time." He's not wrong. It's a fact that one of the movie's major focuses is showcasing her hotness. She's wearing '70s dresses and has to be flirtatious with everybody and tease Bradley Cooper to the point of imminent boner explosion. And one of her first scenes is a montage of going around buying jazz records! For a man of my predilection it's not a fair fight, I don't got a chance. I'm an easy mark for this. You get it, that is con man lingo but also it's an embarrassing admission of human weakness. I have an Amy Adams problem, and I want to be better. I want my life back.
But I think I can fairly judge that it's one of her best performances. At first she's doing this English accent and later you find out that it's the character herself doing an accent. She's playing a character playing a character and has to go in and out. She's smart and likable but flawed and obviously a little crazy to be doing this stuff and dealing with these people. One funny, very believable moment is when she has to be around Irving when he's with his wife and she turns ridiculously jealous. Man that girl can glare.
And Cooper continues to work well with Russell. He's not making as much of a leap but he's great as this intense character who gets to gloat in victory and mope in defeat. He's deluded but not a total doofus, only partial. Unfortunately since it takes place in the '70s there aren't any MIDNIGHT MEAT TRAIN references like in CHRIS TUCKER'S SILVER LININGS PLAYBOOK.
Maybe those two are at their best when they're firing off each other. One of my favorite scenes, and this should be marked a SPOILER, is when she finally drops her accent with Richie. She has already pretended to reveal her true self, "no bullshit," and when she finally really does it's a disaster. I don't think it's just anger over her having lied to him, which would be completely fair. I think it's also disappointment in not having this Lady Eve fancy woman anymore. So he's completely rejecting the real Sydney. It's a reflection of the earlier scene where Irving laid it on the line for her and thought she was rejecting him but in fact she was getting into character to show him she could hang with his lifestyle. This is why, in the weird romantic world of the movie, Sydney and Irving are meant to be together.
Lawrence maybe shows that the borders of her talents are not infinite – she's reaching a little with her accent and playing a character that probly needs to be older and more physically worn out than she is – but as always she's really funny and even likable while playing the most obnoxious person in the movie. She fucks up and almost gets everybody killed by insisting on coming along for something Irving wisely doesn't trust her for, going up and talking to gangsters, opening her big mouth to them, etc. I love the scene where Irving explains to her how he's gonna clean up the huge mess she caused and she takes credit, saying he never could've come up with the idea without her. Any normal person would flip their lid over that, but he's a con man, so he knows he just has to agree with her and thank her for her help.
I read somewhere that Lawrence's worst scene was dancing around and singing "Live and Let Die." I disagree. I liked that part because the kid is watching her being so crazy and doesn't know what the fuck is going on, and it brought back childhood memories of my mom being stressed and doing weird shit, and it was scary to me at a certain age. You gotta count on these people and then you see them acting like weirdos and all bets are off.
Renner has a less showy role, and a simpler one than what he got to do in THE HURT LOCKER and THE TOWN. But his aura of genuine goodness shines through. This is crucial for the climax where (SPOILER) Irving feels the need to come and admit to him what's going on. So he gets to be the guy who the undercover got real close to, and is outraged at the betrayal, the Al Pacino in DONNIE BRASCO or the Vin Diesel in THE FAST AND THE FURIOUS. Except he's genuinely just a good guy who stretched ethics for a larger good, so he really is getting screwed. And I love that Russell has his entire family come down the stairs at the same time and shame Irving. I previously identified that as a Russell trademark, the scene where a huge group of characters are walking around together for comedic effect (although this time it's more for emotional effect).
The filmatistic style is impostor Scorsese, cribbed from GOODFELLAS, with lots of great '70s rock song montages and well-done but a little overbearing first-person voiceovers from multiple characters. Like ARGO (whose director was at one time attached to this script) it's got a little bit of a funny dress-up feel to go with its '70s period trappings. But since the style and excess is part of the subject matter, and since the characters themselves are sort of playing dress up and pretend, it plays as a loving tribute to the period, not a joke about it.
With WOLF OF WALL STREET in the theaters it's hard not compare the two movies, and I think there's no question that the real Scorsese is way better. This doesn't have the narrative control or emotional weight of GOODFELLAS. What does? What makes it lighter, but also distinctly David O. Russell, is that he's not as concerned with the narrative. He took Eric Warren Singer's script about the real ABSCAM case, rewrote it with fictional names and, according to Bale, encouraged the actors to improvise and focus on character rather than plot. So it's a shaggy dramedy loosely hanging on a political movie's skeleton. It's Russell's love for riffing on goofballs who take themselves way too seriously but are kind of endearing for that reason (think of Mark Wahlberg in I HEART HUCKABEES).
Like SILVER LININGS PLAYBOOK it rambles around loosely enough that it feels a little awkward when it occasionally stumbles onto standard formula bits like (SPOILER) in the end when he figures out how to screw over the FBI and get his way. It feels like a hollowly satisfying happy ending where he gets to live happily ever after and we're okay with it even though he's an asshole. But there's a subtle sting to it. Yeah, Carmine got a reduced sentence, but the greedier criminals (the mafia, our heroes) get off scott free.
I don't think this is a movie for the ages, I think the true-ish story subject matter, time period and stylistic conceits make it feel like it should be heavier and more important than it is, and I can see why that would be a turn off for some people. But I like it. I actually watched it a few weeks ago, and I've seen at least three better movies since then, but it's still lingered in my mind. It's all about great actors playing unusual characters, bouncing off each other, being funny, finding interesting angles on their relationships and situations. That's what Russell is good at so I hope he keeps doing it, and keeps bringing these actors back for more. Also Chris Tucker.