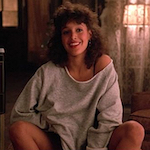 If all you care about is plot, FLASHDANCE isn't very good. There's not much to it, just two central threads, both lightly sketched. First is the story of a talented young dancer who wants to apply to a ballet academy, but believes that her modern style will be rejected by snobby gatekeepers. We've seen so many more detailed variations on that theme in BREAKIN', STEP UP, CENTER STAGE, STREET DANCE, etc. that this doesn't seem like much.
The second thread is a romance between her and her boss, who's twice her age, is completely transparent that he's interested in her because he saw her do a sexy dance, is not particularly hot himself, keeps hitting on her after she says no, pisses her off by secretly using his connections to get her an audition she wanted to earn, and is forgiven without ever doing anything to make amends. At best, you understand her having a fling she'll regret later, and hope she broke it off within the week. It's hardly a romance for the ages.
And yet I kinda loved FLASHDANCE, because it feels like every other thing besides the plot goes above and beyond. In the case of the cinematography it goes above and beyond and loops back under and then goes above again. It's Donald Peterman, who had shot WHEN A STRANGER CALLS and a couple others. He later became Ron Howard's guy (SPLASH, COCOON, GUNG HO, HOW THE GRINCH STOLE CHRISTMAS) and Barry Sonnenfeld's guy (ADDAMS FAMILY VALUES, GET SHORTY, MEN IN BLACK) and he did STAR TREK IV: THE VOYAGE HOME. Okay, I'm not sure what to make any of that, but he also did POINT BREAK, and that's an impressive credit.
Maybe the secret to the great visuals is director Adrian Lyne. This was his second movie, after the similarly gorgeous-looking FOXES. He'd mainly done commercials. I think he was seen as a hip up-and-comer, because they went to him after David Cronenberg and Brian De Palma turned it down.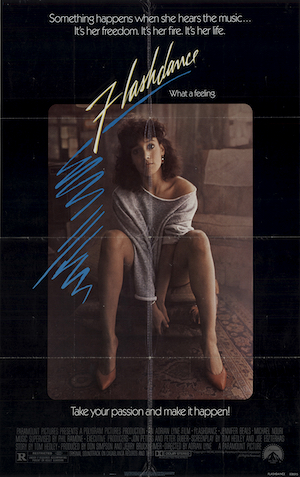 Jennifer Beals was 20 and had only been in MY BODYGUARD when she starred as Alex Owens, who by day works as a welder in a huge steel mill that looks like an excavation site on an alien planet, and by night dances on stage at a bar called Mawby's. It's not the same as stripping, which she does not want to do, repeatedly turning down offers from sleazeball Johnny C (Lee Ving, AMERICAN POP, BLACK MOON RISING) over at Zanzibar. Wikipedia calls what she does "sensual dancing" and "a cabaret." Sexiness is definitely a central topic of the performances, but also this is definitely dancing.
There were pretty much three things I knew about this movie. The first was that she does that famous thing where she leans back in the chair and pulls the string and the bucket of water pours on her. The second was the song "Maniac" by Michael Sembello, which I remember hearing on the radio all the time as a kid. And the third was the song "Flashdance… What a Feeling" by Irene Cara, which believe it or not holds a meaningful memory for me.
My dad was not a guy who generally liked, listened to or talked about music. He would sometimes like the things my mom liked or go to a concert she wanted to go to, but he did not have, like, favorite bands or songs or any albums of his own like every other member of the family. It just wasn't an interest of his. But one day he and I were in the car – a pretty cool red Chevy Nova with black interior that was torture on hot summer days – running errands or something, and "What a Feeling" came on on the radio.
"I like this song," I said.
"I do too!" he said, and we went straight to a record store and bought a 45 of it. So it was kind of our song, and I've cherished that memory, especially since he died. Honestly, I had been wanting to watch the movie for a while and delayed it, worried it might make me too emotional.
I was fine, but surprised that both "What a Feeling" and the bucket drop happen right at the beginning of the movie. We see Alex riding to work on her ten speed, at work in her gear, welding, and then at Mawby's in her underwear, dancing. One of the guys from the mill brings the owner, Nick Hurley (Michael Nouri, whose only previous credited role was as Lucky Luciano in the mini-series GANGSTER WARS), just so he can surprise him by telling him she works for him. These men must be here to ogle – the camera substitutes for their eyes by heavily focusing on her ass and crotch – but it's really impressive on many other levels too. The light that silhouettes her not only hides Beals' dance double, but makes the whole thing as dramatic as it is hot. And after she dumps that water on her head she dances around and it splashes off of her, like a dog after a bath. There's a gag about some unsuspecting diners getting wet, but others receive the mist coming off of her like they're Fab 5 Freddy and it's Nola Darling's bath water.
Interacting with the chair must've inspired Janet Jackson's Rhythm Nation chair thing, right? Many of her moves here remind me of Janet's most famous brother, and that makes sense – choreographer Jeffrey Hornaday later did CAPTAIN EO. Another MJ-like touch is that we hear the sounds of Alex's movements – skin slapping against skin, shoes sliding on wood. And for the record she may not be doing it backwards, but she is doing it in heels.
As the movie goes on and we see more of the performances by Alex and her Mawby's co-workers, each using new choreography, songs and costumes (one of them she does in kabuki-like makeup), I wondered if the regulars at Mawby's (who include a dialogue-less Robert Wuhl) are meant to be getting their boners from something extraordinary, or if in the reality of this movie this kind of thing is normal. I think the answer is the former, because associate producer Lynda Obst says in the extras that the movie was inspired by a club in Toronto where the dancers put this kind of work and individuality into their performances, and she thought a story about them could be "a girls' ROCKY."
Hey! I totally saw the ROCKY parallels, including a climactic audition where it's only important that she danced well, and we don't even find out if she gets in. It also foreshadows the music video style editing of ROCKY IV.
There are many ways that this seems more aimed at men (both gay and straight) than women, but it does seem to have been received as an inspirational story for many women, as intended. Considering it's the first movie that Don Simpson (writer of CANNONBALL) and Jerry Bruckheimer (producer of AMERICAN GIGOLO, THIEF and CAT PEOPLE) produced together, it's nice to have that music video style and vibe without the ass-slapping bro-yness of TOP GUN and BAD BOYS. I think that's why it could be infuential to non-macho movies like PURPLE RAIN.
Alex lives in some kind of warehouse, with the entrance in an alley. Pretty cool. She has a dog who worries about her when she's late, and she asks him "Did you get laid today?" when she gets home. She has plenty of room here to practice and store costumes.
I don't think anybody talks to her at the day job, or she doesn't talk to them, but we get to know her family from Mawby's. She likes the other dancers, but she's best friends with a waitress named Jeanie (Sunny Johnson, WHERE THE BUFFALO ROAM), who's chasing her own dream of ice dancing. And Jeanie is dating the cook, Richie (Kyle T. Heffner, YOUNG DOCTORS IN LOVE), who begs Mawby for chances to do standup between dancers. He's absolutely terrible at it (and relies heavily on Pollock insults) but his high-pitched laugh at his own jokes and stubborn drive to keep doing it despite seeing people's reactions made me start to like him. He kinda reminds me of Shelly from FRIDAY THE 13TH PART III.
As the song says, FLASHDANCE is about taking your passion and making it happen, but there's not the kind of momentum that implies. It's more of an improvisatory hang out movie about working class Pittsburghers appreciating or training for creative expression, especially movement. I realized the movie was really taking me in when there were a bunch of scenes in a row just about that. First, Alex and friends work out together in a stylish scene with mostly a white void for a background, set to "I Love Rock 'n Roll." In the very next scene they're walking home and come across the Rock Steady Crew breakdancing in the street (I'm not sure what they're doing in Pittsburgh, but just go with it). The ladies stop and watch, applaud, do a few moves with them. Time passes for what could be hours, judging by the shifting crowds between edits. In the scene after that they cross a busy intersection where the camera stops to admire a traffic cop giving some extra spice to all his arm movements. And then Alex comes back and starts imitating him. After that there's a brief dinner table scene that establishes some things with Jeanie's parents, but from there we go right into Jeanie and Alex ice skating.
You see what I mean? This is not a movie about plot. Fuck plot. This is better.
We don't get to know the other dancers at Mawby's too well, but we do see them dance, and they have cool names like Heels (Pink Floyd backup singer Durga McBroom), Tina Tech (Cynthia Rhodes, DIRTY DANCING) and Sunny (Liz Sagal, younger sister of Katey Sagal, former Doublemint Twin, co-star of Double Trouble, member of Cherry Bomb in HOWARD THE DUCK, and writer for TV shows ranging from Mad About You to Banshee). Even hanging out with that asshole Johnny C is fun sometimes. He has some funny insults for his slow-witted sidekick Cecil (Malcolm Danare, POPCORN, GODZILLA).
But yeah, there's the whole thing about Nick pursuing her, and her deciding to fuck him. He comes up to her when she's reading Vogue on a lunch break at work, tells her he saw her dance, isn't even smooth about it. This is so gross as a conversation and inappropriate for a boss, but even accepting the transparent "I am talking to you because I noticed you're hot" nature of the exchange you gotta worry about the powers of observation there. How did he not notice the one woman he works with is stunningly beautiful until he saw her near-naked doing a sexy dance? What a doofus!
She likes him, but she keeps saying she won't date her boss. He gets his shot because he's in his car watching – stalking her, I'm pretty sure! – when Johnny C. threatens her in a parking lot and punches Richie. Nick intervenes, gives Alex a ride home, she again says she won't date her boss, so he says "Fine, you're fired. I'll pick you up at 8." And we can assume she finds that charming. (I believe it was a not-acceptable-by-today's-standards joke, but I actually don't remember if we saw her at work after this.)
Nouri hadn't done THE HIDDEN or AMERICAN YAKUZA yet, or even his voice role in GOBOTS: BATTLE OF THE ROCK LORDS, so it's unclear why Alex would be into him. But she can do what she wants. We know from seeing her in confession that she's been horny for a while. When they date she is the aggressor and rocks his world, but later she goes to a play and sees him seemingly on a date with another woman (Belinda Bauer, WINTER KILLS, ROBOCOP 2, POISON IVY II). Turns out to be his ex-wife who he sees once a year for an arts commission thing, but Alex only finds that out after riding her bike to his mansion late at night, throwing a rock through a fancy window, yelling "You bastard!" and then riding off. She is 100% in the wrong in this incident but also I 100% agree with her.
It was weird to see this for the first time now, and get to the scene where she brings him back to her place and removes her bra from under her stretched out heather grey sweatshirt, and realize that I was looking at a moving version of a picture I've seen a million times on the cover of the movie and the soundtrack album. I think I always assumed it was a posed portrait, because the lighting is so perfect, but that's just what the whole movie looks like.
At the end of course she gets an audition in front of uptight ballet academy admissions officers, and has the audacity to play "What a Feeling" on a boombox and do all her modern dance shit, incorporating some ballet moves she knows but also things she's learned at Mawby's (repeating moves from the opening water dance) and from watching breakdancers, and probly the traffic cop, and who knows what else. The Jeet Kune Do of dancing.
Rocky Steady Crew member Crazy Legs not only appears in the breakdancing scene, but put on a wig and did her backspin for her in the audition. Acrobatics in the audition were performed by gymnast Sharon Shapiro. But Beals' main dance and body double throughout the movie was Marine Jahan. Since she was not credited, many assumed it was all Beals and were angry to learn otherwise. (A similar controversy happened with BLACK SWAN, although I believe the double was credited in that case.) Luckily Jahan was compensated with the important gig of being rotoscoped to give Snoopy his moves in It's Flashbeagle, Charlie Brown. She's also seen in STREETS OF FIRE.
The music is supervised by Phil Ramone (no relation) and produced by Giorgio Moroder (I'm guessing that's Bruckheimer's doing, based on his previous productions). Since I started collecting soundtracks on vinyl I've really gained a new appreciation for Moroder as the guy who produced a ton of pretty good ones that aren't too expensive to buy. SCARFACE is the one I really want, and I haven't found that for cheap. But CAT PEOPLE and AMERICAN GIGOLO (with "Call Me" by Blondie) are outstanding. And I guess he's not the only producer on TOP GUN but I think that one counts. I also have FOXES, METROPOLIS and OVER THE TOP. I like him best for his instrumental synth stuff, but he produced some pretty slick disco-y pop music. My favorites on FLASHDANCE besides the two famous ones are "Manhunt" by Karen Kamon and "He's a Dream" by Shandi.
Critics lambasted FLASHDANCE for its primary strength of being style over substance. Roger Ebert summed up the joy of it well in describing why he hated it:
Meanwhile, the movie has a disconcerting way of getting sidetracked with big dance scenes. The heroine works in the most improbable working-class bar ever put on film, a joint named Mawby's that has a clientele out of the Miller's TV ads, stage lighting reminiscent of Vegas, go-go dancers who change their expensive costumes every night and put on punk rock extravaganzas and never take off all their clothes and never get shouted at by the customers for not doing so.
As much as the movie was frowned upon by the not-liking-FLASHDANCE elites, it was a sensation, staying in the top ten for 15 weeks, making more than $200 million at the box office (the third biggest earner of 1983), and the album was also a smash – in fact, it knocked 17-week-champion Thriller off of the #1 spot on the Billboard charts for a couple weeks. It received nine Grammy nominations including Album of the Year (losing to Thriller, duh) and won three of them, including Best Instrumental Performance for "Love Theme from Flashdance" (which is questionable though because it beat Herbie Hancock's "Rockit".)
And though it may be one of those movies that people would defend by saying "Well, it's not trying to be an Oscar winner," it actually did win an Oscar for my dad and my favorite song. "Maniac" was also nominated, as were cinematographer Peterman (losing to Sven Nykvist for FANNY AND ALEXANDER) and editors Bud S. Smith (SORCERER, DARKMAN) and Walt Mulconery (PERSONAL BEST), who lost to THE RIGHT STUFF. They actually did win best editing at the British Academy Awards, plus Golden Globes for "What a Feeling" and Moroder's score.
Two people who were a little bummed about the film's massive success were Maureen Marder and Gina Healey, dancers at the Toronto club Gimlets who signed away their life rights for only $2,300 each. Screenwriter Tom Hedley (FIGHTING BACK) was a regular at the club who thought dancers like them would be a good subject for a movie and interviewed them. After he sold the concept to the production company Casablanca, they hired photographer and stylist Myron and Shirley Zabol (who say they were never compensated) to photograph the dancers for a pitch to Paramount. According to many involved other than Hedley, Marder's day job as a construction worker was the main inspiration for Alex, while all seem to agree her performance style was inspired by Healey (who even wore kabuki makeup on stage and in those photos).
Hedley originally wrote a script under the title DEPOT BAR AND GRILL. He renamed it FLASHDANCE after "The moment that fashion, music, and dance collided into a single image. In a second, in a flash."
When Paramount hired Joe Eszterhas (F.I.S.T.) to punch up the script, they flew him with Simpson, Bruckheimer and Lyne to watch, talk to (and allegedly sleep with, in one case) the dancers at Gimlets. Another writer, Katherine Reback (FOOLS RUSH IN) did an uncredited draft that Obst said "never got the credit that was due for bringing it back to the female voice."
After the success of FLASHDANCE, Hedley and Obst tried to make a movie musical called STREET DANDY starring Michael Jackson as "a mime and fashion sensation," and also talked to Jackson about playing Quasimodo in THE HUNCHBACK OF NOTRE DAME. Sadly, I'm sure you know, neither happened.
Eszterhas would of course go on to write BASIC INSTINCT, SLIVER and SHOWGIRLS, famously one of the highest paid and horniest screenwriters of the '90s. In addition to CAPTAIN EO, choreographer Jeffrey Hornaday went on to do ROMANCING THE STONE, STREETS OF FIRE and DICK TRACY. And LIFE STINKS! Remember? There was a dance scene in that.
Lyne captured the zeitgeist at least one other time with FATAL ATTRACTION, plus JACOB'S LADDER and INDECENT PROPOSAL got their share of attention. He recently shot his first movie in 20 years, the Patricia Highsmith adaptation DEEP WATER starring Ben Affleck and Ana de Armas.
Beals followed this with THE BRIDE and got a bunch of undeserved shit about it, but she's gone on to a great career in films including but not limited to VAMPIRE'S KISS, DEVIL IN A BLUE DRESS, THE LAST DAYS OF DISCO, TURBULENCE 2: FEAR OF FLYING and THE BOOK OF ELI. The one real shame there is that this "girls' ROCKY" didn't become an ongoing franchise like boys' ROCKY. Jeanie sadly couldn't have come back, as actress Sunny Johnson tragically died a year later of an aneurysm. But maybe Rich would've gotten better at jokes, we could've gotten to know Heels better, they could've gone to a national competition, or international. I would've loved to see the ROCKY IV equivalent in this series.
But hey, we're getting TOP GUN: MAVERICK some time. It's not too late for FLASHDANCE: ALEX. She could easily have a daughter who dances now. Hopefully not with Nick.
further reading:
The information about the Gimlets dancers comes from this great article on Buzzfeed