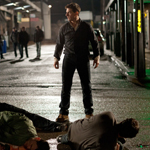 JACK REACHER is the latest in a line of movies based on a pulp character using the character's name as the title and not making enough money to continue as a series like they probly planned (see also JOHN CARTER, ALEX CROSS, PARKER, HITCHCOCK). This one's specifically from a book called One Shot by Lee Child, ninth in the Reacher series. I don't know the books, just the complaint by many readers that it's important for him to be a big intimidating guy and not a little guy in a little leather jacket like Tom Cruise always plays. So this would probly bother me if I had read them.
As a Tom Cruise movie though it's pretty good, thanks mostly I think to writer/director Christopher McQuarrie (WAY OF THE GUN). He opens with a cinematic punch in the balzac as A GOOD DAY TO DIE HARD's Jai Courtney carefully plans and executes a sniper attack on five innocent people in a park. McQ sticks us with a long rifle-scope-view of people walking through the park, bringing the crosshairs to rest on the heads of children and eldery people, creating a tension between wanting to find out what'll happen and not wanting to see that happen. Making viewers feel like accomplices. When he does start shooting there are finally cutaways, which I bet is a concession to the PG-13 rating but to be frankly honest I appreciated not having to see the whole thing. What you do see is bad enough. From a distance, bodies falling over, small and pathetic and quiet, not a big bombastic movie moment. Ow, my balls.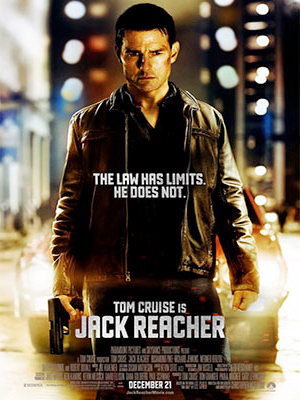 After the deed is done the police pore through the evidence, find a suspect, raid his house, and after a playfully long avoidance of showing his face we see the only thing that we could see after a playfully long avoidance of showing his face – somebody that's not Jai Courtney. Nor is it the guy who looks like Vin Diesel from the back whose face was playfully avoided at the beginning of FURIOUS 6. No, it's some guy who didn't do it (Joseph Sikora), and instead of signing a confession he writes down the name Jack Reacher.
There are some welcome Seagalogical elements to this Reacher character. Before we see him there's a conversation between the lead detective (David Oyelowo from RED TAILS and THE PAPERBOY) and the district attorney (Richard Jenkins) giving Reacher a solid "Just How Badass Is He?" that includes the old classic that he's "a ghost," plus the UNDER SIEGE one where they list all of the different medals he received before he became an ex-military badass. As soon as they finish talking about how you don't find a guy like that unless he wants you to find him, Reacher walks in to see them.
It turns out Reacher is not a friend of the guy that got framed, he's an enemy, a drifter who used to be an MP and when he was he busted this particular guy for a similar incident that the guy actually did. But the guy got off and Reacher vowed to come after him if he ever did it again.
Reacher is not a fan of authority figures or social interaction, and he believes the guy is guilty, but he agrees to help the defense (Rosamund Pike) in their investigation. It turns out to be way more of a mystery-solving movie than I expected. Lots of following leads, finding clues, interviewing people, discussing theories, figuring out things nobody else figured out. And since it's Tom Cruise it's hard not to think of A FEW GOOD MEN or the Tom Clancy movie he did. So, a badass anti-hero guy combined with more of a lawyer type book sold in airports.
Obviously I prefer the badass part. Like the scene where a bunch of young toughs at a bar try to jump him in the parking lot and he warns them that he's going to beat them up and exactly how he's gonna do it and they laugh and then he does it and they look like they're gonna shit their pants. I know that is a formula scene but it's one that's always gonna work for me if they do it well enough. Even when it's Tom Cruise.
Of course he's the good guy, but they allow him to be out of line and don't play it for laughs or anything. There's this young girl (Alexia Fast) who gets hired to set him up and he comes after her at her job, corners her in a small employee area and threatens her, and you can't help but feel sorry for her. She doesn't seem like that bad of a person and she's obviously in way over her head. (Okay, when he barges his way past her boss that part is played for laughs, and he doesn't really deserve it either, but it's kinda funny.)
He also does something pretty weird, he convinces the defense lawyer Helen that she has to go meet the relatives of all the sniper's victims and hear their stories. I think it's supposed to convince her of her client's guilt, but instead it gives him data that his weirdo super detective brain processes into a theory of innocence, and of course creates incredibly awkward situations of her justifiably being chased off people's property, because what the fuck is she doing there, what a terrible idea, don't do that, lady. If Jack Reacher said to jump off a bridge would you do it?
I guess Reacher just has some kind of cult leader charisma that makes people do things to please him. I don't know how else to explain the scene you might've seen in the trailer where a chase ends with him abandoning his car and stepping into a crowd of pedestrians. They all see that he's running from the cops, and instead of running away from him, or narcing him out, or tackling him, or even just ignoring him, they all silently act to hide him. They stand in front of him, act natural, one guy even gives him a baseball hat to wear as a disguise. I know it's supposed to be a stop-snitching, mistrust-of-authority type of thing but I don't know, man. When I think about recent cases of fugitives like the Boston bombers or the cop killer cop in California it just doesn't seem like the way most people react to somebody on the run. Most people think "oh shit, what did this guy do?" before "what can I do to help him get away?"
Oh well, it's still kinda cool though.
So far McQ gets real good casts in his movies. The dumb lower level thugs seem pretty authentic and then the higher level guys are scary. Courtney is good enough that I bet he'll do well despite how disappointed we as a nation were in A GOOD DAY TO DIE HARD. And the most brilliant casting is Werner Herzog as the top of the pyramid bad guy, a total sicko who has survived such horrible shit in the Gulag (the Soviet prison, not the BEYOND THUNDERDOME desert exile) that he considers everybody else to be sissies because he knows they couldn't handle what he did.
Oh yeah, and Robert Duvall is in there as the old guy who has an instand bond with him because they were both military, and gives him alot of shit 'cause they were in different branches. I guess it's not instant, he has to demonstrate his sharpshooting skills first. But then they're buds 4 life.
This is the first movie since I started the ACR system to receive a perfect rating of 5. That doesn't necessarily mean it's the best action movie – in fact, I already categorized this as a review of a mystery, not an action movie. But there's a car chase, a shootout and a couple fights and they're all shot classically, our viewing unencumbered by modern distractions such as shaky cameras, overediting or closeups. The shots tend to hold pretty long, the camera is pulled far enough back to see whole bodies and see who hit who where.
I really like the car chase, but probly the best action part is when two dudes attack Reacher in a small bathroom. One guy has a baseball bat and the other guy has a crowbar, but because there's not much space they keep bumping into each other and hitting the walls and stuff, they have trouble getting any clear shots at Reacher. Hey, maybe this is one part where being Cruise-sized is a believable advantage – he ducks into the bath tub for protection.
Anyway, in that fight he does a move that is worthy of special note, and that is using a guy's head as a weapon. Not a severed head, but he just grabs a guy by the head and then uses the head as a blunt object to smash against the other guy's head. Not like a Three Stooges move – he does it the same way you would do with a large rock, it just happens to be attached to a body in this case.
There was a great episode of the Creative Screenwriting podcast back when VALKYRIE (which McQuarrie wrote, but Bryan Singer directed) came out. McQuarrie talks about what a great guy he thinks Cruise is and how outraged he was by the way he saw the press treat him during that movie. (I always think about this interview when I hear people talking shit about Cruise.) With that knowledge I'm able to understand the casting better. They obviously love working together. But I think I heard that McQ couldn't get the movie greenlit without a name as big as Cruise starring, and that seems crazy to me because why did this have to be a $60 million movie? I mean I'm not complaining, it's real slick and everything, but it seems like we could have more down and dirty movies if the filmatists realized they don't gotta be a big Hollywood blockbuster. You wanna do a series then make it lower budget, man. You gotta lose that mentality.
Or just do it like this and then do a DTV sequel starring Ray Stevenson.
But I liked JACK REACHER pretty good. On the one hand, I have to admit that it hasn't really stuck with me that much. On the other hand, it's a solid, well-directed movie with many great scenes, and even if the mystery gets kinda convoluted (coincidentally like WAY OF THE GUN did, come to think of it) it all comes together in a really cool way at the end. I'm for it.