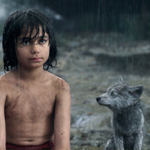 Disney's 1967 animated version of THE JUNGLE BOOK was pretty much a hangout movie. A bunch of animal dudes kickin it in the jungle, occasionally singing songs. Like HOUSE PARTY but with snakes and shit. The tiger Shere Khan plays the part of Full Force.
Now modern Disney and director Jon Favreau (executive producer, GREEN STREET HOOLIGANS) have brought in more of the world and narrative of Rudyard Kipling's stories for an excellent live action(ish) version that captures plenty of the spirit of the old one while also being totally different. It uses versions of the original songs and even evokes Disney animation with a painted version of the castle logo, but never feels redundant. It's like putting on glasses and seeing that version in more detail, from the visuals to the story.
I have to admit, after COWBOYS & ALIENS I kinda thought maybe we got too excited about Favreau as a director because of IRON MAN. Clearly I was wrong. This is a movie I can't imagine many directors pulling off. Like with IRON MAN he finds a perfect balance between nerdy love for the source material and clear vision of how to tell the story in a dramatic way we haven't quite seen on screen before.
And it can't be easy competing with the memory of Stephen Sommers' 1994 version.
(That might be unfair. I haven't seen it.)