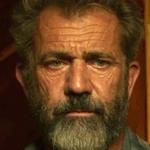 BLOOD FATHER is the kind of simple story that I like. Ex-con, now-sober John Link (Mel Gibson, GET THE GRINGO) tries to help his long-missing daughter Lydia (Erin Moriarty, THE KINGS OF SUMMER) get away from a cartel that wants her dead. To do it he has to violate his parole, go into bars, talk to bad people from his past (people he did time for who are still free, people he did time with who are still locked up), and of course kill some people. He's reluctant – in fact he's pissed about it – and his sponsor Kirby (William H. Macy) is freaking out. But by diving back into this darkness (while trying to keep the guns and the meth out of Lydia's purse) maybe he can find some kind of redemption. He can see that her life is a huge mess, and he knows where she got that from.
This is a badass tough guy movie, but the action (blunt, old fashioned) is pretty slim. Doesn't matter, it's a character movie. Gibson, with beard and craggy face, looks cooler and scarier than ever, and at one point he has an explosion of anger that recalls both his mad, lethal history of craziness on screen and its less fun counterpart in real life. But mostly he's that grumpy dude who's actually a sweetheart. Crotchety about the AA shit, but genuine about staying clean. Living in a much worse trailer than Riggs, but seems to be an active member of his trailer park community, not some loner. Pissing off his ex-wife, but mostly by not letting go of his obsessive search for their runaway daughter.
Then she finds him. She's kind of teenage-girl stupid, having fallen for a scumbag (Diego Luna) who exploited her and now defending it as real love. But she's also educated and enlightened and can teach her dad things. He's been down enough to know how to catch a ride in a migrant worker truck, but she can converse with them in Spanish and lecture him about his racism.
It's surprisingly funny, kind of like a buddy movie. And this ex-biker washup finds himself having to be the adult for once. (Until he calls Kirby and becomes the kid again.) He has the instincts to be a responsible, law abiding citizen, but after all he's been through he knows he can't turn Lydia over to the police. So his version of being fatherly is to use his knowledge and connections to protect her himself. From prison and from being a tattoo artist he's able to identify the affiliations of the people chasing them and guess what they want. And he knows what a sicario is. He's useful.
I really like that it's not the bickering, contentious relationship that movies usually prefer. She doesn't understand how badly he wanted to find her, and keeps apologizing for bothering him. At first she kind of treats him like an uncle she hasn't seen since she was a kid whose house she has to crash at unexpectedly. She thinks she's really putting him out. Then she looks over at him driving and sees that his whole forearm is covered with her face from a childhood photo. His going to prison left her damaged, but she got in a shot at him too, from the looks of it.
Now he's making a go at being a dirtbag father of a dirtbag daughter. There's a funny, though totally not believable moment where a hotel clerk thinks she's a girlfriend or a hooker and asks "where'd you find her?"
"The fucking delivery room!" he says.
When he sees her laughing and joking with a bartender who seems like a biker type guy he yanks her away. It shows both her sincere, innocent sweetness and her problem of trusting gross old dudes that she should stay away from. And I think he notices both. He admires her and fears for her at the same time.
There's another great moment where she tells him what happened to cause her to have to go on the run. At first he misunderstands what she means, and then he's hugely relieved when he realizes it wasn't as immoral of a murder as he was thinking. A very good performance by Gibson.
Michael Parks shows up with one of his wide-eyed weirdo performances, so good I was worried he might actually be like that now. He's an old 'Nam buddy turned weapons dealer. Hanging out on his ranch kind of brings back the feeling of family Link had in the old days, but also shows that it wasn't a very good family.
The friendship between Link and Kirby is more legitimate. Link is aware enough to have to call and tell Kirby the things he shouldn't do that he's about to do. Kirby exasperatedly tries to talk him out of it, and then they're both kind of frustrated that this is the way it's gonna be.
The world's relationship with Gibson post-horrible-outbursts is even more complicated. Many just hate him now and always will. I'm in a more select group, a limited release, VOD type of group, that thinks maybe he's a bad person but a great director and enjoyable actor with good taste in roles. I personally have a hard time buying the argument "Hey, who hasn't had a few drinks and started threatening a girlfriend or ranting about Jewish conspiracies?," but also the one about I shouldn't be able to enjoy APOCALYPTO or GET THE GRINGO since the guy who made them seems to be a psycho.
But I also believe in forgiveness and making amends and although this sounds like it's pretty faithful to the book it's hard not to read it as a state of the union for Mel. Link admits that he fucked up and hurt alot of people, and now he's gruffly, humbly, privately trying to be a cleaner, better person. He sees the bottles calling to him but knows to run to a pay phone and call his sponsor. Remember when Gibson was gonna cameo as a crazy tattoo artist in THE HANGOVER PART 2, but some of the cast didn't want to work with him so they replaced him with Liam Neeson and then didn't think the scene was funny and cut the whole thing out? Well, here he gets to play a crazy tattoo artist. Remember how we always worry that he hates Jews? Here he goes to see Michael Parks and there's a bunch of Nazi memorabilia and Confederate flags around, and nobody says anything, and we think gulp. But later Link taunts him about "backing the losers: Nazis, Confederates" and about his "Nazi bullshit."
So maybe Mel is like us. Maybe he hates Nazis. We can hope!
At any rate, he picked a good project here, maybe not from a commercial standpoint, but definitely from a legacy one. It's a movie that both captures the joy of his old pre-infamy vehicles and takes advantage of his age and his baggage. And it's a higher quality movie than most of the ones he's acted in in the last 20 or so years.
I guess some would disagree with me on that. This is the headline for Eric Kohn's review on Indiewire:

And in it he writes that "Gibson inherits a less-than-desirable mantle from the likes of Steven Seagal and Chuck Norris. The punishment for his sins is a cinematic purgatory of mediocre genre fare." He notes that that's "not the worst fate," and the review is not entirely negative, but it still jumped out at me, because I myself am very excited about the idea of Gibson becoming a b-movie star who does genre fare. That's cooler than the year he did THE PATRIOT and WHAT WOMEN WANT! Plus, I'm sorry to say, neither Seagal or Norris have done a movie of this quality in many years.
This is not some throw-away star vehicle, it's a legit movie by a good director, Jean-Francois Richet. In the U.S. he's known for the mediocre remake of ASSAULT ON PRECINCT 13 (which makes a cameo appearance in a theater – I don't think this is a 2005 period piece, so I'm assuming some poor revival house thought they were getting the John Carpenter original) but he also did those two very good MESRINE movies. The screenplay is by Peter Craig (THE TOWN, the last two HUNGER GAMESes) with Andrea Berloff (STRAIGHT OUTTA COMPTON), based on Craig's own novel.
BLOOD FATHER is playing in theaters, but not within hundreds of miles of most of us, so mostly this is a VOD release. After some turmoil I ended up renting it in HD from Youtube, which it turns out is a thing you can do.