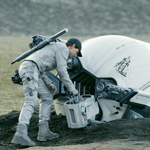 Jack Harper (Tom Cruise) is just a working man, you know. After the war with the Scavengers (in which the moon was blown up and shit was fucked up) everybody left Earth for Titan – not the publisher of many fine books but the moon of Saturn that is named after the publisher, from what I understand. Now, I don't want to stereotype, but alot of humans tend to like Titan for its dense atmosphere and stable bodies of surface liquid. One of the top moons for human life.
Down here we still got drone robots that fly around the wreckage trying to kill off the surviving space-insurgents, and Jack is one of the drone repairmen. By night he stays in a nice little house up on a platform, by day he flies around in his dragonfly shaped bubbleship tracking the drones and fixing them. He seems to like the alone time, but it's not an I AM LEGEND situation, he does enjoy the company of his partner (wife?) Victoria (Andrea Riseborough) back at home and his boss Sally (Melissa Leo) via satellite from the space station they'll be going to in a couple weeks before they finally get to go live on Titan with the cool kids.

It's a well realized post-apocalyptic world, with only a few remnants of civilization poking out from a world well along in the process of returning to its natural state. He flies over mountains, deserts, valleys, forests, he explores caves. In his ship there's alot of fancy touch screen business and radio lingo nonsense. It gets more fun to watch his job when he lands near a downed drone and gets out the tools. His ship is cleverly designed to contain all the parts and equipment he needs in the most compact way possible. Especially cool is when he pulls out a suit-case-sized piece that unfolds into a working motorcycle. I want one of those things! Could probly wear it on a backpack.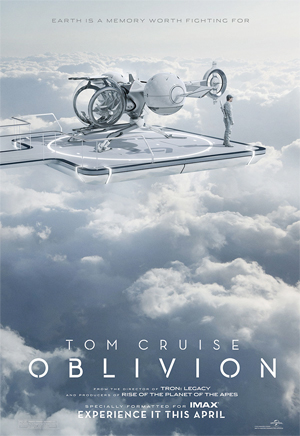 And there's sort of an organic feeling to this I noticed. It's all very sleek and shiny surfaced but more like a brand new computer than like something that would be created by a computer. After seeing it I read that they had a concept car company build the bubbleship for real and had it on a crane. So that's why it looks real – it kinda is.
I like these drones, big flying metal spheres with scanners and guns attached. Like many machines they seem to take on a personality as he deals with them. They're creepy because they don't communicate. They don't have faces but they scan his face and pause to compute before they decide whether or not they're supposed to shoot him. Or sometimes he gets in a predicament like there's a stray dog there, is it gonna shoot the dog? It's kind of like being friends with ED-209. You don't think he's gonna kill you, but you don't know for 100%. And once they've made their decision they turn on their jets and fly away like Superman, leaving you in their wake.
Of course this is more than a robot repair procedural, some other shit is gonna happen. There's this business about memories Jack has of a beautiful woman (Olga Kurylenko). And if you saw the trailer or the poster or the cast list you know Morgan Freeman is gonna show up wearing goggles at some point. (Based on how far into the movie this happens it would've been nice if they kept it under wraps, but oh well.)
It's kind of hard to discuss the things I thought were most interesting about the movie without discussing it as a whole, so if you're staying spoiler free I'll just say that this is a pretty good movie, not incredibly original but a well-executed take on a type of story I like, with some subtext that I enjoyed. And with that I bid you a fond adieu. From here on out I'm assuming everybody's seen the movie, it's SPOILERS all day.
In the opening I thought it was a little heavy on the narration. He explains all about the war and Titan and everything and I kept thinking it would be better if we just saw him go about his routine and these details sort of revealed themselves as we went along, if they became relevant. So it was a nice surprise that actually he's been lied to and the narration had to be narration because he was just repeating some bullshit to us. Good trick.
I also thought it was funny that a random dude in the future still had to have an awesome name like Jack Harper. But it turns out actually he's a hotshot astronaut, so he earned the name Jack Harper. And let's face it, it's pretty cool to be Jack Harper. I mean, he experiences some hiccups here, but mostly he has a good time.
In the beginning I almost envied his cool job. He gets to fly around in a slick, comfortable looking spaceship, he has all the good equipment, he gets to see beautiful landscapes, sit on top of a mountain, visit historical sites (I'm not sure I buy that he knows all about the final plays of the last Super Bowl, but maybe he's a nerd), gather mementos that he keeps at his private hangout. Yeah, he gets attacked sometimes but he's good at his job, he doesn't seem real scared or anything. This week I also watched HAPPY PEOPLE: A YEAR IN THE TAIGA, a Werner Herzog documentary about indigenous trappers in the middle of Siberia, and it gave me kind of a similar feeling. Despite all the things wrong with the job it just seems like a nice life being out there kind of on your own, knowing what to do and having some time to do it, not having to punch a clock or anything. A simple life.
But unlike the happy people Jack goes home to a sweet pad with a swimming pool and a wife-like co-worker with an accent and possibly CGI enhanced ass. Their relationship isn't the strongest, which becomes especially obvious when he brings home Julia (Kurylenko), a fuckin super model in a metal canister, planning to keep her. Even not knowing that he dreams about this lady (or that she's his wife) Victoria seems jealous, and he seems clueless about how she feels.
Still, it's just him and these two ladies and a wide open planet. A pretty good life.
But I started to wonder why Victoria had to stay at home the whole time. She seems to be his partner but alot of what she's doing is just reading things off of screens and moving files around on a touch screen that could probly be handled fine by Sally on the other end. And she's all business, she doesn't respond to romantic gestures from Jack like bringing her flowers or wanting to bring her to his special place on the surface.
This is it, the hollow American dream, the nice home with the top of the line kitchen appliances, the stay at home wife. After he steps in a trap, shoots at some attackers, gets his climbing cable cut and motorcycle stolen he gets home at dusk, limping a little bit, tired. Tough day at the office. He's even holding a metal case like a briefcase or a working man's lunchbox. I bet there's a Thermos of coffee in there.
He works dutifully at his job, he enjoys his luxurious life, he dreams of the day in the near future when he gets to go to the colony, he's nostalgic for the past, he yearns for something more. He's like somebody working for a big corporation that maybe makes weapons that end up in some unsavory places overseas, or a citizen of a country with some questionable foreign policy that he doesn't ever ask questions about. He doesn't know that he's actually working for The Man (or in this case The non-huMan), or that his work is really oppressing and killing his fellow man. He says "I never hurt anyone!" because as far as he knows that's true. When he finds out the truth he comes home and tries to tell Victoria and she runs into the other room saying "I don't want to know!" She wants to wait for hubby to come home in his cool spaceship and have sex in the pool. She doesn't want to feel bad about it.
Whatever goes on with Morgan Freeman and the band of survivors is sketched a little lighter than Jack Harper's world. I didn't really understand what was up with the Predator outfits – they said it hides that they're human so the drones don't shoot them. Does that mean that's really what the Scavengers look like, or that the drones consider them animals and don't bother with them? But the drone does try to shoot that dog, doesn't it? I'm not sure how that works.
One narrative weakness is that Jack is so far behind the audience in figuring out what's going on. The casting of Morgan Freeman might be to blame. If they wanted us to think that those guys aren't to be trusted they should've chosen pretty much anybody besides Morgan Freeman. We trust that guy. When he says you gotta help us get into this thing and blow it up we know that he knows something we don't. We don't think he's the bad guy.
It was cool to see Zoe Bell there. Remember how she was standing there in a couple scenes. She didn't say anything but at least she was photographed clearly, unlike in GAMER.
One nice touch: the robot shooting at people in the hallway full of great works of art (and the Liberty Bell). It's cool because it's a sci-fi-ification of an action trope I enjoy (gunfire destroying symbols of culture and wisdom such as books and statues) but also because they never feel the need to point out in dialogue that Freeman's people have tried to preserve important artifacts of Earth culture, they just have it there for you to notice.
Then there's the deal with the clones. Imagine how square you feel when you realize there's a bunch of guys out there with your exact same job, same house, same damn wife. I like how they used the clones, that it acknowledges that if she can't be with the real Jack she could still share her love with one of his clones. I'm sure she'd rather be with the first one, but she's not gonna turn her nose up at a clone.
For it to work as a sweet ending though you gotta be confident in them being meant to be together. I mean, just because they were married before the invasion doesn't mean they gotta be together forever. Alot has changed, many marriages have broken down over less. And o.g. Jack seemed pretty into it in that flashback when Victoria number one brushed close to him in the space shuttle.
But if he's really the love of her life then it's sweet that she was able to overcome his death by having a spare. You gotta wonder about what happens later though. I'm assuming there are other Jack Harper clones all over the world fixing up drones. They all must have Julia in their memory too. I know it took three years for #52 to find her, but eventually some of the other guys oughta start showing up, right? They got alot of time on their hands now that the drones are all broken. OBLIVION 2 could be about a new war between the Jacks building new drones out of the old parts to fight for their Julia.
This is of course movie #2 for director Joseph Kosinski, who also co-wrote (with the writer of that shitty Joel Schumacher/Nicolas Cage joint TRESPASS) and came up with the idea. It says it's based on his graphic novel, but that's a book that's never been published, so who cares. It seems Kosinski is a good craftsman if not a genius. He knows how to make things look real nice and has a unique sense of design. It makes sense that the sleek equipment here comes out of the same mind as the stuff in TRON LEGACY. Also I like his taste in music. It's not as great as the more computery Daft Punk score to LEGACY, but it's got kind of a similar feel and it's from somebody called M.8.3 with Joseph Trapanese.
This is alot less ridiculous than TRON LEGACY, but if I had to pick one I personally prefer TRON because it's so much more extreme in the visuals, the music, the action, the biodigital jazz. I don't know why man, I was really skeptical about that movie because the whole concept of TRON is so absurd, but I ended up digging it more than all the troniacs who were excited for it. So far I don't see signs that Kosinski is a great director, but there's proof that he's a skilled and entertaining one. Sign me up for the next one.
This entry was posted on Thursday, April 25th, 2013 at 2:15 am and is filed under
Reviews
,
Science Fiction and Space Shit
. You can follow any responses to this entry through the
RSS 2.0
feed. You can skip to the end and leave a response. Pinging is currently not allowed.