I always try to stay up to date on my favorite action movie guys. I accept them as human beings who age and deteriorate like all of us do (not including Prince), and I am very interested in their later works. But alot of people don't, they turn on their stars if the oxygen ever hits their skin or if their metabolism betrays their bellies. That Australian beer commercial with Steven Seagal that came out recently, I saw comments on other sights it was posted and everybody fixated on his weight, obviously not having seen any of the 26 movies or two seasons of reality TV he's done in the past 10 years. Same thing with Stallone, every time he comes out with a new one people start gagging about him being old, like it's the most appalling thing they've ever seen. This is just the people reinforcing Hollywood's obsession with young pretty people, but look at Clint. He's older, greyer, more withered and hoarse than either of those guys, and I don't think I've heard anybody feelin lucky enough to make fun of him for it.

Why? Well, it doesn't hurt that his movies are better than theirs, and that he's very respected as a director (and even composer). But I think it's also because he doesn't try to fight the inevitable. He never tried to stay young. No hair transplants, no bodybuilding or growth hormones, no DMX songs on the credits, no Twitter, and more importantly he's the first person to point out that he's old. His age is explicitly the subject of UNFORGIVEN, IN THE LINE OF FIRE, BLOODWORK and GRAN TORINO. He's not gonna pierce one of his ears, man. He had no reservations about starting his Old Man period.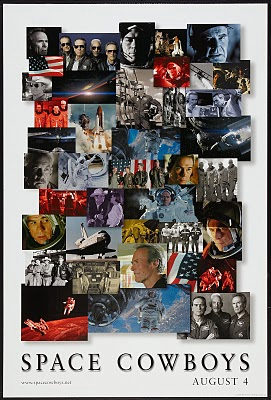 So it was no surprise when he starred in and directed one of these "funny old guy" movies in the wake of GRUMPY OLD MEN and all those. No Walter Matthau or Jack Lemmon in this one, but you got Clint, Tommy Lee Jones, Donald Sutherland and James Garner as geriatric former Air Force hot shots who blackmail their way onto a Space Shuttle mission to rescue a Russian satellite so ancient nobody can understand its guidance system except the old guy who designed it (Clint).
I always avoided this one, but I shouldn't have. You know, people said it was "GRUMPY OLD MEN in space" or "SPACE CAMP with wrinkles" or "TOUGH GUYS with a space shuttle instead of a train and satellite repair instead of armed robbery," so I fell for it and thought that's not really a movie I need to sit down and watch. But I should've known that with Clint at the helm it was gonna work.
The broad humor about boners and what not is kept to a minimum. This type of movie can belittle old people with lots of jokes about diapers and shit, and then condescend to them with some cute bullshit at the end that says "hey don't worry grandpa, you're all right. Thanks for paying to see our movie." But this doesn't feel like that, it seems very sincere in siding with the Space Cowboys's stubborn old man ways. They're shown to be correct. Most of the humor is not at their expense. The joke isn't that they're out of touch or whatever, it's that they enjoy using their old school ways as a tool to torture younger people (or James Cromwell) for their own amusement.
Clint brings his usual sense of class (jazz soundtrack, occasional moments of quiet beauty or tension) and Dirty Harry attitude (even as an old retiree who locks himself in the garage by accident he still has the badass presence, obvious exasperation for authority and knack for wise-ass insults intact).
At its center this is about Clint avenging James Cromwell for being a dick to him a long time ago, and making up with Tommy Lee even though they've both been dicks to each other. It's about men who thought they didn't get a fair shot when they were young getting that shot against all odds when they're old. By all rights they should've been the guys to go up into space, but Cromwell sent a monkey named Marianne instead. Now, whaddya know, the tables have turned. It just took some patience and retirement. And decades of bitterness, I guess.
Years later when this satellite is causing trouble he has to call in Clint but Clint refuses to just consult – he'll only help if the entire Team Daedalus can do the mission. Cromwell gives in, but he has his group of young people training alongside them "in case" they don't pass the physical, so there's competition and shit-talking between the oldsters and the youngsters, and Cromwell doesn't really intend to let the seniors go into space.
Throughout the movie Clint and the boys keep talking to people who have a dad or a mentor or somebody that they knew back in the day, and then there's an awkward moment when they find out the person is dead. It only emphasizes how lucky they are to still be around, let alone get to achieve their dream, save the world, etc. But I think there's a missed opportunity here. I think one of the members of the young team should be a monkey, the son of Marianne, Cromwell's way of really rubbing their nose in it. But they try to be cool and mature about it so Clint says Marianne, huh? Whatever happened to that old sonofabitch anyway? And the monkey uses his keyboard to say MARIANNE DEAD.
The weirdest touch in the movie is the prologue, where younger actors play the Space Cowboys, but their voices are dubbed by Clint and friends. I don't know, it's kinda distracting, like modern Kareem voicing GAME OF DEATH Kareem in BRUCE LEE: A WARRIOR'S JOURNEY, but I didn't mind it too much. I head about it and always assumed it would be ridiculous, so when I finally saw it it didn't seem so bad. And the guy playing young Clint (Toby Stephens) has just the right squint and eyebrow dip. I bet that guy feels pretty fuckin cool, and he should. And Huge Ackman was probly pissed he didn't get to do it, he was the reigning Young Clint Eastwood at that time.
SPACE COWBOYS is nothing great, but it's a completely enjoyable popcorn type movie and a good weekend afternoon use of one disc in my Clint Eastwood 35 Films box set. I never figured I'd see Clint's face CGId onto a floating astronaut. They should put that on the MTV logo. Take that, youth.