Remember TRON? The 1982 live action Disney fantasy from director Steven Lisberger (ANIMALYMPICS, HOT PURSUIT) about a dude magically sucked into a video game to play frisbee and ride bikes? It's memorable for its only-in-1982 approach to design, its one-of-a-kind black light type look, its pioneering computer effects (which still look surprisingly cool today) and a weird electronical score by Wendy Carlos (A CLOCKWORK ORANGE). The only major problem I have with it besides it being boring is the entire silly premise of a guy going inside a computer and the "programs" are alive and they battle each other.
Believe me, I'm a man who knows how to suspend the ol' disbelief. I suspend that shit all the time. I'm about this close to banning it for life. But Jeff Bridges getting shrunk and playing games with tiny neon people who live in a city inside a computer chip is just not compatible with my brain, in my opinion.
And besides, if video games are gonna come to life then why don't you put Pac-Man in there? I'd like to hear what Pac-Man has to say for himself.
Although a moderate success in its time, TRON has not generally received the same attention and replay as many of the other movies released in 1982, including but not limited to BLADE RUNNER, CONAN THE BARBARIAN, E.T. IS THE EXTRA-TERRESTRIAL, FIRST BLOOD, POLTERGEIST, PORKY'S and THE THING (in my household I could also throw in 48 HOURS, BASKET CASE, THE BEASTMASTER, CLASS OF 1984, DEATH WISH II, FRIDAY THE 13TH PART III, RICHARD PRYOR LIVE ON THE SUNSET STRIP and of course WHITE DOG).
So I never gave the thing much thought, but a couple years ago, when they showed some test-movie called "TR2N" at San Diego's Comics Con and started talking about a sequel, my internetting colleagues all flipped their wigs and popped boners like somebody'd sent them a Special 4-disc Collector's Edition Blu-Ray of Scott Pilgrim and Kick-Ass enjoying some time with Prince Leia In Slave Outfit. Until then I honestly had no idea there were people who still had a thing for TRON. I know on the internet you can find people who are into just about any freaky shit anybody ever came up with, but jesus – TRON? Well, at least it's a unique movie. I get that more than if it was KRULL.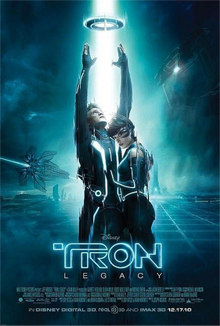 The fans are out there in the hundreds or even one thousands, and this new latecomer sequel TRON: LEGACY has the specific tastes and obsessions of those individuals dead in its laser sights. It's designed as an ultimate fantasy fulfillment for computer and sci-fi nerds born in the '70s. Not only is it a sequel that reminds them of their childhood and playing video games and shit, but the hero Sam Flynn (Garrett Hedlund, DEATH SENTENCE) is portrayed as a kid who grows up playing TRON video games and playing with TRON action figures. The first time he gets attacked he doesn't get scared, he gets excited that "I have a three inch version of you on my shelf!"
His dad Kevin Flynn (Jeff Bridges) is the other main character, and he's an arcade owner/game designer turned godlike superbeing inside a computer. Also in this computer world there are only 5 girls, but all of them are super hot and put their hands all over Sam.
So those are pretty good reasons to want to be Sam. He's also rich, doesn't have to work, and might be part ninja. Have you noticed how many movie heroes now days are super-rich, tax-cut-ready orphan sons of privilege who fucked around and neglected their business empires most of their lives, but then suddenly had an epiphany and fought bad guys? I guess with Batman the fucking around is just an act, but that description covers Iron Man, Green Hornet and now Sam Flynn.
Then again, this kid might've been travelling around the world training like Batman did. He's expert in high speed motorcycle chase, security system hacking, camera evasion, stealth, balance, car-roof-riding and skyscraper base jumping. He can do all these things in real life, so he'll do them well inside a computer (the reverse of the ol' "I learned it from Playstation!" joke; see xXx, SNAKES ON A PLANE, et al).
Like the original TRON, part 2 has some intrigue going on within this computer company called Encom. Sam is majority shareholder but instead of attending meetings he breaks in, steals their new operating system and posts it online for free, to show that he has his dad's cyberhippie anti-capitalist philosophy. I'm okay with this corniness, but could do without the bad guy executives going POLICE ACADEMY broad when they panic and don't know what to do and start frantically pushing buttons.
Soon Sam finds his dad's secret laboratory. He tries to get into his files and accidentally lasers himself into Trontropolis, where dad mysteriously disappeared to in 1989. I figured that was what happened in part 1, but according to my research he was not in the computer at the end of part 1. But nobody has to know because the DVD is out of print.
Everybody I know hates that Pixar movie CARS, they can't get past this "world where there are no humans, but cars are alive" premise. Why does a car go through a metal detector? What are they searching him for? Well, yeah, that's the joke. It's supposed to be absurd. But the world of TRON is presented as science fiction – not real, but plausible within its own reality, right? I'm pretty sure it's supposed to be.
I guess you gotta look at it more like Alice in Wonderland than like a sci-fi story. Alice in Wonderland is "what if the Queen of Hearts was a real person, and the other cards in the deck were alive too and they were her soldiers?" And TRON is "what if you were inside a computer, and the programs in the computer were people, and the people who use computers would be their idea of God?" You gotta see it as a fairy tale or a dream, not something that, like, makes sense at all, or has logic to it. That's the only way to play along, but I don't got it in me I guess.
'Cause if you allow your brain to operate during the movie it's gonna start giving you a bunch of error messages. You're gonna start getting a strong suspicion that none of this shit makes any sense at all. It might've been cute in 1982 when we didn't have computers in our homes and pockets, and they seemed like magic wizardry, but ten or more years has passed since then (check math later) and I think if they were gonna revisit this material they probly should've found a way to rework it so it seemed like it made some kind of sense.
In modern versions of this type of story, like THE MATRIX, INCEPTION or even you could argue AVATAR, the physical body stays in one place while remote-controlling a surrogate (a genetically engineered blue cat person, a dream-self, a kung fu dude in a trenchcoat) within the other world (an actual jungle planet, a computer-simulation of the world, a dream). In the TRON movies though it's not remote control – the fucking people get zapped into the fucking computer. I think.
How are we supposed to take this? Are they still made of cells? Are the streets paved with silicon? Inside "the Grid" Kevin Flynn ages, Sam Flynn bleeds, at the end (SPOILER) at least one of them gets out. It definitely doesn't seem like their bodies got disintegrated, or that their consciousnesses were reconstituted digitally within a virtual world. It seems like they are literally supposed to be shrunk down into tiny little people who live in a city inside a computer chip. But that can't seriously be what they mean, can it?
The Flynns are called "users", everybody else is "programs," they're not made of flesh and blood. When programs get killed they explode into 3-dimensional pixel cubes. When they're injured they have jagged pixel scars. So that means they're computer graphics, right? Microscopic computer graphics? On a tiny little screen inside a computer chip that some tiny flesh and blood people also live in?
Flynn Sr., by the way, still eats food. He has peas and a nice roasted pig. Does this mean there are plants and animals in Trontropolis? Is there soil? Is there weather? Or do tiny people eat computer graphics? I'd like to think the flesh and blood users eat flesh and blood food. If so that means there are Tron pigs. Somebody lasered a pair of pigs into the computer, mated them, now they raise Tron pigs in little glowy pig leotards, then butcher them with neon hammers.
I guess my main question about the movie is, whuh?
This type of basic shit is never explained, and probly can't be. But everything else about the world is explained, sometimes visually through exciting action scenes (Sam is forced to have frisbee fights and motorcycle battles like in part 1), sometimes through long explanations (various stories that might be about what happened in part 1 but I think are actually what happened between parts 1 and 2). Obviously he gets reunited with his dad, and there's a hot young girl involved (is this my new mommy?). Their quest is to get to "the portal" so they can get out of the computer, but also they gotta stop Kevin Flynn's younger computer doppelganger Clu from getting to the portal because he wants to enter the real world and destroy all the "imperfections," such as the leaning tower of Pisa, that really crooked street in San Fransisco, people with disabilities, and this websight. Our quest, as viewers, is to not question how pixel people inside a computer chip can take corporeal form, because that makes an already ridiculous story seem twice as bad.
The movie is a little long for the amount of things that happen in it, and there's not a whole lot of momentum to it. There are good moments, though, and some laughs. Bridges lets alot of The Dude through, like when he refers to some program he created as "biodigital jazz, man!"
I sort of got a kick out of the multiple uses of the old cliche of "guy with helmet covering face takes off helmet to reveal – oh shit – it's so-and-so!" And I especially like the ol' "he takes off his helmet, wait a minute– it's a girl!" because usually you just see the girl from the back and then the hair falls down, in this version they give her an electronically deepened voice even though there's no reason to hide her gender.
(on second thought, Princess Leia did that trick shortly before donning the aforementioned Slave Outfit. But this girl doesn't get caught.)
Clu is kind of a cool idea for a villain, and at the end has a an almost touching scene with Bridges (I bet that's the part Pixar suggested). But since he's a CGI version of a young Bridges (or iBridges) I was constantly distracted by his dead POLAR EXPRESS eyes. As much as the computer technology has advanced since 1982 we're still not to the point of being able to simulate Jeff Bridges' eyes. Maybe Beau Bridges. Maybe Robert Hayes (who took over the role of STARMAN in the Tv series). Maybe even Jeff before he got the Oscar for CRAZY HEART. But for now it doesn't work.
(It seemed like Zemeckis and Cameron both licked that eye problem in A CHRISTMAS CAROL and AVATAR respectively, but maybe if they had to do regular Jim Carrey or Sam Worthington they might've bungled it too. At any rate the TRON people didn't quite pull it off.)
Also there's a couple annoying characters that I was hoping to die sooner, especially Michael Sheen's obnoxious club owner Castor, who thinks he's Joel Grey or Willy Wonka or somebody, and every time they cut back to him he's doing a little dance move or spinning his cane again.
But oh shit, do I sense a plot twist coming up? Despite these and many other major flaws, and because of these low expectations, I have to admit that I really enjoyed this movie. Not trying for shock value or contrarian points, just doing my duty and telling the God's honest truth: this stupid fucking thing was a great movie-going experience.
I blame Daft Punk. Those are the two guys in robot masks, I'm not all that familiar with their music, but they did the score. They created a driving, hypnotic, sometimes completely bombastic score that makes the movie about three times better than it would be without it. They worked with a full orchestra I think, but are mainly using electronical sounds, deep subsonic vibrations, with hints of John Carpenter, Philip Glass and their own style of dance music. Even before it's in the computer world you hear these how-could-this-really-be-2010 keyboard riffs… it's good shit. And combined with generally great sound design and the Cinerama in Seattle's system turned up real loud it almost felt like watching the music performed live. At times I could feel it on my skin and vibrating in my ribcage.
The movie is at its best when it abandons words for nothing but image and abstract sound. The action scenes, which include gladiatorial disc fights, "light cycles" and a couple chases and battles with the bad guy programs, are very exciting and weird. They combine the unique rules I sort of remember from the first one, for example, everywhere you drive with your lightcycle it leaves a solid trail, so you try to trap your opponent into crashing into that trail. That original scene still holds up as exciting, but now, no longer limited in what they can animate, they're able to expand on it.
Great use of 3-D, too. I assume it was shot 3-D and not post-converted, because it looked really good. And using 2-D for most of the real world and 3-D for inside the computer is a nice WIZARD OF OZy gimmick to make the other place feel like it heightens your senses. This phony reality is built with layer upon layer of great art design, '80s retro combined with futuristic sleekness, crude video displays and deliberate abstraction. It's a world of Mac smoothness, glass surfaces, armies of men in identical, shiny armor hidden behind faceless, tinted masks and computer distorted voices, if they even talk at all.
I like it when the movie's just being weird and asking you to go with it. Like the scene where machines on the walls open up to expel 4 gorgeous women who all walk toward Sam, their high heels perfectly in-synch and creating a beat. They strip him with lasers, give him computer armor, then perfectly walk backwards, back into their pods.
(This might damage my hard-earned reputation as a gentleman, but I have to admit I kept wondering why this kid didn't make a move on any of these Tron ladies. They're outnumbered by the men but it's like EYES WIDE SHUT where they all look impossibly beautiful and glamorous. The one that lives with his dad [a mix of THE MATRIX's Trinity and BLADE RUNNER's Pris] might seem too much like a sister, or like a pet [she refers to herself as "a rescue", like his dog at home]. But I still think he should've gone for it. What happens on the Grid stays on the Grid, I bet.)
It's corny, but when the filmatism is really smokin on this thing it's like it's intoxicating. Made me stupid, made me sit there buzzing with a dumb smile on my face. And thinking about it now I kind of want to go see it again – maybe there's something addictive in there, that's not fair. Visually, aurally, atmospherically it verges on "a triumph!" (please don't put that on the ad, thanks.) It's just some of the script and of course the entire premise of the TRON series that suck. If only they ditched the story and the real world, just threw us into this place to get shoved around and figure out how to escape, we could really have something here. During those scenes where I was able to forget about logic and just be trapped in an electronic nightmare world it felt almost like a legitimately good movie. Maybe even a great one.
I'm not trying to convince anybody this is good, and I'm not making any excuses for it. Movies should be better and make more sense than this. But that doesn't mean there's nothing special about it to appreciate. It's kind of comparable to SPEED RACER – I don't want them to keep making movies like this, but as a one-off it's a unique enough experience that I'm thankful for it.
I don't think it'll hold up much at home, though. If you plan to ever see this in your life, I say spring for the 3-D Imax or the loudest 3-D digital theater you know of and just let it grab you and dunk you into the world of TRON like you're a dude who knows where the bomb is hidden.
This entry was posted on Tuesday, December 21st, 2010 at 3:13 am and is filed under
Reviews
,
Science Fiction and Space Shit
. You can follow any responses to this entry through the
RSS 2.0
feed. You can skip to the end and leave a response. Pinging is currently not allowed.