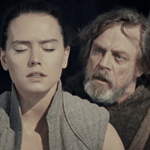 This is an ALL SPOILER review, written assuming that everybody has seen THE LAST JEDI before reading.
* * *
If you're not familiar with my take on the Star Wars, I'm a devout follower, but a heretic. I'm out of step with the mainstream because I hold George Lucas in high regard and I prefer the innovation, ideas and idiosyncrasies of his prequels to Disney's more polished and socially acceptable continuations (though I like those too).
I've also been pretty alone in my skepticism about director Rian Johnson. That might be overstating it – I thought BRICK was very well made and I did like LOOPER – but some of the ideas are a little corny to me, and I never related to the effusive praise from my friends and colleagues. So I wasn't over-the-forest-moon about him doing a Star War.
After THE LAST JEDI, though, I'm sold. And worried about him not doing the next one. In his capacity as the first sole-writer-and-director on a Star War since Lucas, Johnson succeeds in so much more than I could've hoped: continuing and deepening the characters from THE FORCE AWAKENS, bringing back Luke Skywalker for a powerful completion to his arc, thrillingly upending some of our expectations, putting a personal mark on the world of Star Wars, and saying new things about the meaning of the saga as a whole and its application to the world. Also there are some weird new creatures, and Luke milks one of them.
My favorite part is all the stuff on the island. You know I love a good training movie. As Luke rejects Rey and she waits outside his door it feels to me like some Shaw Brothers shit. In EIGHT DIAGRAM POLE FIGHTER, for example, the fifth Yang is turned away from the monastery because he's too crazy, but he stubbornly persists and belligerently forces his way into the ceremony, eventually proving himself worthy of training. His background is in spear fighting, which he adapts into pole fighting, much like Rey with her staff.
When Luke ignores Rey all day and she follows him up mountains, I felt he was training or testing her without her realizing it. Ultimately this does not seem to be his intention, but she receives schooling nevertheless: she follows in his footsteps, does what he does, proving she can hang until she's drawn to the ancient Jedi texts.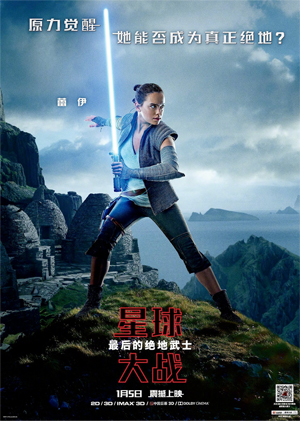 During production, Johnson told Empire that some samurai shit was an inspiration: "THREE OUTLAW SAMURAI for the feel of the sword-fighting, and the general sense of pulpy fun." I'd never have noticed that, but Hideo Gosha's film does have some thematic overlap with THE LAST JEDI, with its samurai helping peasants in a rebellion against their corrupt oppressors.
I noticed a more direct reference to Kurosawa. Finn and Rose are in a jail cell trying to figure out how the hell they're gonna break into the First Order ship to jam the tracker, and they have no idea Benicio Del Toro is in the cell with them until he wakes up and offers his expertise. This has got to be a nod to SANJURO, where Toshiro Mifune wakes up in a barn, overhears the planning of a conspiracy and butts in. Like Yojimbo/Sanjuro, Del Toro plays a weird, impulsive trickster who's willing to mess around with either side of the conflict because he's on neither. He does end up being more of a scoundrel than Sanjuro, though – unless we see him again and he redeems himself.
That's part of what made this feel like true Star Wars to me – it has deeper influences and references than just previous Star Wars pictures. I never felt like it was stoking my nostalgia (even when it was – god damn it Yoda it's good to see you a puppet again), it really felt like it was telling us a new story in the language of Star Wars. In J.J. Abrams' enjoyable but backward-looking chapter, Kylo Ren is a Darth Vader fanboy who wears a mask inspired by him and even lugs his remains around like Norman Bates or Ed Gein would. In Johnson's forward-looking chapter Kylo crushes that mask at the beginning, never wears it again, and sets out to destroy all the old shit (the Sith, the Jedi, the Rebellion, possibly podracing but that is not specifically stated). As mechanic turned hero Rose puts it, the good guys try to save what they love, the bad guys destroy what they hate. That was a corny thing to say about blowing up a cannon, but I'll allow it because of its larger implications about the story of THE LAST JEDI, and Star Wars as a whole, and our country today, and the world.
I love Rey and Kylo's telepathic conversations. This is a good example of an ability we've seen in previous Star Warses, but expanded into something entirely new and used in a very different, dramatic way. Instead of two heroes warning each other from afar it's the hero and villain corresponding. At first Rey is telling Kylo he's going to pay for what he's done, eventually she's confiding in him about the deep pain of not knowing her parents. They're relating to each other, becoming confidants while still at war. Of course I love that shit. It's John Woo, it's HEAT, it's OUT OF SIGHT. But it also builds off of Star Wars, the idea of Anakin turning to the dark side, Luke being tempted by it, Vader coming back from it, the great reversal that Abrams set up where Kylo is tempted by the light side. It expands Lucas' idea that despite the seemingly binary terms of the Force, heroes can turn into fascists and villains can redeem themselves. And in this case it's more complicated. Kylo saves Rey and kills Snoke, but not in the service of good.
Star Wars often asks you to consider things "from a certain point of view," and here Luke and Kylo tell different versions of the Jedi school massacre. The revelation that Luke pulled a light saber on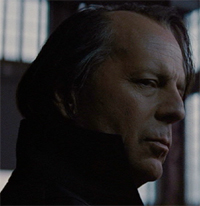 his sleeping nephew is a shock. (By the way, Director trademark: older actor wears goofy wig in scene that takes place earlier.) But I think Luke's explanation makes sense when we remember that he was tempted by the dark side all through his journey. As was his father, his nephew, his new student. A moment of instinct tells him to take a short cut, to kill Baby Hitler. He thinks better of it, but just the idea has already set disaster in motion.
The match cuts between Rey and Kylo show how much they are sides of the same coin, and when they fight they even combine their power into some kind of Force blast that splits in half multiple Star Destroyers and the storied light saber that Anakin fought the Clone Wars with, that he was using when he got burnt and chopped, that Obi Wan passed on to Luke, that Luke dropped when he lost his hand and found out Darth Vader was his father, that Rey used after the Force awakened in her (and Finn got a turn too), that entitled brat Kylo said "belongs to me."
[UPDATE: Okay, I guess I misunderstood the cause of that blast. Sorry!]
I read somewhere that every time the Jedi kill someone in the Lucas movies it makes things worse. They seem to be following that here, and I'm really curious how they can resolve everything in the next one. Now that it's Kylo on top they can't win just by killing the bad guy, and that's great! Two dramatic moments here are Luke fighting Kylo in the flashback and Luke fighting Rey in the present – both fights we don't want to happen. The Resistance space battles have a similar sense of morality. When Poe goes on insanely dangerous missions we cheer his audacity and humiliation of the sniveling General Hux (who is a hilarious foil throughout this funnier-than-usual Star War), but so many other ships get tragically mowed down that it's upsetting in a way none of the other Star Wars space battles have been. So when Leia chews him out we gotta side with the boss over the flying ace. What do you think this is, Poe Dameron – TOP GUN?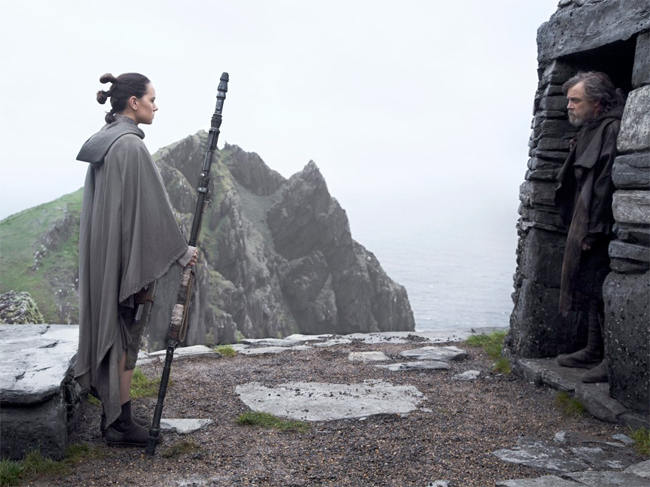 I learned from Twitter that many people hate THE LAST JEDI. I'm holding off on reading reviews until I finish this one, but I know some people don't like the answers Johnson provides to the two biggest questions people asked after FORCE AWAKENS.
Which is fucking crazy! The answers are much better, and in one case much more meaningful, than the obvious ones we assumed.
Q: Who is Snoke?

A: Why do I give a shit. He's Snoke. Was Snoke.
Okay, this was kinda pulling the rug out from under us, to make him mysterious and then abruptly render his background irrelevant by chopping him in two so soon in the movie. Maybe people prefer to know what's gonna happen and not have something nobody expected to happen happen, and it makes them sad. But I'm glad that's not my instinct. I fucking loved it. Was I surprised? Yes. Did I involuntarily blurt out "Oh shit!" in the theater? Yes. Was this delightful unpredictability better than if it turned out Snoke was a deformed version of some character that appeared in Star Wars before, as theorized in an entire cottage industry of Youtube videos? Absofuckinglutely of course yes, are you kidding me? That sounds dumb, you're really disappointed it wasn't that?
(And if it's so important to know then just hold your horses dude, you know there will be a comic book or some shit.)
Q: Who are Rey's parents? She's a Skywalker, right? She's Luke's daughter! She's Kylo's twin! She's a Kenobi! She's a Sebulba! She's definitely somebody special!
A: No, she's just Rey. Her parents are Rey's parents.
Now, that people don't like this one, that's more of a problem 'cause it's pretty much the key point of the movie. If it had turned out she was a Skywalker, that would be the most obvious shit in the world, the thing that every one of us expected, the thing that every fan fiction Episode VII would've been about, the most predictable possible rehash. I think you're fooling yourself if you really believe you would've been satisfied by that. You know you better than I do, but call me skeptical.
More importantly, the true answer gives her story, this trilogy, its meaning. That Rey comes from "nobody" is exactly why Kylo was so pissed that she beat him before. He thinks because he's Darth Vader's grandson and you're not that he's better than you. It even stumped Luke. "Who are you?" He figured she must be some VIP to have been sent on this important mission. But Rey is special because she's Rey, not because of where she came from. You don't have to be royalty. You don't have to be The Chosen One. You might not even need a high midicholorian count – this goes wisely unaddressed. (I think I said before, that whole thing was probly debunked. People who still believe in it are like the anti-vaxxers of the Star Wars universe.)
Maybe nobody carted you off to a remote planet to hide you because you were so important. Maybe your parents literally sold you off for beer money. Nobody ever though you would amount to shit. Nobody. But that doesn't have to stop you. You can make your own destiny.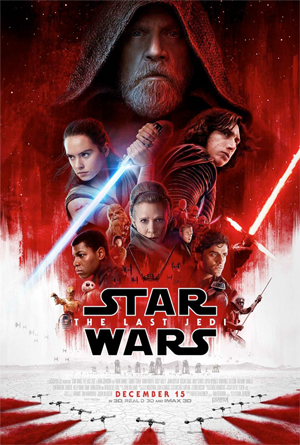 That egalitarian theme rolls off of the island to the rest of the movie, including Canto Bight. It's the most prequely section with all the clunkiest parts, but it's not a random tangent. Rose describes it as a disgusting, evil place, and we picture the wretched hives of scum and villainy we've seen in other Star Warses – bars and palaces full of bounty hunters, vile gangsters, musicians and weirdos. Instead we cut to a luxurious casino for the galaxy's super-rich. We learn that the well-off are the war profiteers, their prurient excess built on suffering and the backs of the poor and child and animal labor. And here come a couple of ham and eggers who made a choice to buck the system and join the Resistance, and they get to share a moment of joy thinking that even if they failed their mission at least they got to fuck up some assholes' gambling night.
An ex-stormtrooper and a mechanic. Some kids forced to work in a barn. All the downtrodden of the universe, who will be inspired by the rebel insignia to rise up. This triumph-of-the-little-guy theme comes from Lucas too. Luke was a farm boy who dreamed of adventure, Anakin was a slave who loved to build things, the Ewoks were physically small, technologically crude natives who smashed the fucking Empire with rocks and logs, the Gungans were taller and less cool but had similar achievements. (And you could throw in THX 1138 and WILLOW if you wanted.)
Luke spent his youth dreaming of getting off that damn moisture farm, and his old age waiting to die on a tiny island. I was nervous about bringing back this iconic character decades later (RETURN OF THE JEDI, theatrical cut, was a perfect ending as far as I was concerned) and specifically that they might do some cheap stunt of turning him to the dark side. I think they handled him great, though. He gets a full arc, from grouchy abstainer to reluctant teacher. He got to grow into Old Man Skywalker and still learn new things from Yoda like he's still a padawan. He got to have a moving reunion with his sister. And best of all he got to exhibit badass Jedi powers beyond any we've seen before. "See you around, kid" had me pounding my knee and cheering like a goon. That was partly because I thought they were gonna let him live to fight another day, and we quickly learn otherwise, but his death is so beautiful and mythical that it's hard to be sad about it. And I'm sure he'll look good in transparent blue.
Everything with Leia was, of course, more emotional. It's hard at this point not to get sad about the loss of Carrie Fisher, and the disappointment that Leia won't be able to have an ending like Han and Luke. But we at least got my one big wish that she would in some way fulfill the "there is another" prophecy, and I couldn't have asked for a more spectacular way for her to exhibit her strength with the Force. The excitement may dim after repeat viewings, but for now it reminds me of seeing ATTACK OF THE CLONES for the first time and finally confirming our decades of speculation that if Yoda is a Jedi Master he must use a light saber.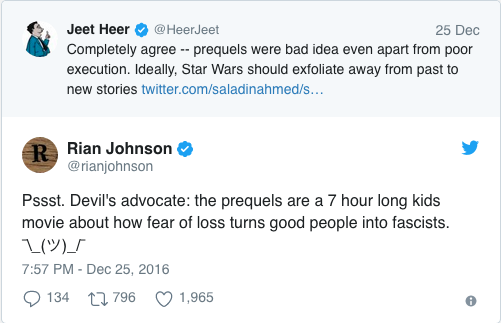 Before Artoo and Yoda get him to change his mind, Luke points out one of the less acknowledged ideas of the prequels, one that Mr. Subtlety has written of eloquently in the comments here before: that the Jedi orthodoxy and hubris shown in the prequels was their downfall. That it was when they were at their strongest that they fell. That "a Jedi Master trained and created Darth Vader." So he and Yoda burn it all down (or most of it – I think Yoda knows Rey has the books) because those things are not the religion. They're just things. The future of the Jedi is in the combination of Rey's raw potential and Luke's beautiful explanation of the Force. It's talent mixed with ideas and relationships and influences.
The Jedi stuff is my favorite stuff in Star Wars, just as I prefer kung fu movies to war ones. Jedi stuff and martial arts are about movement, myth, discipline and philosophy. They combine action with poetry – metaphors that can be interpreted in different ways and applied to your life. The Jedi Order is like the Shaolin Temple – a sect that brought great wisdom and power, and had legendary adventures, and is not the end-all-be-all. By the time Luke was around there was no Temple, no Jedi, but he was able to take the lessons passed down and apply them to his circumstances, reinventing what it meant to be a Jedi Master. And now Rey will do the same. As Yoda says in one of the best moments of the movie, "We are what they grow beyond. That is the true burden of all masters."
And that's also true of George Lucas. He presented us his teachings, and they have been applied by direct students, in the case of the guy making the Star Wars animated shows and other people still working at Lucasfilm, and now by indirect students like Abrams, Edwards and Johnson. To me, treating Star Wars merely as an intellectual property to regurgitate and fetishize and nostalge all over, without trying to reinvent and evolve and surprise, without a basis in ideas and wisdom, would be the dark side. THE LAST JEDI, I'm so happy to say, is drawn to the light.
In loving memory of Admiral Ackbar
This entry was posted on Monday, December 18th, 2017 at 12:48 am and is filed under
Reviews
,
Science Fiction and Space Shit
. You can follow any responses to this entry through the
RSS 2.0
feed. You can skip to the end and leave a response. Pinging is currently not allowed.