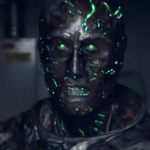 What you gotta do with some of these movies, you gotta wait a year, so it's after it already came out and the director publicly disowned it and it flopped and everyone said it was a piece of shit and dissected how the studio reshoots ruined or failed to save it. That's what I did and then FANTASTIC FOUR didn't seem as bad. I'd go so far as to say I kind of enjoyed watching it.
The opening threatens to be GREEN LANTERN, with its kid versions of two of the four. But it's okay, it just establishes that Reed Richards (Miles Teller, FOOTLOOSE) is a genius inventor prodigy and Ben Grimm (Jamie Bell, SNOWPIERCER) is his working class buddy who helps. When their high school science project actually warps matter to another dimension, Reed gets a scholarship to The Baxter Institute, where Sue Storm (Kate Mara, TRANSSIBERIAN) and her dad Dr. Franklin Storm (Reg E. Cathey, THE MACHINIST) plus grouchy ex-student Victor Von Doom (Toby Kebbell, DAWN OF THE PLANET OF THE APES) are working on a similar project. With Baxter's son Johnny (Michael B. Jordan, CREED) taking Ben's assistant role, they build a dimensional portal to be used by NASA.
That's when they make a poor decision: they get drunk and call Ben and try the thing out themselves. (Not "The Thing." The dimensional portal thing.) That's pretty original, actually. I believe Ultron is the only other comic book movie character with a scientists-had-a-few-too-many-beers origin.
What I liked best is how different the origin feels from other super hero movies. It plays more like a sci-fi horror movie. An accident fucks them up, they find themselves bolted to gurneys in "AREA 52 – UNDISCLOSED LOCATION." It does a good job of showing how changes in your body like this would be horrifying. It honestly seems more inspired by THE FLY than SPIDER-MAN. Johnny looks like a burning corpse. Ben looks like a pile of rocks. Reed has monstrously long limbs, strapped down, begging first for information about his friends' condition, then forgiveness. Victor doesn't make it back. Until later.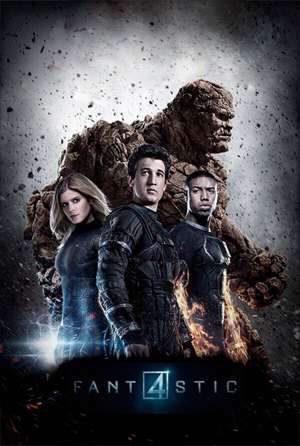 From there the story doesn't proceed at all as I expected. That's a good thing. Reed escapes, and goes on the lam like Bruce Banner, and it skips ahead some time. Nobody has become a super hero. The other three stay and willingly live as test subjects, studied by the military, working to control their powers. Ben (not a.k.a. The Thing as far as they mention) is being sent around for black ops clobbering missions. Dr. Storm worries that Johnny will be next.
There's an interesting class thing here. Ben recognizes, maybe with some resentment, that fighting is what he does. He's not one of these geniuses. There's a little tension there, but also some sense of duty. I think he feels alternately inferior and superior around them. And Johnny, who is not expected to be a military guy based on his background, does want to be one, and has to fight his father about it.
Reed feels guilty about getting Ben into this mess, and Ben doesn't forgive him right away. Reed asks him if it hurts. That was done first – and better – in the first X-MEN. But I like that these "powers" really do look painful. It's not a stretch (get it, because the one guy can stretch, I'm still working on this joke though sorry guys) to say that this is part super hero movie, part body horror.
John is maybe the most under-served character, but he has the coolest power. His face looks like a burning Halloween mask, but it's recognizable as Jordan. An impressive special effect. And as much as we all appreciate the ol' practical effects, I think we can also all agree as a society that this CGI The Thing looks way, way better than poor Michael Chiklis's makeup version.
The characterization of their asshole colleague Victor is pretty corny, and not enough is made of him being tragically lost in the other dimension. They barely seem to give a shit! But his arrival as a weird metal/human hybrid (without moving mouth?) is another good horror type sequence. It has that I KNOW WHAT YOU DID LAST SUMMER element of oh-shit-he's-trying-to-kill-us-and-to-be-honest-we-kinda-deserve-this-in-my-opinion. Also I got a kick out of the awkwardness when some astronauts ran into him by accident while exploring the other dimension. "I knew you'd come back for me!" he says.
Uh… yeah. Yeah! That's totally why we're here!
When it's over, and you think through everything that happened, it's clear that something's missing. Even more than SUICIDE SQUAD or BATMAN V. SUPERMAN, the parts that are successful feel like loose puzzle pieces that you have to figure would've fit together better if they hadn't thrown a bunch of them away and replaced them with pieces from a different puzzle. There are different character moments that make me like these guys, but they don't seem to have complete arcs.
Then they just have a fight out in the middle of nowhere against Victor and his, uh… make-cars-fly-around powers? If it were real it would be the most spectacular thing that ever happened, but in a super hero movie it seems like small potatoes. The story ends up feeling so small and simple in the end that you'd almost think it was a low budget movie. I'm sure they wish it was.
The screenplay is credited to Jeremy Slater (THE LAZARUS EFFECT, upcoming Adam Wingard DEATH NOTE) and Simon Kinberg (xXx: STATE OF THE UNION, MR. & MRS. SMITH, X-MEN 3, 5 and 6) & director Josh Trank, who reportedly had to sit by helplessly as others reshot and re-edited the movie when his version allegedly wasn't working. I forgot while watching it, but at least one of the trailers had a cool action moment with The Thing doing his special ops missions, something that's only tantalizingly glimpsed on a monitor in the finished movie. It's weird if a studio wanted less action in a movie like this. I wonder what's up with that?
As a feature director, Trank had only done CHRONICLE, the super hero found footage movie written by M*x Landis. The two things I remember being good in that movie were Michael B. Jordan (who Trank fought to have as The Human Torch) and some clever gimmicks where the super powers move the cameras around so they can have good camera work in a found footage movie.
And people don't normally mention this, but Trank was editor and co-producer of BIG FAN, which should count for something.
At the time I thought it was weird that he got hired for both THE FANTASTIC FOUR and a STAR WARS spin-off movie on the strength of that not-that-great found footage thing being a hit. Seemed like the studio knew something we didn't. But maybe not. I feel bad for him that this movie got taken away from him, he maybe killed his career by tweeting bitterly about it just before the release, and he left/got fired from the STAR WARS movie. There was gossip about allegedly yelling at everybody and a story about his small dogs doing hundreds of thousands of dollars of damage to a rental house, which I'm hoping will be the subject of a future James Cameron 3D Imax documentary. In the old days a guy who got a movie taken away from him by a studio would be seen as the underdog hero (think Sergio Leone on ONCE UPON A TIME IN AMERICA, Terry Gilliam on BRAZIL, David Fincher on ALIEN 3, Brian Helgeland on PAYBACK, Louis C.K. on POOTIE TANG, etc.), but the entertainment media immediately made Trank out to be the bad guy.
I don't know what happened. Not having been there it seems plausible that he was completely blowing it and they didn't have much of a choice. But if they did have a choice, they did hire him for his vision, they shoulda let him see it through, in my opinion. Off the top of my head I can't think of any historical examples where a studio reworked a bad movie without the director and made it into a hit.
Now that I've seen FANTASTIC FOUR I gotta say, the stuff I liked in the movie was the kind of stuff Trank talked about in interviews, comparing it to a Cronenberg movie or something. It seems completely wrong-headed for the fucking Fantastic Four, who have the word Fantastic in their name, and in their last movie met "The Silver Surfer," to be the characters to have this type of approach for. Trank put them in a world where it wouldn't work if The Thing was wearing underwear. Is it really worth making FANTASTIC FOUR if it can't have a rock man wearing blue undies? You would think no.
And yet, honestly, it comes closer to working than those silly ones with Jessica Alba and Chris Evans. Maybe you're disappointed that they don't have a funny robot guy in a cloak who's the dictator of a country, and that's completely fair. But they do have a creepy looking guy made of some kind of… bio-metal… created on a mysterious plane that, in the better scenes, has an effective sense of fear-of-the-unknown danger. They got part way there. In different circumstances maybe it could've been something.
Maybe next time. And there will be a next time. These film rights aren't gonna renew themselves.
This entry was posted on Wednesday, August 10th, 2016 at 10:46 am and is filed under
Comic strips/Super heroes
,
Reviews
. You can follow any responses to this entry through the
RSS 2.0
feed. You can skip to the end and leave a response. Pinging is currently not allowed.