THE KARATE KID was such a phenomenon, man. It mainstream-popularized karate in the U.S. and was heavily imitated in everything from kid's movies to sports movies to actual action movies. It was sequeled, next generationed, cartooned, action figured, parodied in REVENGE OF THE NERDS, postmodernly referenced and recently remade. It's hard to remember what the context was then. I can't really watch it without comparing it to martial arts themed movies made since then. But I'll try to be nice.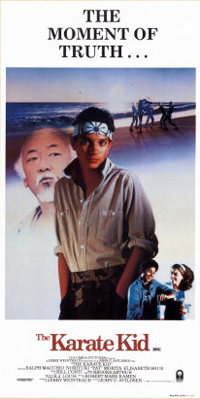 THE KARATE KID is the story of a weiner (Ralph Macchio, TEACHERS) who moves with his mom from New Jersey to California. His neighbor invites him to a beach party where he becomes smitten with future Oscar nominee and PIRANHA 3-D star Elizabeth Shue. But then this big blonde kid named Johnny (William Zabka) shows up. He's Shue's ex-boyfriend, he gets in an argument with her about her radio (you know how teens are). Daniel either boldly or delusionally tries to stand up for the girl, so Johnny karates him and leaves him crying face down in the sand. And like those old Charles Atlas ads from the '60s Johnny and his posse even kick sand in the kid's face by driving by on their dirt bikes.
Johnny is what modern man calls a "total douchebag," and he's under the influence of a one-dimensionally evil ex-Special Forces sensei who preaches that "mercy is for the weak." But in the interest of fairness it must be stated that Daniel (the weiner) basically demands to get his ass kicked through his activities at the Halloween dance. He sprays the bully with a hose while he's on the shitter, and then runs off. I'm not saying Johnny didn't deserve to be sprayed with a hose, I'm just saying that it's not as if Daniel should be surprised that when he sprays this asshole with a hose the end result is getting karate kicked into a fence. I mean, if you don't want to get stung you shouldn't headbutt a hornet's nest. I guess that's why it's not called THE COMMON SENSE KID.
But you remember what happens. The apartments he live in have this maintenance man (a really fucking terrible one, by the way – you hardly ever see him working, and when Daniel tries to get him to fix a sink he plays the language barrier card) named Mr. Miyagi (Pat Morita, COLLISION COURSE) who saves him from the beatdown, then sort of mistakenly gets involved in confronting the rogue sensei and next thing you know he decides to train Daniel in karate and enter him in a regional tournament to show those pricks a thing or two.
It's easy to forget because he's become so familiar, but Miyagi is a pretty great character. He scowls, speaks in froggy-voiced broken English, tricks Daniel into cleaning his car collection and painting his fence and house, but somehow seems charming and lovable behind that. Maybe it's because if we were him we would also trick the little wimp into doing all of our chores, but then feel kind of bad about it and start being nice to him. I guess they considered Toshiro Mifune for the role, which I can definitely see working. But having the little wiseass in the role brings something different to it. Okay, it makes him more like Yoda. Or Mako, who was also offered the role. But it works, and his relationship with the kid is the part of this movie that stands the test of the time. I can't really say the same for other aspects, including but not limited to music, acting, and karate.
Okay, maybe it's not fair to hold this up to the standards of either actual karate or movie karate. But watching this movie now I have trouble buying into it. I figure the reason it caught on so big was the fantasy that the skinny little wuss can, through a few months of hard work, physically dominate and humiliate the shitheel that embarrassed him in front of girls. And it's even better that he doesn't have to bulk up through the Charles Atlas system. He just has to learn Ancient Eastern Secrets. Nerds love that shit, and anybody else enjoys a good underdog story.
If you want to dig a little deeper there's a generational conflict like there was in FIRST BLOOD. The bad sensei Kreese is a Vietnam vet, Miyagi fought in "the good war" WWII. That's one way movies explain different philosophies, based on what war they fought in. So the two fight about which direction to send the next generation in.
And like REDBELT, or like a metaphor about organized religion, or like a small band of rebels fighting against the Empire, Miyagi represents a humble practicioner who quietly holds up true, pure karate against the corruption of organized, Americanized, competitivized karate. When they show up at the tournament's registration desk Miyagi is asked what belt Daniel has. The ranking of the belts is so important to these beach community warriors, but to Miyagi (an actual Japanese karate man) it's so irrelevant he didn't even think about it. So he has to call Daniel a black belt and steal a belt for him to wear.
I stand behind Miyagi's philosophy, but I'm not sure the results support what he's doing. I'm sorry, you look at this kid doing his fake karate and it's not even remotely believable that he's allowed in this tournament, let alone able to win it. He never looks like he's skilled or strong enough to compete, and it's not like he's winning through cunning and smarts, because he shows up at the thing and has to have the scoring system explained to him by Elizabeth Shue. During the matches he wiggles his arms like a sissy, dances around like he was specifically reprimanded by Miyagi for doing, and ends up in tears two different times.
I was prepared to give Miyagi's training methods the benefit of the doubt. Yeah, so Daniel does more waxing than kicking, he never spars with an actual opponent or even uses punching bags or dummies, and he's not taught anything about the rules of competitive karate. But there is a training montage complete with inspiration rock soundtrack ("You're the Best (Around)"). So maybe he learned the useful stuff in between edits.
But when you see how he fights at the end and how he wins it's clear that Miyagi is no Yoda. He just got lucky with this kid. I'm all for the action movie tradition of a character learning a special move earlier in the movie and using it for the big win, but the thing with the crane kick is fucking ridiculous. You can't tell me that blackbelt Johnny is gonna look at him standing in that pose and think "I don't know why he's standing like that, but one of the feet is in the air, that must be the one he plans to kick with so I think I'll go ahead and line my face up right to where the other foot would kick if he were to suddenly do a crane kick, which obviously is not what he's planning so I should be safe by doing that." Look at this shit:
He ran right into that! What the hell is he doing? I guess maybe the idea is that Daniel didn't win through skill or training but through his opponent's almost impossible level of incompetence. That's why it's inspirational, because any one of us could've beat that asshole. He was destined to blow it eventually.
I could be wrong but it seems to me like THE KARATE KID has a reputation as more than just a cheesy '80s movie, but as something of actual quality. Morita was nominated for a best supporting actor Oscar for it, which is cool. But I've talked to people who really like it as a drama. The obvious comparison is the earlier hit by director John G. Avildsen, ROCKY. In ROCKY I really believe that Rocky could win, but he doesn't, and it doesn't matter. In THE KARATE KID there's no fucking way the kid would be conscious after his first match, and somehow he wins a whole tournament, the end. It leans a little away from drama and more toward unearned wish fulfillment.
I'd seen NO RETREAT, NO SURRENDER more recently than THE KARATE KID, and I knew it was a rip-off, but it was funny to be reminded how much of a rip-off. They have the same business with moving into a house, making instant friends with a neighbor while moving the things in, checking out the local karate dojo but not being able to join because of a bully in the class who's after the same girl, then having to train on his own and fight in a tournament. NO RETREAT does achieve its goal of having way better martial arts than THE KARATE KID, and also it has more breakdancing and ghosts. As far as professionalism in acting, cameras etc. though it's pretty shitty by comparison.
One thing that's interesting: THE KARATE KID was written by Robert Mark Kamen, who later became known as the guy who just writes Luc Besson productions. He wrote THE FIFTH ELEMENT, KISS OF THE DRAGON, THE TRANSPORTER, BANDIDAS and TAKEN. And hey, wait a minute – THE TRANSPORTER was even directed by Corey Yuen, who did NO RETREAT, NO SURRENDER.
Here's some circa '84 white people karate competition I found on youtube:
You think Daniel could hold his own with those guys? I don't, but we'll see I guess. I'll have to watch part 2 one of these days, maybe it'll reverse the ROCKY series and have him lose in the second one.