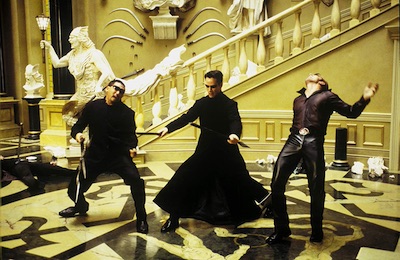 You may know Mark Palermo as the screenwriter of DETENTION (Joseph Kahn one, not Dolph one) or as a thoughtful commenter around here for many years. It turns out he's also a podcaster. Mark and actress/filmmaker Loretta Yu host The '00s Zone (pronounced like "ozone"), looking back at movies from the '00s. And they were kind enough to invite me for their episode looking back at THE MATRIX RELOADED and THE MATRIX REVOLUTIONS.
I had a great time talking raves and Sentinels with Mark, Loretta and fellow guest Riley, and having listened to a couple episodes for preparation (I chose the ROMEO MUST DIE and CROUCHING TIGER HIDDEN DRAGON two-parter) I can vouch for this as a smart podcast offering a different perspective on these movies than any of the other ones I listen to. I'm going to check out some more.
Please enjoy this episode and let me know what you think, but don't exhaust your MATRIX talk since, as teased at the end of the episode, I'll finally be reviewing the whole series (so far) next week.
This entry was posted on Thursday, December 9th, 2021 at 1:21 pm and is filed under
Blog Post (short for weblog)
. You can follow any responses to this entry through the
RSS 2.0
feed. You can skip to the end and leave a response. Pinging is currently not allowed.