Everybody loves Denzel Washington, including me, but I'm not 100% sure why. I mean, he's a real good actor. Shoulda got an Oscar for MALCOLM X. Was good at chewing it up in TRAINING DAY when he did get the Oscar. He's just so great at playing intelligent, strong, capable. But the weird part for someone as popular as him is that he's not so big on playing likable heroes. His usual character is intense but mostly humorless. Kind of self righteous. Kind of a dick, if you think about it.
So it was pretty brilliant to cast him as a lone samurai walking through a post-apocalyptic wasteland on a mission of faith. The Denzel persona is much more endearing when he doesn't just give verbal beatdowns, but full-on swordsman massacres. Actually he's a little different in this one too – quiet and kind of crazy from being alone.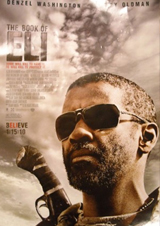 The movie is by the Hughes Brothers, who I really like even though they haven't made a movie in 9 years, and that was FROM HELL. Good for them getting Mr. Drama to do something like this. I guess he does those Tony Scott thrillers and stuff, but that's about as loose as you'd expect these days. It's been a long time since RICOCHET, that's for sure.
I read somewhere that Denzel was one of the first choices to play Blade. I'm glad his MO' BETTER BLUES bandmate took it instead, but it's funny – I always thought the idea of Denzel as the Daywalker was ridiculous. Now here he is 12, 13 years later doing what he referred to in Entertainment Weekly as "Blade stuff," and convincingly. His fighting is mostly of the "you come up to me and threaten me, but then I do a couple quick moves that leave you whimpering on the ground" variety – so old, but so enjoyable. But there are a couple full-on multiple attackers fight scenes, and those are fun too.
The fights are by Jeff Imada (BOURNE movies, BLADE, John Carpenter movies), and Denzel was trained by Dan Inosanto (Bruce Lee's #1 student, "the Professor" in REDBELT, "Sticks" in OUT FOR JUSTICE). There's been alot of hype that the Hughes's had them do the fights in long takes, no disorienting cuts or closeups like you and I hate. Despite what you may have read it's only the first fight that's in one take, and I'm not sure it's true that Denzel did all the fighting, because that one's all in silhouette. But the action is all good, from barfights to bandit encounters to a ridiculously escalating gunfight. This is one of the only movies this year with a battle involving Academy Award winner Denzel Washington, sitcom star Mila Kunis, Punisher Ray Stevenson, Gary Oldman, a gatling gun, and HARRY POTTER's Michael Gambon as a friendly grenade-tossing cannibal. I mean, that's not an ensemble, that's a motley crew.
Denzel's mission is to carry his Bible west, because a voice told him to. Manifest destiny. But he goes through a small town (like one in a western, except with the headquarters in an old movie theater) where Gary Oldman happens to be a leader desperately seeking a Bible so he can use its words to rope in "the weak and the vulnerable." He's a pretty one-dimensional bad guy, more of a symbol than a character, but Oldman plays him kind of real instead of playing him PROFESSIONALly.
They try to get this Eli to hand over his Bible, but he refuses and walks out of town, so Oldman's goons go after him. Most interesting is Stevenson, who I didn't recognize without his skull t-shirt. He continues his streak of strangely sympathetic and eloquent murderers. Man, give that guy some more roles. He's great.
The details of the world are there – how they get water, how they barter, who to be afraid of, how to hunt a cat. I think the best scenes are little moments of happiness for Eli – when he finds some good shoes and struts around in them; when he listens to Al Green on his iPod and cleans himself off with KFC moist towelettes. There's talk of how in the old days people threw away what people would kill for now, and you see the value of little things. FOr example Oldman shampoos Jennifer Beals's hair – it's like a luxury vacation in a travel-size bottle. Even the most powerful guy around can't get shampoo very often. I mean, it's a little bottle like you get free in a hotel, and to them it's like they found a diamond or something.
So it's a good character, good performance, good setting, but to tell you the truth the story is not quite there. I think it gets bogged down in Bible talk in the second half. It's not too preachy (just a simple guys-who-believe are better than guys-who-exploit theme) but it gets distracted from the asskicking, and then doesn't have a climax big enough to recover. It does have an interesting surprise that makes you want to watch the movie again to see if it makes sense, but I'm not sure the significance of that twist, if any. It's cool, but is it empty? I think it might be. I'm not sure.
The obvious comparison is THE ROAD, and I thought this might end up being the post-apocalyptic action movie that the Weinsteins wanted you to believe THE ROAD was when they made all those horrible trailers. In THE ROAD they're travelling east and in ELI he's traveling west, but they're not complete opposites. ELI is more fun and mainstream, but I think it's also trying to be more thoughtful than it can handle. It can't really compete with THE ROAD for raw emotion and hope in the face of devastation, so honestly it could stand a little more popcorn. And maybe a little more color – I'm kind of sick of every movie being washed out to almost look black and white. But they probly didn't know what THE ROAD was gonna look like when they made this.
A better comparison might be TERMINATOR: SALVATION. Both have action scenes and settings better constructed than their stories. And, sorry to say this ELI, but SALVATION looks better and the action is more exciting. It has more money to spend, so the desecrated landscapes look like a real place as opposed to the fakey Photoshopped landscapes of ELI. But ELI doesn't get as dumb as SALVATION, it doesn't have the same legacy to live up to, and the story is at least more focused. So it wins overall.
All of the recent post-apocalypse movies have been enjoyable in different ways. But all of them make me want to call the hospital and ask for Dr. George Miller.
Despite all this, it's pretty fuckin great to see Denzel playing a post-nuclear samurai. So I definitely recommend this. And I hope the Hughes Brothers don't take another 9 years for their next one.
This entry was posted on Thursday, January 21st, 2010 at 2:29 am and is filed under
Action
,
Reviews
,
Science Fiction and Space Shit
. You can follow any responses to this entry through the
RSS 2.0
feed. You can skip to the end and leave a response. Pinging is currently not allowed.