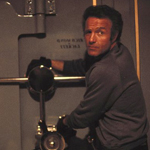 THIEF is a pure dose of most of what I love about Michael Mann. It's moody, atmospheric and macho as hell. It matter-of-factly drops us into a gritty underworld, makes us feel like we're witnessing the real deal, and puts us on the side of a guy who has no business being the good guy except that he lives by more of a code than the other guys do. Not even really a code of honor, just a self-serving code of independence, but one that we can loosely apply to more ethical aspects of our own lives.
By today's standards it's an arty movie, full of long, quiet scenes, not a bunch of noises to tell you it's exciting. It opens with a 10 minute heist sequence where everything goes right. No one gives chase or almost sees them. They're just very professional about it and perform their jobs well. And it doesn't need tension. It's fascinating without it.
It's a movie that's low on exposition, high on uncomfortable moments where we aren't expected to agree with the protagonist (like the aggressive way he courts Jessie [Tuesday Weld], and then the heartless way he cuts her off, treating her as a property that's been tying him down). But also it has plenty of moments of badassness, not shirking its duty to deliver on the genre goods. Its closest modern equivalent is DRIVE, which at times plays as an homage or ripoff of THIEF. But that's a character, believe it or not, with more heart.
A getaway driver is actually the first guy we see in the movie. But of course this one is about the thief, James Caan as Frank. He's a veteran Chicago safecracker who works with a few guys he trusts, like his partner Barry (Jim Belushi, no shit, in his first major role). He owns a used car lot as a cover and a bar as a phone service.  So he's kind of a bigger player than my favorite fictional thief Parker, but he has a similar sort of brazen stubbornness. He loses some diamonds when his fence gets killed for skimming from the mob, so he finds out who's responsible, walks right into the front company, past all the secretaries, into the guy's office and threatens him. Trust, me, if Frank has any fucks, he's never gonna give 'em.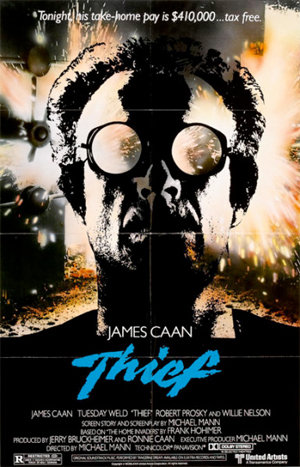 But there's this waitress that he likes, Jessie, and he has a vision of settling down and having a family. It seems more like a wife is something he wants to put on his trophy shelf than that he actually cares about her. He hasn't even told her what he does yet. But he's the kind of guy that gets what he wants. I mean, a vault never stopped him.
So he takes the kind of offer he's intentionally avoided all these years, a job with an organized crime guy (Robert Prosky, LAST ACTION HERO, in his first movie). It has its advantages (the guy says he'll look out for him, and proves it by hooking him up for an illegal adoption). But it also brings all this bullshit he never had to deal with before, like all the sudden all the crooked cops in town are all over his ass shaking him down for a cut of his take on a job he hasn't even done yet.
Anybody else would learn to play the game, give the cops some money so they leave him alone. Frank tells them to go fuck themselves. There's an amazing sequence where he's been getting things in place for a big score and it's about ready to go and then all the sudden some cops are waiting for him. They pull him over, smash his tail light, drag him in and take turns roughing him up and lecturing him about how things are supposed to work in this town.
"God forbid you work for a living," he says, between beatings. It seems like it's mostly the principle of the thing. He's not gonna give free money to these loafers. What kind of an example would it set?
When they finally let him go and he still refuses to pay up they have decided to get revenge by dogging his ass and catching him in the act of whatever he's about to do. They have a tracker on his car and a bunch of tail vehicles and lookouts, and they follow him as he drives around and stops off somewhere. They try to lay low a little but they keep after him. There he goes, he's on the move again, let's go boys, let's keep on him. They keep following and we hear the quiet blip of the tracking device getting louder as the hypnotic Tangerine Dream score swells and the camera glides ahead in traffic, swoops around and shows us the front of a bus that says it's headed for Des Moines.
Whoops. The tracker may have found a new vehicle.
Like many Mann movies it's all about the details of the process. You don't get an explanation. You get to piece together how it all works by watching them do it. They spend weeks figuring out how to deal with the alarm. Then they're like construction workers. They cut through the roof, go in, cut through the safe. That's an involved process that requires a welding torch and a long metal pole that they heat up on the end and use to pierce the vault. Caan was actually taught how to bust a safe for real. One of the consultants was on the FBI's ten most wanted list. Caan is legit. If any valuables ever went missing on the set of ERASER I bet I know who did it.
Of course, like a great crime novel, it's also the characters and the way they talk that makes it run. The bad guys are convincing mafia types, because they just look like old guys with bellies and glasses, and they act like his buddy, and then when they turn on him they have that ice cold look in their eyes, they're fucking monsters. When he's looking up at Leo telling him that he owns him and what he's gonna do to his family to punish him it is legitimately terrifying.
But not everybody's a bad guy, exactly. I love the scene where Frank visits his mentor Okla (Willie Nelson) in the joint, and the old man wants to be busted out or something. Frank tries to talk sense into him, reminds him he only has ten months left on his sentence. Okla says:
"Well I got angina somethin somethin somethin, and I'm not gonna last ten months, and I don't want to die in here."
That's really what he calls it, "angina somethin somethin somethin." He doesn't have time to fuck around and learn the full name of it. I don't blame him.
So, "You got it!" Frank says.
Here is your regular reminder that the people who do the Razzies don't know jack about shit: in the 1982 awards Tangerine Dream's amazing work on this film was nominated for "Worst Musical Score." (It lost to John Barry's score for THE LEGEND OF THE LONE RANGER.) Michael Cimino won "Worst Director" that year for HEAVEN'S GATE, which, like THIEF, is now available from the Criterion Collection.
The score is a classic, and a huge part of why the mood of the movie is so strong, so it's funny that in an interview on the disc Mann says "I'm still not 100% sure I made the right decision." He thinks maybe it should've been all blues, which does work in the great scene with the Mighty Joe Young Band performing in the bar.
And the music at the finale definitely gets more rhythmic and then goes into a long, soulful guitar solo. It even reminded me of the way Mann used rock music in the open and close of JERICHO MILE.
So maybe it would work to go straight up blues, but come on, Mann. Best not to regret perfection. Plus, I'm not sure I buy him talking about these guys being working class and what not. A blues score might go a little too far in pretending like we should feel sorry for him. Might feel like a lie.
Anyway, speaking of Mann's TV movie JERICHO MILE, as much as I loved that one his first "real movie" here is a gigantic leap ahead, and especially in visuals. My God, the way he shoots Chicago at night, light reflecting off wet streets, or at the end when he's standing in his car lot at night, flames behind him, hundreds of lightbulbs hanging above him, reflecting on the surfaces of the shiny cars in front of him… I don't say this much, but "wow."
A big time THIEF fan I know hates the Criterion Blu-Ray, he says they turned it too blue, not matching 35mm prints he's seen. (The notes say they used Mann's own answer print for color reference, so I don't know.) Whatever the case is, whether this is how it was meant to be seen or it's bald-faced hue revisionism, it's the most gorgeous transfer I've seen in a long damn time. Absolutely stunning. Even if the movie wasn't that good I'm sure I'd be mesmerized.
Luckily it is that good. In my opinion one of the top crime films achieved by man so far.