The opening credits of STEP UP had me laughing and remembering everything I hated about BREAKIN' and knowing I made the right decision to rent this shit. A Petey Pablo song plays over a series of shots contrasting two worlds: ballet tippy toes in a well-lit dance studio; Timberlands and high-heeled boots dancing on dark concrete. Then it's the legs of the ballet dancers hopping around; some dudes in a messy warehouse with chain link fences, loose tires and ladders jumping over each other's shoulders and pumping their fists in unison. And it continues to alternate, comparing and contrasting the moves of the delicate ballet dancers and the people in their oversized hoodies, sideways hats and gold chains. To my disappointment the movie doesn't go on to claim the existence of some secret night time warehouse dancing subculture. It doesn't even give us much in the way of awkward insider slang. The scene is symbolic of the two ways of life that collide in the movie: that of the Maryland School of the Arts and that of an orphaned white car thief who lives in a black neighborhood (Channing Tatum from FIGHTING).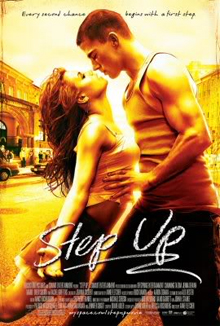 Tatum plays Tyler, introduced in baggy clothes and backwards hat dancing with somebody's girlfriend at a party and getting a gun pointed at him. He likes to dance, and he's good at it, but it's not a dream he pursues. He falls into the School of the Arts by coincidence and sheer stupidity. Fucking around one night with his best friends Mac (Damaine Radcliff) and Skinny (De'Shawn Washington), they're throwing cans at each other and they accidentally break a window to the school, then decide to go inside, make fun of everything in there and start smashing things. When a security guard comes in Tyler sacrifices himself so his friends can get away, so he ends up sentenced to 200 hours community service and has to report back to the school while it's in session.
Walking through the halls at first it kinda looks like a normal school where he just doesn't know anybody. But then he hears piano, sees ballet. Some girls sing in chorus as they pass him, somebody carries a painting behind him, some dudes are in the hallway playing the ol' Pachelbel's Canon in D Major together. He shakes his head slightly, maybe surprised to see black dudes playing classical violin.
Meanwhile Nora (Jenna Dewan, now married to Tatum and going by Dewan-Tatum) is a student with a rich mother, deceased father and injured dance partner. She needs a rehearsal partner to practice for "the showcase" that all her dreams hinge on. But all the other students who are willing to help are too weak to lift her, so she builds a machine to do it, and doesn't bargain for the deadly rampage it will go on when scorned. I'm sorry, I misspoke. There are no jealous machines, she just reluctantly accepts community service janitor Tyler's offer to fill in.
Of course there is awkwardness, there is sexual tension, there is growing acceptance. They disappoint each other, they make up, they learn from each other, stand up for each other, there is a prick boyfriend she has to break up with (SPOILER), there is developing love, they combine their styles. It's pretty much what you expect, but with some strange aspects worth discussing in numbered list format:
1. Race. It's troubling that while Tyler improves his life through the arts his two black friends just play basketball and steal cars. A lesson is eventually learned, but only through BOYZ N THE HOOD style violent tragedy. In other ways it does subvert stereotypes – I mean, have you ever seen a movie where a white guy shows off his dancing skills while his non-dancing black friends sit on a car and watch appreciatively? I haven't.
The school is portrayed as culturally and racially integrated. There's no uptight white people bad guys. It's not a big deal that Nora's dance is to a hip hop song, and her best friends are a black producer and singer. Race is not entirely ignored, but not generally a big deal.
Ultimately it's a love story between two white people, like most American movies. But it's white dancers of the post hip hop generation, so they appreciate black culture without having to prove themselves part of it. Tyler's hood cred is taken as a given, never questioned. In fact it's an insult when he's seen as leaving the hood.
2. Gayness. There's a really weird moment during the school break-in when they're making fun of pictures of ballet dancers in the trophy case and Skinny makes an off-hand comment that "They do show off they muscles pretty nice, though." Tyler and Mac look at him suspiciously, Skinny panics and stutters defensively that he didn't mean anything. It's probly meant as a dumb joke about misunderstandings, like later when their friend Miles (Mario [not the one from video games, it's some young R&B singer that looks kinda like Chris Rock]) gets made fun of for saying "I play with myself" in reference to his music. But in Skinny's case nobody laughs. Tyler backs away from Skinny like he's afraid of gay cooties and Mac acts angry and concerned. It's kinda creepy. It doesn't seem like a scene you'd put in a movie unless it's gonna later turn out that Skinny is gay and he has to come out and see if his brother and white friend will support him. But no, nothing like that ever comes up again. If Skinny was gay he took it to his grave.
3. Crime. It's kind of funny how laid back this movie is about crime. Grand theft auto is a pretty serious one for kids. You could get in some trouble for that, in my opinion. I kinda like that the movie never bothers to preach about the ethics or illegality of it. There are no cops in the movie. It's only bad because it makes some guys mad and they go after Skinny. It's even implied that Skinny is just too young to do it right without help from the older kids.
The guy that runs the chop shop is Omar, played by The Overweight Lover Heavy Bundiddly Diddly D. He gets mad at Mac and Tyler about something and in a normal movie they would somehow get on his shit list and be in serious trouble. Not in this one. In fact, he delivers the movie's most After School Special style wisdom. When Mac is surprised to find out that Miles goes to MSA, Omar gets mad: "What the hell is an art-school cat supposed to look like? Miles Davis, Tupac, Mobb Deep – those cats went to art school."
4. Friendship. There's a theme about loyalty. Nora's boyfriend is an asshole for getting a record contract but ditching his producer Miles. Tyler is wrong to stop helping Nora after they have a disagreement. Nora is wrong to go back to her original dance partner after everything Tyler did for her. The one that's funny to me though is Mac's feeling of betrayal when he finds out the community service Tyler's been doing is at the school. He walks in on a dance rehearsal like he walked in on him fucking his daughter. He storms off, Tyler has to chase him and they have an emotional confrontation. "It's not like that!"
I mean, he says he's mad that his friend left him hanging "to hang out with a bunch of rich kids," but his disgust shows that it's the dancing that bothers him, just like his homophobia towards Skinny and his muscles comment. He told Skinny they had to get him a girl, but he switches to quiet fury when he realizes Tyler is "messin around with our friendship… for a girl?" Later there's this exchange:
"So what happened with that girl?"
"Nothin."
"Nothin? I'm 'posed to just believe you?"
I think there might be something else going on here besides Skinny being gay.
And Mac, I guess I need to remind you that he's fucking doing it because he took the fall when you dipshits vandalized the school! He could still be mopping the floors, but he managed to improve the situation so he can fulfill his 200 hours while doing something he's passionate about. You should be happy for him. You're as bad as Nora's mom. Okay, to be fair you both show up at the showcase and end up being proud. I guess you're forgiven, Mac. But you're a weirdo.
* * *
STEP UP is a stupid movie, that's what I like about it. But I gotta admit there's some kind of charm to it too. I don't like the style of dancing, but you can tell that the two leads are real dancers, and they also have some charisma and chemistry. Dewan (who I guess was a dancer on a Janet Jackson tour) is good lookin too. And I think I'm supposed to hate Channing Tatum, but there's something I kind of like about him. His whitebonics way of slurring his speech can be unappealing, but he's good at showing the inner turmoil of a sensitive guy trying to act macho and uncaring. I mean you wouldn't know that from GI JOE, but he's pretty good in this and FIGHTING.
The director, Anne Fletcher, is a dancer and choreographer who started directing with this one and went on to do the romantic comedies 27 DRESSES and THE PROPOSAL. I think I'll sit those out. The writers are Duane Adler (who did other dance movies like SAVE THE LAST DANCE) and Melissa Rosenberg (who did all the TWILIGHT movies). And it's fair to say that it's pretty much the movie you'd expect from that group trying to make a movie about ballet and the streets of Baltimore. 88 minutes in there's a funeral, by 97 everybody's smiling and celebrating. I wish the ballet class from the opening credits would've burst into the dark warehouse and all hell woulda broke loose. But you can't have everything.